Adventures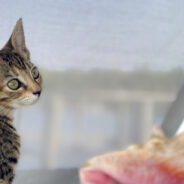 My name is Zemi and I'm the newest crew member on Gémeaux. I'm going to keep up Dot's tradition of telling you my story of being a boat cat on Gémeaux. Look for Cat on Cat posts—those are my stories. But first, let me tell you how I got here. 
read more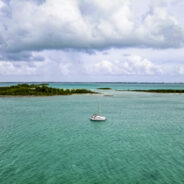 We should have been sitting on an Italian terrace drinking a fine bottle of Chianti, but a global pandemic tends to alter one's plans. We registered again for the annual Salty Dawg Rally—it was wild and unpredictable from the start.
read more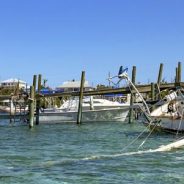 Covid-19 is closing borders, forcing people to find a new way of life within the walls of their home…making all the decisions. For us, the ultimate dictator is still weather. An incoming storm drove us to the Abacos, an island still recovering from the last storm.
read more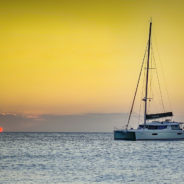 Living on a sailboat essentially has prepared us for a pandemic. If this lovely tropical scene has provided any sense of insulation, it all disappeared the day we learned a family member tested positive for Covid-19.
read more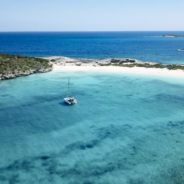 We could have turned right with everyone else but the other direction was described as wild and rugged beauty. No fuel, no hotels, no groceries. There was little protection in shifting weather and the main gateway was a very shallow sandbar impassable by many boats. Perfect—we turned left.
read more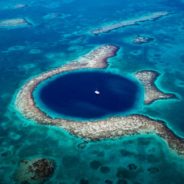 Giant marine sinkholes—what are they? What's inside of them? How did we get Gémeaux in the middle? And, how the heck did we get that picture? So many of you have asked, so here you go…
read more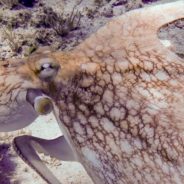 The noise got louder and the pounding intensified. I tried to remain calm as breathing became more difficult and I realized I couldn't keep my snorkel clear of water. I knew I had swum too close to the craggy shoreline and I was certain the next wave would hurl me into rocks.
read more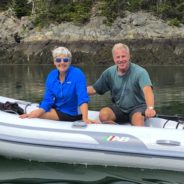 Upon learning that indeed selling someone's own property back to them or to someone else is against the law, an official sting operation was launched. Now under the direction of the Turks and Caicos police force, Mike and Allen set off for the agreed-upon drop point at the gas station.
read more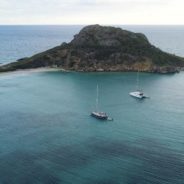 The third earthquake struck at sunrise shutting down all power to the island and foiling our plans to fuel before leaving on an offshore passage. Do we have enough fuel to make it? What happens when we're at sea if another quake hits?
read more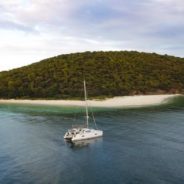 Growing up in National Parks, I took for granted our natural resources would be well protected. I contemplated the state of our planet—so much devastation below our ocean surface so humankind can enjoy life above. Warming climates, hurricanes, trash, apathy—we see it firsthand everywhere in our travels…and today, even in a National Park.
read more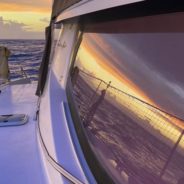 I'm afraid of the dark. When I was little I'd take a flying leap into my bed so the boogey monster under my mattress couldn't drag me into his lair. Fast forward 50 years and I'm forced to face my fear on a boat in the middle of an ocean during an offshore passage.
read more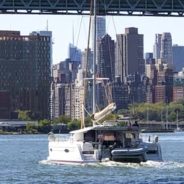 I'm not sure any urban mecca could be at the top of my sailing list, but taking Gémeaux down the East River certainly was a thrill and an absolute spectacular way to enter New York City.
read more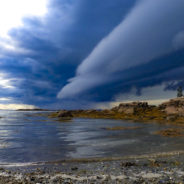 Daylight emerges ever so quietly in a heavy bank of fog. After hours of uninterrupted seas during our overnight passage from Cape Cod, lobster pots make their debut. Suddenly, a loud CLUNK! against the hull draws us all to attention.
read more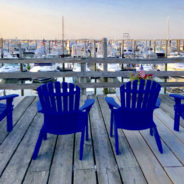 New Year…near year's resolutions—I'll write more! I actually do write an entry every day in our log book but all the sailing talk would bore you. You know I love to write and really I want to keep you up-to-date on all our adventures. Did you also know I get sea sick?
read more