Adventures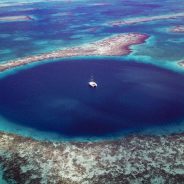 Eight months ago I sat amidst charts and maps learning how to spell Huaritcheru. I still had little experience sailing and zero experience with the geography of the Western Caribbean. I'd never seen an octopus, a green flash, or a Guna Indian.
read more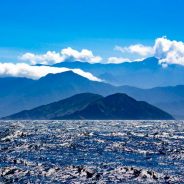 The first thing I noticed about Colombia were the mountains–peaks reaching straight up from the ocean into and beyond the clouds. As we enter Colombian waters, Pico Cristóbal Colón gives us a glimpse of its 18,000-foot summit. How I've missed the mountains.
read more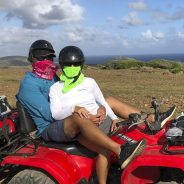 "OH SHIT!" Allen exclaimed just as I was just starting to doze off beside him at the helm. I immediately snapped up and dittoed "OH SHIT!" The entire spinnaker sail had disconnected from the top of the mast and was rapidly settling into the sea.
read more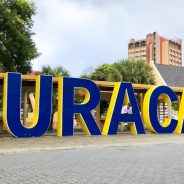 We dress in our formal Gémeaux white shirts since nobody onboard has the requisite roman numerals in their name to don a blue blazer. Locals and visitors sip coffee at the waterfront cafés as the Queen Emma floating pontoon bridge opens and our parade of boats enters in formation.
read more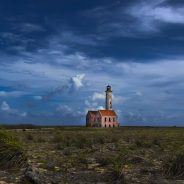 Always anxious to explore a remote corner of our natural world before entering civilization, our first stop from Bonaire to Curaçao is Klein Curaçao—a tiny, flat desert island with a white sand beach, five huts, and a lighthouse.
read more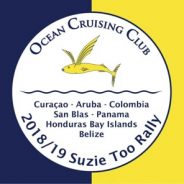 5:45am presents a beautiful orange daybreak in Curaçao. It is our last. Excitement builds. There is no quiet cup of tea and lazy scan of digital news. Today we are energizer bunnies flush with adrenaline—clean, stow, return rental car, laundry, repair… Today is the day we have been waiting for. November 21, 2018—the official start of our rally.
read more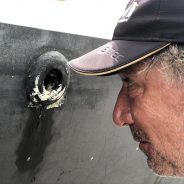 So Allen wants his own blog. A man who snubs how Facebook cat videos entertain me and who remains steadfast that social media is not for him. Until now. If you're one of our readers who wants to prevent a failing emergency hatch or curious about what a fo'c'sle is, welcome!
read more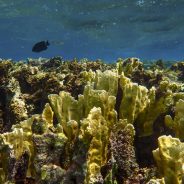 I was born in Yellowstone National Park. As a park ranger's daughter, my entire childhood was spent in America's iconic parks like Yosemite and Grand Canyon. I can tell you more about how to tranquilize a bear than how to navigate a shopping mall. I love nature and the outdoors and all the critters on the planet. Except ticks. Yuck.
read more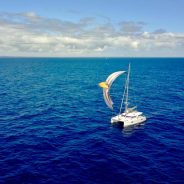 It's 400 miles from Grenada to Bonaire, or about three days and three nights of nonstop sailing—a passage. I have a love/hate relationship with passages. I love being far far away from civilization, surrounded by a blank canvas of sea that clears my mind and rekindles my soul.
read more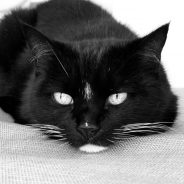 When your beloved pet is sick, those Caribbean sunsets stop taking your breath away and just mark another day of hurt. "Mon chat est très malade," I explained in broken French. Heartache suffocated words, flooding me with memories of trying to comprehend the doctor's treatment plan while digesting the words, "You have cancer."
read more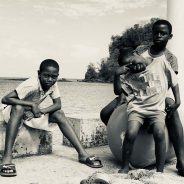 Don't judge a town by a guidebook cover. We climbed into the dinghy with just the clothes on our back and a little local EC currency. We left the cell phones and wallets locked on the boat. The guidebook told us that this was a sketchy town—a tourist had been held up at gunpoint a year ago.
read more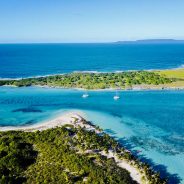 The French Carribean island of Guadaloupe is shaped like a butterfly. About 10 miles off the bottom of its right wing lies a piece of heaven. Declared a nature reserve in 1998, protecting the Lesser Antillean iguana and several species of sea turtles, these two Islands of the Small Land are on our must-see list.
read more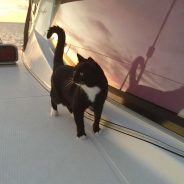 I do not like rough seas
I do not like them one bit at all
I do not like to pitch and roll
Dang! I hit my head on that stupid pole
I do not like rough seas at all
They make me wobble, tip and fall
It's frightening I can tell you that
It's certainly no place for a princess cat
read more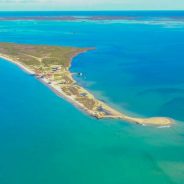 Little information was available on the current state of Barbuda. Many speculated so much sand had shifted in the storm that navigation could vary greatly from current charts and might indeed land you aground. We decided to investigate for ourselves.
read more