I was born in Yellowstone National Park. As a park ranger's daughter, my entire childhood was spent in America's iconic parks like Yosemite and Grand Canyon. I can tell you more about how to tranquilize a bear than how to navigate a shopping mall. I love nature and the outdoors and all the critters on the planet. Except ticks. Yuck.
There are many many highlights that make up this journey but far and away are the opportunities to explore so much of our natural world. This week, the 5-mile island of Bonaire, north of Venezuela and outside the hurricane belt, moved to the top of that list. Essentially a coral reef pushed up from the sea, the entire island today is surrounded by a reef that starts just a few feet from shore and since 1962 has been protected by the Bonaire National Marine Park. Anchoring is not permitted anywhere on the island—you must dock at a marina or use a mooring ball to avoid damaging the coral. It is a diving and snorkeling mecca to see octopuses, turtles, stag horn coral, and more than 350 species of fish. On land, Washington Slagbaai National Park and a flamingo nesting sanctuary are credited as being the first nature preserves in the Caribbean.
After a long 3-day passage from Grenada, we arrived in Bonaire only to find there was no room at the inn—the highly-coveted mooring balls outside the capital city of Kralendijk were all taken. A slip in the Harbor Village Marina would have to be home for the next several days. We begin exploring—first on land to clear customs and to enjoy a celebratory piña colada, and then by sea to get our first glimpse of the underworld.
This island municipality of the Netherlands is easy to navigate—their currency is the US dollar and, in addition to Dutch and their local Creole language of Papimientu, nearly everyone speaks English. An easy ¼-mile morning walk from the marina lands us at Between Two Buns where we enjoy croissants and cappuccinos and mango cheesecake for breakfast—it's going to be a great day:)
GONE SNORKELING  After any passage, there is always a long list of chores and projects. Today's list features laundry (such a luxury to have a washing machine onboard) and fixing the clogged toilet in our berth.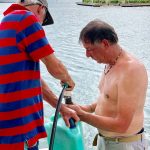 Superhuman handymen Allen and David spend a full day extracting and scrubbing the entire toilet tank, eventually discovering a buildup of urine calcifications—a chemical reaction between urine and the salt water used to flush our toilets. And you thought our days were just filled with pretty sunsets? Tired of dripping in sweat, Barbara and I finish laundry and abscond with the dinghy for the first of many snorkeling excursions.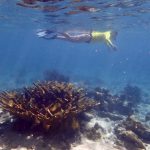 Still refreshing at nearly 84 degrees, the  Caribbean water washes away our sweat and prunes our fingers and toes as we simply cannot get enough of these beautiful reefs. Water is so clear we spot a camouflaged Peacock flounder quietly scooting across the sand 20 feet below. Stoplight parrotfish display all their life stages of color from juvenile orange to the mature brilliant emerald green as they bang their parrot-like beak on coral for nutrients. We learn favorite hiding spots and behaviors and discover the shy fish when we peek under coral shelves—large porcupine puffers, lobster, and the red squirrel fish named for their large black squirrel-like eyes. We wave each other over when we catch a rare glimpse of a golden tail eel poking out his head or see a grey shirttail eel swimming like a snake on the bottom of the sea.
An occasional barracuda catches me by surprise as I happen to glance up from my constant downward gaze, notice him swimming above me, and wonder which one of us is more curious about the other. We have nicknames for everything we see until we can confirm their names in the fish book—the black and white honeycomb trunkfish with the large boxy head is the Star Wars fish, and the tiny, intricate colorful clusters of sea urchins covering brain coral are flower gardens. The small neon speckled blue Damselfish will always be the Courtney fish as I recall my friend's absolute joy when she spotted them during a recent visit.
Back at the marina, we exchange stories of the stunning underworld with the boys' toilet treasures—brown plaster-like chunks that they've scraped off the plumbing. We win the prize. We quickly change and catch the complimentary taxi that shuttles yachties, as the locals call us, to what would become our favorite supermarket. Van den Tweels—land of Dutch cheese, arugula, herbs, fresh beef and chicken, and…La Croix!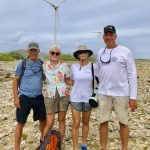 BEACH CLEANUP  It seems only fitting that as visitors to this piece of paradise we should give something back. We join the locals in their weekly beach cleanup. While families, school children, and a few other yachties board a school bus, we snag a ride with Muriel, a Dutch school teacher who delights in telling us about the island country she and her husband have called home for two years. "You don't need to wear your seatbelts," she announces as we pile into her Chevy truck, "In Bonaire, we like to be free!" We choose safety over freedom, buckle our seatbelts as we bounce through pot holes, and listen intently to our personal tour guide. We learn there is no seatbelt law in Bonaire, nor is there a law against drunk driving. And yes, there are serious traffic accidents every week. Public transportation is available but there is no schedule—everyone has the bus driver's phone number and calls when they need a ride. The island's population of 18,000 is comprised of 40% locals and 60% Dutch American, with a growing community of Chinese.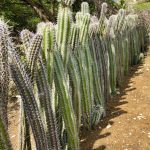 The landscape is covered with tall Yatu cactus as we cross to the eastern side of the island and Muriel points out the savannah fence, a beautiful and well, very effective, fence built from this plentiful crop.Huge wind mills come into view as we approach the rocky beach—20% of the island's power is generated by wind (FYI Corda Solar: 10% of their power comes from solar in case you want to expand your business!) There's no natural source of fresh water; an enormous desalination plant provides all the island's water.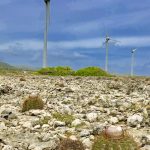 Nearly 100 people are already underway with large garbage bags picking up trash. As I grab a trash bag, I walk aimlessly, wondering wonder where in the world I should start and what trash is worth picking up. This cigarette butt? That can over there? A couple plastic bottle tops? Here's some shredded pieces of blue rope. Before I know it, I'm standing in the middle of thousands of plastic water bottles and flip-flops—the most abundant type of trash that has drifted thousands of miles from the African coast. 

I sit on a piece of driftwood and completely fill my bag from this one seated position. I'm disgusted with the trash and saddened at the impact it has had on this beautiful beach.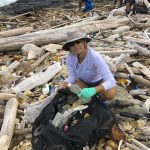 I vow to always use my refillable water bottle. What more can I do? What more should we all do to eliminate trash from our planet? And what's up with the flip flops? Can't someone invent biodegradable soles? We spend nearly three hours filling dump trucks and there are still miles and miles of beach to clean. But we have made a difference and it's encouraging to see all the people who have come together and the enthusiasm of the younger generations to take action.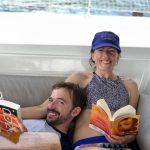 SNORKELING IN AN AQUARIUM Allen's nephew, Allen (who we call Little Allen) and his girlfriend, Shiera (just kidding, her name is Ruth) arrive and our party of 6 sets sail to explore more snorkeling hotspots.
Klein Bonaire, or Little Bonaire, is a small, flat, uninhabited island about ½ mile from Bonaire. Also under protection by Bonaire's Marine Park system, it boasts remarkably clear water to view fish and coral. Snorkeling here is like being in one of those floor to ceiling viewing tanks in aquariums. It's difficult to convey the utter beauty of it all—kind of like the difference between seeing a photo of the Grand Canyon and actually standing on the rim looking into that natural wonder. And while snorkeling allows me to see so much, I'm tempted to update my diving skills—the nearby ledge that drops off hundreds of feet is enticing.
Our next snorkeling destination is 1000 Steps, named for the number of steep limestone steps it feels like when you're carrying your gear from atop the cliffs down to the beach. Lucky for us, we tie up to a mooring ball and simply jump of the boat and swim. Shallow turquoise waters make it easy to spot turtles and large schools of fish. The intricately-designed black and yellow French angelfish becomes one of my favorites.
GUEST PERSPECTIVE  "Barbara expands our definition of breakfast. We start the day off with passionfruit cheesecake (author's note: see a trend?) at the bakery just down the road from the marina and attempt to corner the local market on croissants. After this, we all pile into a rental van and we head over to Lac Bay for more snorkeling. We swim out through shallow, aquamarine water to the reef at the inlet to the bay. Amazing biodiversity.
We suck in hard as we float over coral that is sometimes just inches below water surface. After beers and snacks (fried balls of liquid meat, anyone?), we head to a food truck run by kite surfers from the Netherlands. During a hellacious squall, we consume our meal of tuna tartare burgers in the rental van, condensation dripping down the windows. We dry out and resupply on groceries and alcohol in town. We bring home the "bargain" large bottle of Cadushy, the local cactus liqueur which glows the seagreen color of antifreeze. The crew eagerly awaits Unky Al's ship log entries documenting his future Cadushy cocktail concoctions." -Allen and Ruth from the Gémeaux logbook
SHOES REQUIREDWell since we have a rental car, let's explore more of the island! I'm ambivalent because 1) I almost always prefer to be in the water, and 2) the day requires shoes…ouch. However, this Park Service brat would never pass up the chance to wander through a national park so I squeeze into my hiking shoes and climb into our van.
Along our way, we spot the island's national bird, the Caribbean Flamingo. Who knew? Such a treat to see a flamingo in the wild. Turns out Bonaire's protected salt ponds make the island one of the Caribbean's few breeding grounds for the thousands of flamingos here. Not to be outdone by silly, long-necked birds with their beaks in the mud, the brown-throated parakeet and a yellow-headed caracara! grace us with their striking colors. I'm still trying to wrap my head around tropical parakeets flying among cactus:)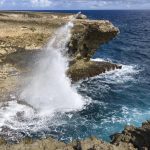 On the other side of an exuberant blow hole, we plunge into a small eddy of calm water, unusual to find on this windward side of the island, and enjoy unsanctioned skinny dipping before beginning our hike. Mt. Brandaris claims the highest point on the island at 790 feet above sea level. For those of you mocking the term hike, let me remind you that it's 88 degrees with about the same amount of humidity. These are mandatory conditions in which eating cheesecake for breakfast is allowed.
Panoramic views at the summit give us a distant glimpse of Curaçao and even the Venezuelan mainland. The sun is blazing but we relish the breeze and the consequential evacuation of mosquitoes. As the terrain flattens at the end of our hike, we dodge blue whip-tail lizards scurrying across the trail and marvel at iguanas drinking from puddles.
It has been a spectacular day on land, driving in the luxury of an air-conditioned van, but we are children of the water and are happiest when we trade our sneakers for fins and plunge back into the quiet of Bonaire's underwater paradise. I'll return to this island some day to see that octopus I never could find.
Enjoyed this post?
Sign up at the bottom of this page
to receive email notifications of future posts!