We fell in love with the country 30 miles before making landfall. Over VHF, we transmitted our arrival and immediately were awestruck at the hospitable nature of Bermuda Radio, who collected vessel information but also provided clear and friendly instructions for entering the harbor. Such a pleasant contrast from the typical VHF operators (includin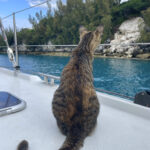 g the US Coast Guard😢), who spew out rapid fire messages that are barely decipherable. It was early morning when we navigated the narrow channel into St. George's and the rainbow of colors jarred our senses. Pastel-colored homes under a uniform roof style neatly flanked either side of cerulean waters straight from a peacock color scheme. Typically just a brief stopover for boats waiting for the right weather to complete their trans-Atlantic voyage, Bermuda is often undiscovered by fellow cruisers. We had the luxury of a week to explore this tropical paradise.
Six hundred miles east of North Carolina, Bermuda is actually an archipelago of 180 islands across 21 square miles, but a couple bridges connecting the main islands make it feel like a single landmass. In contrast to The Bahamas and Caribbean, one of the first things we noticed was the order of everything. Homes and buildings were neatly maintained with a fresh coat of paint and gardens and curbs were tidy and impeccably landscaped.
Even though Bermuda does lie in Hurricane Alley, storms generally weaken as they approach the island so, unlike its southern counterparts, Bermuda generally escapes direct landfalls of hurricanes. All buildings have a clean white roof to catch rain water, the only source of fresh water on the island. In fact, local law requires dwellings to have at least one tank as part of its foundation to store rainwater that is piped down from the roof. Good idea!
As a British island territory, Bermuda has a noticeable English feel—cars drive on the left side of the road, alleyways are laid in cobblestone, cricket is the local favorite sport, markets are filled with English teas and biscuits, and residents speak a regional dialect of the Queen's English. There's also a distinctive conservative dress code as we discovered dining next to a group of ladies who were aghast at the sight of a young woman exiting a nearby party boat clad only in a swim suit as she walked down the street. "She'll be fined $2000 if a constable sees her," one woman scorned. On the other hand, it is perfectly acceptable for men to wear a blazer, tie, and knee socks with their shorts…Bermuda shorts, of course.
There are no rental cars (non-residents are prohibited from driving cars on the island), and families are allowed only one car per household. Consequently, Bermuda has a remarkable public bus system. Pink buses run promptly and regularly throughout the island and routes are simple to understand—if you want to go to the capital city of Hamilton, wait at a bus stop with a pink pole; if you're leaving Hamilton, find a stop with a blue pole. Brilliant!
Standing next to a pink pole, we masked up (also required), and boarded a bus to explore Hamilton. Our first stop was the market to provision for our next passage. Bermuda is reported to be among the most expensive places in the world, but prices still were shocking–$27 for a package of chicken thighs, $15 for a gallon of milk. A glass of wine at a casual restaurant cost $18!
As luck would have it, we arrived the week of Bermuda Day—the first official day to wear Bermuda shorts to work. Sadly, this doesn't apply to the Royal Bermuda Regiment, who were dressed head to toe in full military regalia as they kicked off the national holiday on a hot and humid day. We found a shady place on the curb cheek to jowl with local families to take in one spectacular dance party parading through the capital. Floats and youth groups, each clad in bright colors and performing their own brand of music, marched by. The grand finale to this cultural celebration dazzled us all. Dressed in hand painted masks, headdresses with tall peacock feathers, and costumes adorned with bells and tassels, hundreds of Bermuda Gombeys danced through the streets.
The Gombeys are an iconic symbol of Bermuda folk tradition that reflects a blend of the island's African, Caribbean, and British cultures. Dancers are usually male (although recently women have joined) and they perform in groups of 10-30 people. Each group is led by a captain who determines the troupe's specific style so a well-trained eye can recognize subtle differences in musical beats, dances, and costumes. For the rest of us, we simply enjoyed the elaborate blend of color and music…and all the very cute little Gombeys just starting their artistic career.
Nature signals its own arrival of warmer temperatures in Bermuda by sending the elegant white Longtail to breed. Year after year, after surviving winter at sea, lifetime couples return to the same nest in holes and crevices of the island's limestone coastal cliffs. The couple produces just a single egg and both parents alternate babysitting duties with hunting. The chick takes about 65 days to fledge, at which time the parents stop bringing home the bacon, signaling it's time for the next generation to head to sea. Longtails are a protected species and local conservationists work hard to ensure their well-being, including the construction of safeguarded igloo-shaped nest boxes built along rock ledges. Having been charmed by the aerial courtship and distinctive high pitch sound of these beautiful birds, I was naturally captivated by our next stop.
A private visit to Trunk Island was the highlight of our stay in Bermuda. Long-time sailors and members of the Salty Dawg organization that supported our passages to the Bahamas and Caribbean, the Gardners have owned this seven-acre piece of paradise since the beginning of the 19th century. They graciously invited us for the afternoon and I thought I'd never leave. After sharing sailing stories over lunch on their second story veranda, the Gardners gave us a tour of the island, identifying every species of flora and fauna that our trail crossed and pointing out their very own igloos for the Longtail birds. Staunch supporters of our planet, the Gardners recently joined forces with the Bermuda Zoological Society, who has created a living classroom and is working to restore the island back to its original state through eradicating invasive plants and replanting of endemics.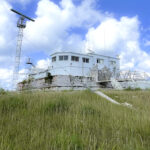 As much as I wanted to live forever on Trunk Island, the captain reminded me that in two days we would set sail for the Azores and I was a necessary part of the crew. As one final adventure on this little colonial island, we climbed to the top of the highest point in St. George's. Fort George is perched 200 feet above town with a 360-degree view of the island and the Atlantic beyond.The fort was originally built in the late 1700s as a signal station and today, the fort is part of a UNESCO World Heritage Site and operates as the headquarters for the Bermuda Maritime Operations. The most notable fact, however, and the reason we climbed up a dirt road, across a golf course, and through sticker bushes…
It's where the voice of Bermuda Radio sits😁