Don't judge a town by a guidebook cover. We climbed into the dinghy with just the clothes on our back and a little local EC currency. We left the cell phones and wallets locked on the boat. The guidebook told us that this was a sketchy town—a tourist had been held up at gunpoint a year ago. Nonetheless, the allure of a local fish fry drew us to shore. We were the only boat anchored in the bay amidst an array of brightly-colored local fishing boats. We pulled our dinghy up to the dock where local fisherman and children sat on fishing nets already celebrating the end of the school and work week.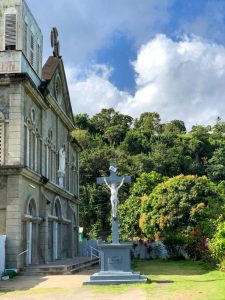 Anse la Raye, named for the rays in its bay, is a small coastal fishing village on the west side of St. Lucia. It is home to about 200 inhabitants and the oldest chapel on the island, dating back to the middle of the 18th century. The waterfront Roman Catholic church, a magnificent combination of French and English colonial architecture, first caught our eye. Fundraising placards were still in place boasting a $500,000 local effort to refurbish the exquisite ceiling of beautiful dark wood beams. Hmmm…doesn't seem so sketch to us.
The real claim to fame of this sleepy village, however, is a Friday night family fish fry that draws locals and tourists alike. The main street is closed to traffic and replaced with street vendors, tables and chairs, and a stereo that can blast to the other side of the island. When we arrived at the village around 6pm that Friday night, vendors were busily setting up stalls with barbecue grills or local crafts. Provisional bars were erected with the skill and ease of someone who's been doing this every Friday night. Tables were stocked with different rums, liquors, bottles of grenadine, and a pile of juices—the basics for a St. Lucia happy hour. One stand boasted their access to electricity, featuring bright twinkling lights and the hum of a blender. This was enough to get our attention. Cindy and her husband had indeed been serving cocktails every Friday night since the event's inception three years ago. On other days, they run a bar in a nearby town, which would explain their professional setup. We ordered a rum punch and a pina colada, which for the ladies, comes with a maraschino cherry and a pink umbrella.
With drinks in hand, we continued to wander the village. Wooden houses in a rainbow of colors lined the back roads. Some used their front room as a store front selling their own concoctions of rum punch or crates of daschine, the popular taro root vegetable. Clearly, the work week had ended as friends began congregating in doorways and on street curbs. A young couple, easily-identified as tourists by their fair skin and drinks in hand, approached us. Naturally, we stopped to hear their story. He, a Czech, and she, a German, were island hitchhiking as they explored the Caribbean. When asked where they were staying, they told us they were renting a room in town—fancy that, air bnb local style.
We returned to the dock to watch the sun set and to chat with a 9-year old boy with a big toothy grin who demonstrated how to navigate the dock's bumpy uneven planks and gaps on a bicycle with training wheels.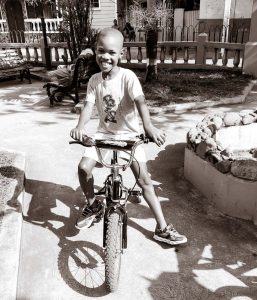 At last, it was dinner time. Now which barbecue vendor to choose? We returned to Cindy's bar for recommendations and she directed us to Nadia's fish fry booth. Nadia offered grilled fish (red snapper in a foil packet), lambi (conch stew), accras (fish cakes), and local bread, which reminded us of Navajo fry bread. Great—we'll take one of each! We took a seat at a nearby picnic table and Nadia served us the different pieces as they came hot off the grill. Our favorite? The accras.
As the night progressed, we enjoyed the relaxed social setting and the people it attracted. A Canadian youth church group of 15 or so teenagers was in St. Lucia doing volunteer work, an American family with their two teenagers. A local gentleman sat down next to us and, over the loud Caribbean music that was well underway by this point, gave us the inside scoop of town. The Carribean tunes, for example, included a few from the village's own youth music groups. He knew everyone, of course, and introduced us to the various townspeople as they passed by. Yep, definitely a sketchy town:)
Eventually, the threat of our dinghy turning into a pumpkin beckoned us back to Gémeaux. Music boomed through the night and shook the hulls of our boat. Still, we reveled in our fun date night ashore.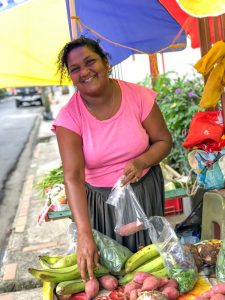 Having established that cell phones and wallets were safe ashore, we ventured back to town the next day to photograph this picturesque town. This turned into a bigger adventure when we discovered a back street where women were selling fresh vegetables from their gardens. A local fisherman sold us fish at the dock on the honor system—just pay me when you get into town. That turned into a town-wide search party as we looked high and low to settle our debt. "Oh, that guy—he lives down the street," said one man. "I just saw him—he's down at the dock," said another. And then, "Follow me, I'll take you to his house."  That was a real experience winding down alleyways and through backyards to locate the vanished fisherman. We finally gave our money to one person who promised to give it to another who would be sure to give it to the fisherman. Yep, definitely a sketchy town.
"Are you coming back?" the kids asked as we pulled away in our dinghy. Yep, definitely.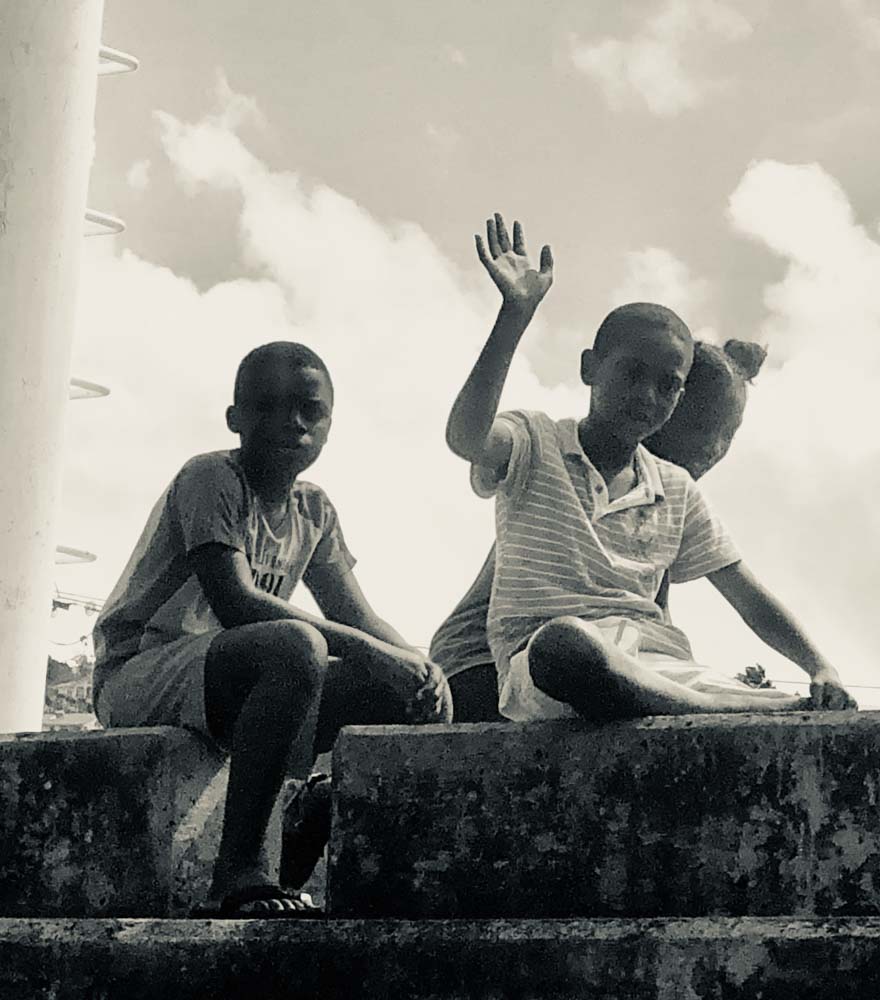 Enjoyed this post?
Sign up to receive email notifications of future posts!