The third earthquake struck at sunrise shutting down all power to the island and foiling our plans to fuel before leaving on an offshore passage. Do we have enough fuel to make it? What happens when we're at sea if another quake hits?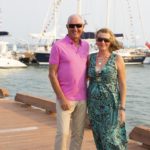 We study weather every day, but hadn't yet considered the possibility of an earthquake. Immediately, we reflected on how friends onboard Suzy Too, miraculously surfed the huge incoming wave while anchoring in Thailand, narrowly escaping the fate of so many who lost their lives in the 2004 tsunami.
Puerto Rico was not originally on our itinerary—we had planned to make only a few quick stops to break up our journey from the Virgin Islands to Turks and Caicos. Rounding the corner to Tortuga Bay of the northeastern Isla de Culebrita in the Spanish Virgin Islands, however, we knew instantly we would want to stay longer.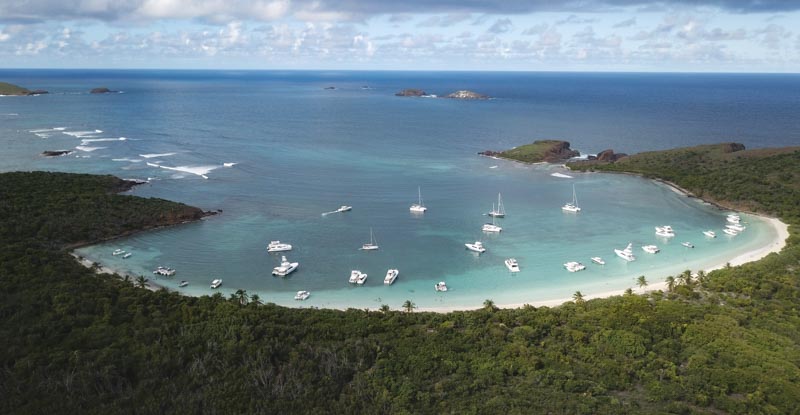 On this New Year's Day, the mood was festive—pleasure boats from mainland Puerto Rico rafted together and filled the bay with laughter. We joined locals in The Jacuzzis, where the ocean surf surges suddenly through large rocks forming natural pools with foaming water. We battled mosquitos and dodged hermit crabs for an easy climb to a lighthouse, red brick and marble floors still impressive from its 1880 construction.
Underwater, our hearts sang as we discovered healthy clumps of staghorn, a coral that seems to be disappearing from our planet. We paddle boarded through dense mangroves and explored town, slowly drifting in our dinghy through canals as though we were Venetian gondolas. We scampered for days and hours to squeeze in all the sights of this unplanned stop.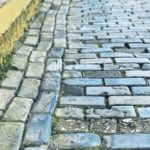 The Walled City of Old San Juan was a must-see—clean and quaint and touted as what you might imagine Havana, Cuba to be. We walked the iconic blue cobblestone streets, taking in the sights of Ponce de Leon's tomb at the San Juan Bautista Cathedral and the beautiful yellow Spanish architecture of Hotel El Convento, once a 17th-century convent. Parque de las Palomas and its billion pigeon residents provided respite and entertainment as birds landed on the shoulders of unsuspecting passersby.
At long last, our feet gave out and we collapsed at a table in Sanse 152, where the waitress/cook/owner brought us tapas until we rolled out the door. We wandered the secret rooms of La Factoria and sat at one of its many bars as waiters delighted us in their creative mixology. Sadly, we couldn't fit in anymore and hailed an uber to return us to the Puerto del Rey marina.
Wouldn't it be the ultimate irony to die on an island named Caja de Muertos or Coffin Island? Little did we know that in a few hours after anchoring, we would be less than 10 miles away from an earthquake epicenter. Focused on a different disaster, we went ashore this small island and wandered the old pier and dilapidated buildings devastated by Hurricane Maria. Two caretakers oversee the property, protected by a natural reserve because of its native turtle traffic. Mosquitos, not imminent darkness, deterred us from making the 2-hour roundtrip walk to the 1887 lighthouse so instead, we stood on the beach and watched a brilliant sun set behind our boat in the bay.
A number of curious tales claim this island's namesake—several 16th century greedy explorers were all killed trying to secure a treasure; from the air, the island looks like a coffin. Personally, I like the story of a romantic who embalmed his murdered wife and left treasures at her glass casket each time he visited her. In any case, today's treasure was having a beautiful anchorage all to ourselves and seeing, for the first time, teeny baby turtles swimming at the back of our boat. You'll be pleased to hear that I used extraordinary restraint and did not bring any of them onboard.
At 6:30am the following morning, a 5.8 earthquake struck in the water near the town of Ponce on the southwest side Puerto Rico. Our phones began buzzing with text messages from family and friends —did you know there was an earthquake near you? Did you feel it? Are you okay? We we were cozy in our coffins and didn't feel a thing.
We got underway for a full-day sail west to our next destination of Boquerón, piecing together scant details of the tremor from various news sources. The quake had caused an iconic natural rock arch in Ponte Ventana to collapse, but not much else was reported. Today was Epiphany, or Dios de los Rios, a holiday more popular than Christmas in this Catholic country, and that's what occupied the minds of the Puerto Ricans.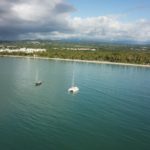 We dropped anchor mid-afternoon off the expansive Seashell Beach in Bahia de Boquerón. We made a decision to enjoy today's festive atmosphere ashore and delay fueling for our upcoming passage until tomorrow—a decision that we would later regret. All the shops were open on this holiday and it seemed the entire town was wandering the streets feasting on fresh conch from food trucks and drinking in Boquerón's many bars. If I had stayed a little longer I would have neutered a few cats that appeared in every alley.
We picked up some groceries at a local convenience store, where the owner insisted we sample the pork belly that he was grilling at the front door. Nighttime fell amidst rainstorms as our heads hit the pillow for a final night of solid rest. Tomorrow, we would wake early, get fuel as soon as the dock opened, and set off quickly while the weather gods were in our favor.
At 4:30am, a bump on the boat woke Allen—like someone shaking the boat, he would later say. This California man knew immediately it was an earthquake. He poked around the boat, not finding anything out of the ordinary except car alarms ringing from the nearby shore. Within an hour, the New York Times, his online morning newspaper, confirmed that a second earthquake with a magnitude of 6.4 did indeed strike near the first epicenter at 4:30 this morning.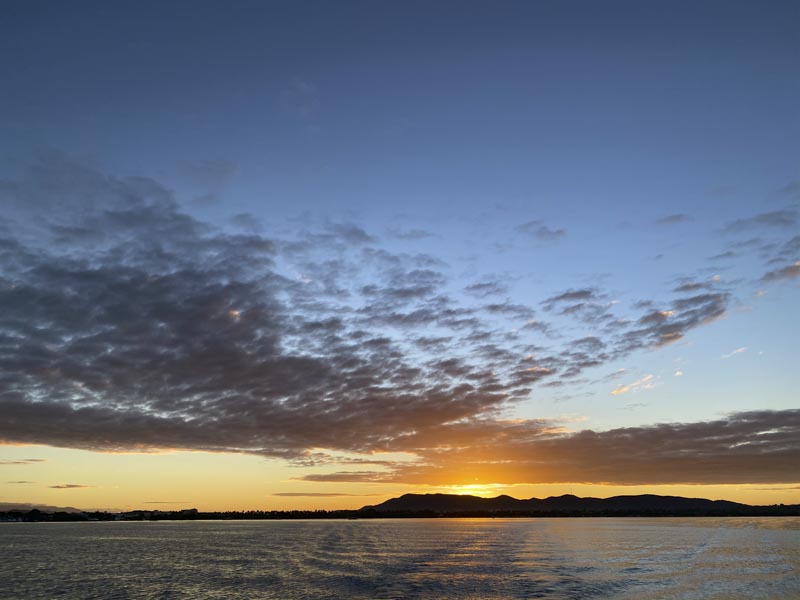 Together with our buddy boat, Exodus, we pulled up the anchors just before sunrise and began motoring in about 20 feet of water around the corner to the fuel dock. At the very moment we were on the phone with the fuel attendant to confirm they were open following the two tremors, we all felt another bump—a third quake struck. The main power plant went into a precautionary automatic shutdown, cutting off power to most of the island. There would be no fuel today. We discussed briefly the possibility of staying in Puerto Rico until fuel was available again. But who knew if that would be tomorrow or next month? Would there be a fourth earthquake? And then what would happen? We had a very small window to cross the Mona Passage and reach Turks and Caicos before high winds and swell would make the passage rough and uncomfortable. We quickly calculated if the two boats had enough fuel to make the passage. With a 124 gallon capacity, we had 80 gallons in the tank and 20 more stowed. We decided to press on.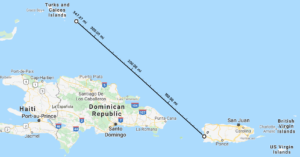 Three days later, we reached Grand Turk just as the winds shrieked to 45 knots. We turned on our cell phones and details of the Puerto Rico quakes trickled in. Four people had lost their lives, 8000 homes destroyed, schools were closed, and ¼ million people were without power and water. It could take a year to complete repairs to the power plant. A country who was still recovering from extensive damage left by Hurricanes Maria and Irma, now faced havoc from the most destructive earthquake in more than a century.
After all the kindness that this country showed us, it's disheartening to see it crushed by Mother Nature. We loved Puerto Rico. We can't wait to return and we hope you'll put it on your list of places to visit. And remember, it's part of the United States—please support aid as they rebuild their lives.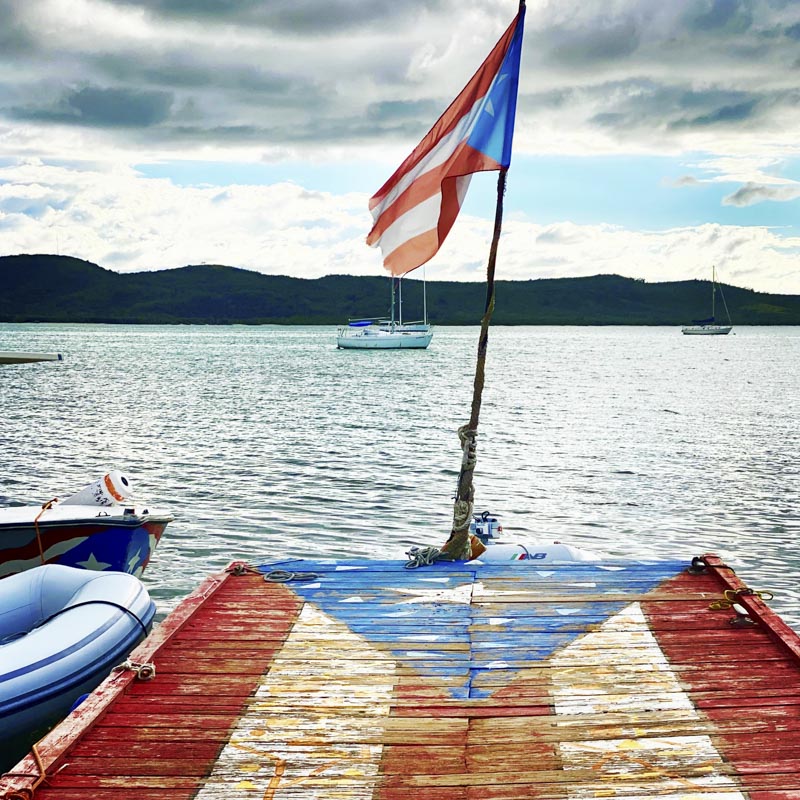 Enjoyed this post?
Sign up at the bottom of this page
to receive email notifications of future posts!