Covid-19 is closing borders and businesses, forcing people to find a new way of life within the walls of their home. No matter where you are on the planet, Coronavirus seems to be making all the decisions. For us, living aboard a boat, the ultimate dictator is still weather. In April, an incoming storm with 40k winds drove us to the protected bay of Man-o-War Cay in the northern Abaco region of the Bahamas.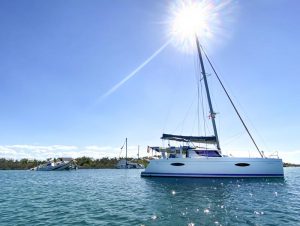 The roots of this island date back to the turn of the 18th century when British Loyalists fled the bloodshed of the U.S. Revolutionary War to the nearest Crown territory. A few years later, Benjamin Albury settled on the island as a farmer and started a long list of descendants who still operate many of the family-owned businesses today. Wood carving and canvas-making eventually replaced farming and Man-o-War Cay established itself as the boat-building capital of The Bahamas. A peaceful and conservative community of just 200 people, the island has two small grocery stores, four churches, and a rainbow of pastel-painted homes lining narrow pedestrian-only streets.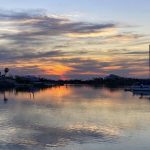 It carries the distinction of being the only dry island in The Bahamas. Even with the lack of Caribbean rum, Man-o-War Cay had become a popular destination among vacationing families escaping northern winter climates. In recent years, luxury homes sprouted up in local neighborhoods and foreign-flagged boats dropped anchor next to Albury's Boat Building. Visitors dined at Tommy Albury's Dock n' Dine or Neil Albury's Hibiscus Café and returned home with a souvenir Albury Sail Makers tote bag.
All that changed on September 1, 2019, when Hurricane Dorian struck this island paradise not just once, but over and over again for several days. Residents who rode out the storm witnessed winds that gusted over 200mph and a series of small tornadoes that sheared off nearly every roof on the island.
Man-o-War Cay was no newcomer to hurricanes and to some extent was the perfect hurricane hole, offering protection from surrounding ocean surge. When Dorian struck, the anchorage was packed with boats tethered to mooring balls, which were tied to the bottom of the sea with 10-foot concrete blocks. Cruisers secured their rigging and then hunkered down onshore with residents, expecting the impending storm to blow off a few window shutters. Instead, when skies cleared, entire buildings had blown away and the island was flattened to a pastel apocalypse.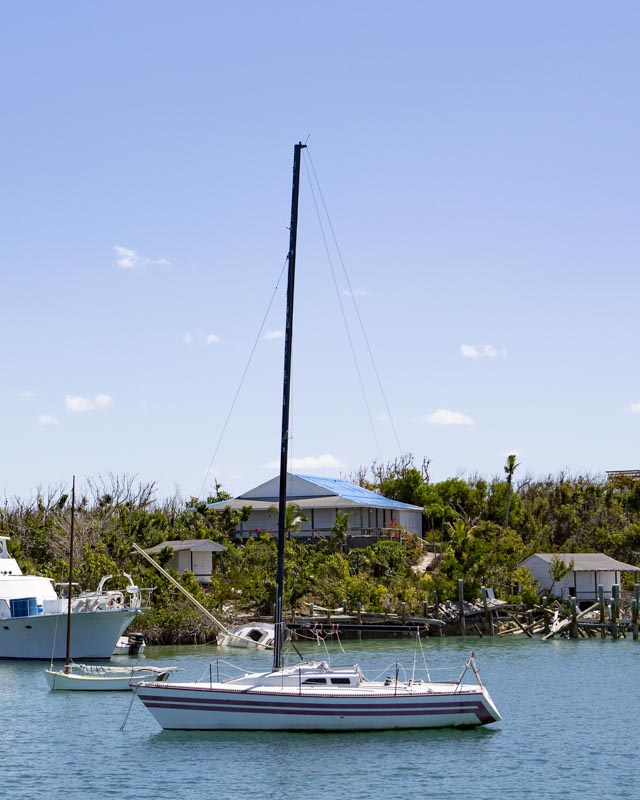 Winds had picked up 40-foot sailboats from the water and scattered them throughout the island like a handful of plastic toys. Boats lay capsized or completely sunk in the water. One single simple 20-foot sailboat remained upright in the anchorage, unscathed by the fury except for some chipped paint on its mast where flying debris had struck. Amazingly, no lives were lost on the island.
As we entered Man-o-War Cay seven months following Dorian, the island still looked like a war zone. Only a handful of boats floated upright in the anchorage; the majority of vessels were still aground or overturned. Various relief organizations had been working hard to resurrect the island but Covid had driven them all away. Today, the island was quiet—only the sound of a few hammers repairing blue-tarped roofs and the distant hum of generators powering an island still without electricity. We took one of the recently-restored mooring balls and settled in for a two-night stay while the storm passed. Two weeks later, we left.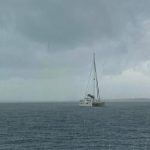 While weather raged outside, we spent our time reading, writing, and doing laundry. The rain washed off weeks of salt water so we added soap and scrubbed the decks. Covid reports brought different news each day. As chaos unfolded in the U.S., we took comfort in listening to The Bahamian Prime Minister, who spoke compassionately about local cases and then outlined a clear directive prohibiting inter-island travel to reduce the spread. Residents understood the rationale but struggled to imagine daily life in a country where families are spread out across islands and provisions are delivered only once a week. Our plans to go to Nassau to pick up an incoming package and to refuel waned as more Covid cases were reported from there. Among the cruising community, there were still several hundred foreign-flagged boats in The Bahamas, who like us, had decided this might well be the safest place to be during a pandemic. The uncertainty of the viral spread and how it might lead to more restrictions or requirements to leave altogether, however, had an unexpected affect on our sailing community. We heard about cruisers becoming very protective of their anchorages and apprehensive about any new arrivals for fear someone would bring in a case of Covid. One cruiser announced that a ferry was illegally picking up workers at a nearby dock and the cruiser would use his own boat to stop the ferry. Emotions ran high as many cruisers took on a new role of vigilante. We decided to stay put. We hunkered down amidst debris from the last disaster and awaited news from the present disaster.
At first, I hated Man-o-War Cay. No matter how the wind turned us, our view was always wreckage. The boat nearest to us had a piling from a dock sticking through its half-sunk hull.
Another had scraps of sail that fluttered in the wind, clinging to a sailing legacy now lost. These were not pleasure boats, easily forgotten and replaced by shinier models from insurance or by a new hobby altogether. These were homes. Just like our home on Gémeaux. It was heart-wrenching to face the loss every day. I desperately missed being in the water but thought certainly it was contaminated with fluids leaching from the wreckage. The whole scene was depressing and I couldn't wait to get back to a secluded anchorage in pristine turquoise waters. Then the turtles came—not one or two but a dozen little heads popping up from the water, so close I could hear the exhale of their breath. From behind our boat, we heard a sudden splash and caught the tail end of an eagle ray jumping from the water.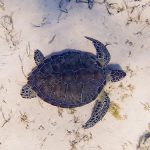 Nothing brings me greater joy than to be among animals. I was overcome with a sense of peace and optimism that the bay was healing. And if the water was good enough for the turtles and the rays, it was good enough for me. I ignored the murky, green color and jumped in. It cooled my body and warmed my soul. It was glorious. Wreckage still remained all around but faded more each day as I spent more time in the water and the critters I love so much stole the foreground.
Then we met the people. Covid put a stop to inviting people onboard so we created friendships from afar. Each time someone went by, we jumped up to wave. Everyone waved back, most slowed down to chat. Allen formed a unique friendship with a fellow cruiser who swam over to chat about the latest weather, Covid cases, and the general status of things here and across the globe…all the while treading water off the stern to maintain social distancing—two words we had never before linked together.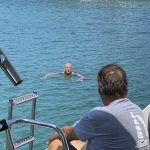 We watched a young family who lived aboard their small monohull side-tied to another larger monohull—a Dorian salvage they planned to restore. All day long, their two little girls hopped from one boat to the other in their birthday suits, while their father negotiated his sledge hammer with visions of a new home. A Canadian couple kayaked by and told us they too were waiting for things to settle down before heading home. Covid had turned their one-week vacation with another couple into the ultimate challenge of friendship—four weeks together aboard their small trawler.
We were particularly drawn to the story of a woman who introduced herself one day from her paddle board and prompted by our many questions, unassumingly told the story of how she had survived Dorian. After securing their sailboat in the harbor, she and her husband huddled together with locals in the school basement while the hurricane decimated the island. After the the storm passed, they were relieved to find their boat still mostly intact and still attached to the mooring ball and concrete block—the entire bundle astonishingly picked up out of the water and moved to land. The couple spent months making their boat seaworthy and then hoisted it back into the water. When they weren't focused on their own repairs, they worked alongside residents in rebuilding their homes and businesses—all of whom had become like one big family, having endured a life-changing event together. Just when this remarkable couple was preparing to depart the harbor, the husband was called back to the U.S. to help his ailing mother. Now, with a new hurricane season fast approaching, Covid-19 has him stuck in the U.S. and his wife living solo on their boat in The Bahamas. She left us standing in awe as she paddled away with a smile that stretched across her face. I hope she tells her story to the world someday—it will be an amazing read.
Buddy managed the moorings. Every few days, he came by in his dinghy to collect a nominal fee for our mooring ball and to share tales of his life in Man-o-War Cay. Saddened by constant reports of divisiveness in the U.S., Buddy's story of how all the residents joined forces after Dorian to pull out every single Albury tote bag from the bay left us speechless. He told us how he worked to repair each mooring ball in the bay so visitors would return. Now he lives essentially without electricity because the $400/month fuel cost to run his generator is so great.
One day, Buddy brought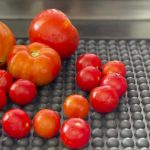 us a bag of fresh tomatoes from his garden. A little apprehensive, I accepted this act of generosity but wondered if tomatoes could transmit coronavirus. "Be sure to wash them," Buddy said, as though reading my mind. "You wanna be sure they don't have any white flies." Oh, don't you worry, I thought to myself, these little puppies are going to be scrubbed and sterilized…little white flies are the least of my concern. "Thank you SO much," I said out loud, astonished to know fresh tomatoes were growing just on the other side of piles of rubble AND that a person who has lost so much just a few months ago, whose life was turned upside down, could demonstrate such heart-felt generosity. Stories like these make you grateful for your life. They teach us lessons we should all take away.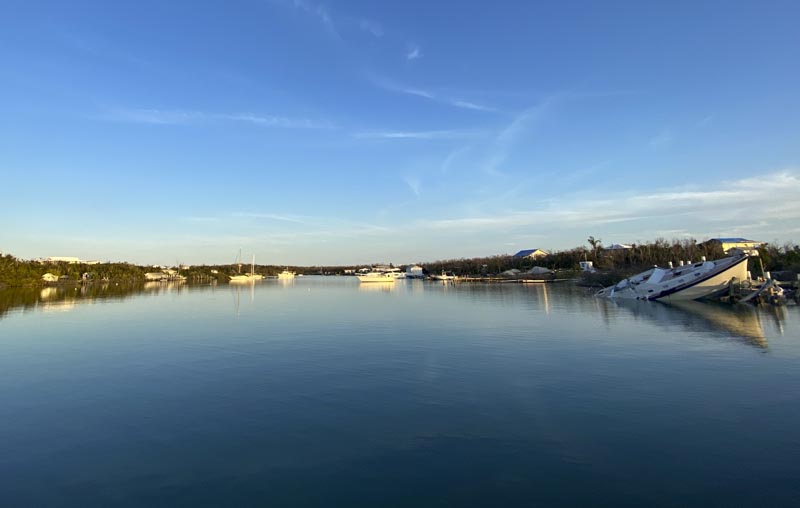 Days ran together in Man-o-War Cay. We had enough internet to stay connected to friends and family through text and even brief phone calls if we stood on top of the boat. I started an afternoon yoga practice on the bow, which became a happy part of my daily routine. Some days, the wind blew so hard, it blew me out of poses. After the wind died down, however, the water would turn to glass and we could finally see the bottom.There was a lot of debris, but also an endless amount of sea grass, which beckoned the turtles. In the midst of this chaotic world, it was beautiful to wake up and see that kind of calm. Just before Easter, the Prime Minister announced a 5-day lockdown that would coincide with the long holiday weekend.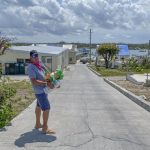 We decided to check out the local market on the remote chance we could find some fresh produce. Out of respect for this community and careful to protect ourselves, we covered our faces with masks. Nobody else wore them but everyone was friendly and welcoming. No fresh produce but the captain got ice cream and diet coke, which by itself made the trip worthwhile.
Two days before the weekend lockdown lifted, we made a decision to leave. The Bahamas had been the best place to wait out a global pandemic and Man-o-War Cay, in particular, had offered an overall tranquility that we desperately needed during these unpredictable times.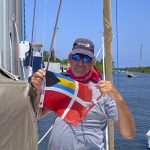 We had never stayed in one spot for this long and even with the social distancing and lockdowns, maybe because of them, we felt a bond to this little bay. We knew, however, stricter travel restrictions were headed our way. The Prime Minister was working hard to decrease the rate of Covid cases, which were still on the rise in The Bahamas. Weekend lockdowns were becoming the norm and it was just a matter of time before foreign boats wouldn't be able to move at all or would be sent back to their respective countries. And, of course, we didn't want to get sick on an island already lacking resources to serve its own community. Tomorrow we would leave this place that had become home.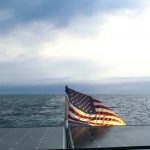 Without any fanfare or formal farewells, we exited the narrow channel just as quietly as we had entered. The next day, the Prime Minister declared new restrictions that required all cruisers to remain onboard their vessels. You couldn't move anchorages. You couldn't go ashore. You had to hire a service to deliver groceries. It was indeed time to leave. We hoped the sense of optimism, resiliency, and kindness that we had learned from this island prepared us for the next unpredictable part of our journey—returning to our own country.
Enjoyed this post?
Sign up to receive email notifications of future posts!