No matter how much I love exploring our planet, it always feels good to step off the plane onto U.S. soil. That sense of familiarity—filling out Customs forms with nothing to declare, bypassing long Immigration lines because I'm a resident, and knowing that as soon as I exit through the large airport doors, I'll understand everything—no effort required. This is my home.
The International door slams behind me and immediately my senses ignite. Gift shops, moving walkways, and TVs blaring news or sports from every corner. Servers juggling beer and wine and mountains of food. There are drinking fountains for short people and tall people and refillable water bottle stations and hey—I can drink that water! Outside, taxis and Ubers and shiny SUVs sweep in to collect their passengers. One person per car. No rickety vans waiting to fill every seat before it departs for a group trek.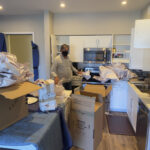 Wait…stop! I first began writing this piece more than a year ago…long before Covid changed the world. Fast forward to January 2021 when we left Gémeaux in The Bahamas and re-entered the United States. Things looked very different. We had sold our house and had to make the trip back to California to move our plunder into an apartment. Traveling at the peak of Covid was not our first choice but who knew the house would sell instantly. Planes were still moderately full and many airport shops were closed. We sought out empty corners of the airport to safely pass our long layovers.
When we arrived after midnight, Covid was quiet. Yards were tidy and green. No weeds, no rusted cars. Nothing broken. Everything new. Large bins lined the curb, reminding us that tomorrow was trash day—no need to find our own dumpster. I'd forgotten this amazing infrastructure. The house was hollow—no dog, no cat, no kids, not even a car. The kitchen had luxuries I'd learned to live without—dishwasher, trash compactor, and garbage disposal. There were hundreds of drawers. Do I really use all these slotted spoons? The bathroom had no signs warning of a delicate plumbing system. I simply flushed and didn't worry about where it went…it just did. Water spewed from the shower head and the endless stream of hot water was delicious. In my office, I reconnected with the world through five glorious bars of service and lightning-fast WIFI. My electronics celebrated their updates and absence of annoying messages that they had not been updated in more than a million days. I slept soundly. No alarms. No worries about our anchor holding.
Another fast forward to 2022—Covid has finally, maybe, hopefully simmered down and although now there's a new threat of a world war, we decide to make the long-awaited journey to the Mediterranean. Before our departure, we leave Gémeaux in Florida, pack up the cat, and fly around the country on an aggressive schedule to see family, friends, doctors, and dentists. Get our hair cut, our skin checked, and oh, get married!  We wear our face masks everywhere…We. Do. Not. Want. Covid. We don't want it when we have to test for our international travel visa and we certainly don't want it while we're offshore a thousand miles from the U.S.
The dry holes of fresh produce in The Bahamas are still vivid in our minds and we gasp at the paradise in front of us as we enter just your average U.S. market. So many choices. Fish is beautifully-filleted with no heads attached.
Pyramids of nectarines and peaches and artichokes and eight different kinds of apples. What IS a Cosmic Crisp apple? There's yellow corn and white corn, organic white corn, corn that's been shrink wrapped, and corn still in the husk. Every piece of fruit is big and shiny and I want it all. How I've missed this land of plenty.
My sister graciously hosts Zemi for the month—what's one more in a house already with three cats? We fly from Denver to Vermont to Oregon to Washington D.C. and it is wonderful hugging our kids and spending time with friends and family. Ultimately, we end up in California at an apartment that is our permanent mailing address but a place where we still can't locate the paper towels.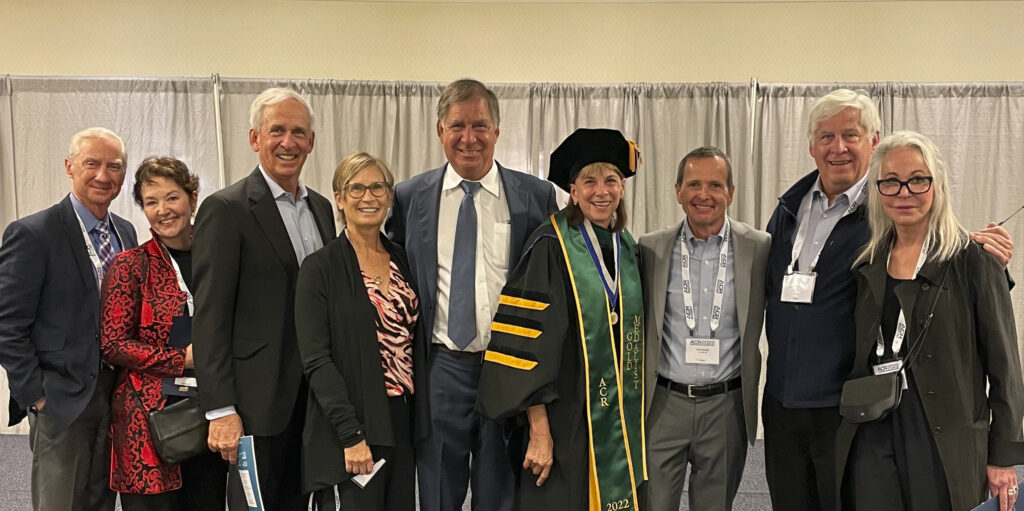 After three weeks, I finally clear the re-entry hurdle and now I don't want to leave. I've fallen in love with everything big and sparkly, the yummy food, the Amazon deliveries, and the nighttime conversations on the couch with my sister. And yet, I feel like a visitor in this land of plenty. I barely remember how to drive a car, my circle of friends is shrinking, and the selection of cereal is so overwhelming, I find the simple task of grocery shopping paralyzing.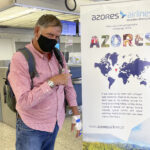 I miss the ocean and the sunset each night. How the wind feels on my face and the quiet of mornings when the wind disappears altogether. I even miss the sheer delight of finding that prized pineapple, no matter how mushy it is.  I love the habits we've created to be kinder to our planet—conserving water and reducing waste. I've grown used to our simple life on a 44-foot home. I miss simple. I miss home on Gémeaux.
So we pick up the cat, board one final flight back to Gémeaux, and embark on another aggressive schedule—this time to prepare for our first trans-Atlantic crossing.
This time as a Mr. and Mrs.!