Daylight emerges ever so quietly in a heavy bank of fog. After hours of uninterrupted seas during our overnight passage from Cape Cod, lobster pots make their de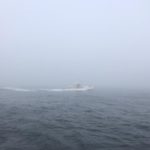 but. Suddenly, a loud CLUNK! against the hull draws us all to attention. With only ¼-mile of visibility it's nearly impossible to see what's out there, but we're certain we've run into our first lobster pot. Instead, we see a black shark-like fin surface from behind our boat. Our first sun fish with its huge black circular body, bobs away, unfazed by the newcomer in this northern state, and apparently unfazed by a hard, fiberglass hull to the head. Occasionally in this obscured visibility, we stop conversation and say, "Did you hear that?" and then the three of us listen intently to determine if it was a horn or an engine and, more importantly, are we going to collide with it?!
Welcome to Maine.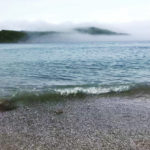 Dense fog and limited visibility continue all the way to Bar Harbor where we tie up temporarily to a fisherman's mooring ball for a quick dinghy trip into town to rent sea kayaks. It's so disorienting to not have any sense of direction or our surroundings in this white landscape, but we manage to get the kayaks onboard and set off to anchor in nearby Northeast Harbor. Barbara and I take turns standing on our little carpet that warms the helm's chilly floor, being spotters while the captain expertly navigates through never-ending fields of colored buoys.

Over the next week, Barbara and I take our sea kayaks and explore the Maine coastline. Sprawling cabins with four chimneys sit majestically on acres of lush green lawns amidst thick forests of pines. Each homestead is tethered to the water with a long wooden dock that rises and falls with this huge 10-foot Northeastern tide. The variety of boats complete the landscape—noisy lobster boats, weekend motor boats, and beautifully hand-crafted wooden sailboats of all sizes. Rarely do we spot another catamaran.
Even in the beautiful Somes Sound fjard with its thickly-wooded sloping shores that pour into the blue sea, lobster pots litter the water like an urban hillside of Easter eggs. Each day we paddle a little farther, spotting loons, mergansers, and bald eagles. We search for little creeks, take in the detail of seaweed, paddle through dark skies and rain storms, and talk to locals and lobster fishermen. Did you know that 90% of the pots belong to commercial fishermen who hoist up nearly 100 pots a day?
And then we eat lobster…again and again. And it is spectacular. We order it at Abel's waterfront restaurant, from small docks and diners, and ultimately from the lobster fishermen themselves when they pull up their pots just off our stern. After all, we spend each day navigating around all these lobster pots so of course we should participate in the benefits of the whole industry, right?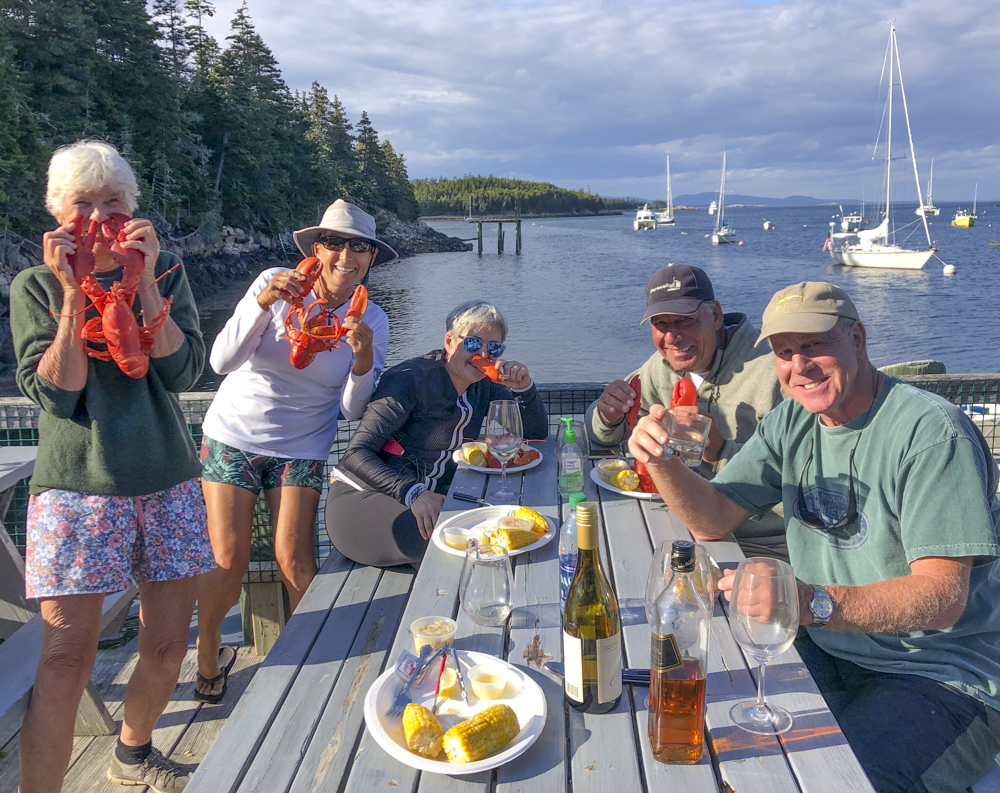 Barbara returns home and we continue sailing in Maine with our buddy boat, Exodus, who plays tour guide to their many favorite islands and anchorages. This small state of Maine with more than 4,500 islands has more coastline than California. Every inch of it is stunning. We discover Bucks Harbor, home to Robert McCloskey's famous children's book Blueberries for Sal. In this authentic rural fishing village, mom runs the dock, while her daughter studies in the back office for AP exams and her two sons play nonstop with cars on their chalk-drawn driveway city. A 10-year old girl in pigtails and glasses brings in her daily catch. Her lobsters weigh in at 8 pounds on the store sale and the little girl happily runs off with her $32 profit.
Almost a year ago, on the Suzie Too Rally, we met Al and Maggie aboard Sweet Dreams. Today, we visit their home near Pulpit Harbor, a cozy harbor of nearly 100 boats flanked  by a huge osprey nest. We spend an amazing evening at the Turner Farm, where staff greets us with gin and tonics as we wander the farm taking in rows and rows of flowers and vegetables, which later appear on our plates for a delicious 6-course dinner.

Maggie takes us to their local farmer's market in Vinylhaven, which is the epitome of small-town fun—one produce stand, one guy selling homemade bread wrapped in tea towels, another gal selling lamb grown locally on the island, and about 8 kids marketing lemonade, cupcakes, and rice krispie treats. Everybody knows Maggie and we delight in getting a glimpse of her life in rural Maine. Continuing to be the ultimate hosts, Al and Maggie lead a hike around their island, followed by a yummy lobster dinner at their cottage. If you ever have the pleasure of Maggie cooking for you, be sure to request her cornbread with a secret ingredient.
As we approach the end of August, we join a 3-day rally sponsored by our Ocean Cruising Club's local port captain, who escorts about 20 boats on a fabulous itinerary to Sea Island, Hurricane Island, and Maple Juice Cove, where American artist Andrew Wyeth created his famous painting of Cristina's World.
Before this short sailing season ends, however, we want to reach the furthest northern point of Maine so we leave the rally and head down east to Roque Island, which sits just this side of the Canadian border at 44 degrees North. I love the rugged landscape and the secluded bay of Bunker Cove, which we share with about 15 seals who swim so close we can hear their breath. Mid-morning on the following day, we deem the tide ideal for mussel foraging. My neoprene glacier gloves are the perfect solution for picking off clusters of sharp, barnacle-covered mussels from rocks just below the surface of the water while Allen guides the dinghy around the shoreline.
Back onboard, the two captains sit on the stern of their boats, searing off barnacles until the mussels looked restaurant worthy. Ronna and I cook a delicious wine and garlic broth for our fresh mussels and the meal is spectacular! …and nobody died:)
All in all, the weather this Maine season is gorgeous. The lack of wind often forces us to motor instead of sail, but we're grateful for many many sun-filled, albeit cold days. It's hard to imagine that in a few months we'll be dripping in Caribbean sweat. For now, however, we enjoy lazy mornings snuggling under down comforters until someone works up the courage to make coffee. When we do sail, the Captain has mastered a unique method for spotting lobster pots:)
The water temperature is about 50 degrees. The captain has made two very fast dives to dislodge lobster buoys that have become one with our props while tied to mooring balls…brrrr. Although there's no snorkeling and we paddle board very carefully to stay dry, we explore ashore at nearly every anchorage. We pick wild raspberries and blueberries on Mistake Island; hike to Jordan Pond from Northeast Harbor to enjoy hot popovers; visit more sailing friends in Sorrento, warm our bodies on large granite slabs scattered throughout Merchant Island; hike to the 556-foot! summit on Isle au Haut in Acadia National Park; and learn that in fact before Plymoth AND Provincetown, those busy pilgrims arrived on the little Maine island of Damariscove. We need to update our history books!
Monhegan Island is love at first sight, albeit its long list of rules. The island is 1.4 miles long and nearly a mile across, but stands majestically alone 10 miles from the mainland.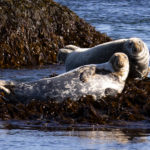 We raft together with Exodus for two days of communal living on one of the few available mooring balls near a small rock outcropping, which is flush with nesting gulls and cormorants and seals basking in the sun. Protected woodlands offer several trails on the island that wander through dense forests of spruce and fir and then open up high above a rocky coastline below. For once we can see more than just heads of seals, the clear water exposing their entire bodies drifting vertically in the surf below.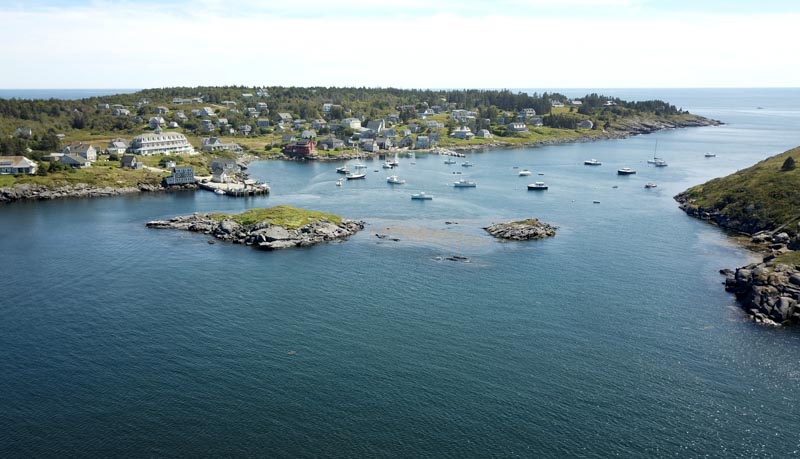 Local crafted beer (and tater tots!) at the Monhegan Brewing Company is the perfect reward for a long hike, followed by a lobster dinner from the Fish House Fish Market that we enjoy back on Gémeaux. Equally as beautiful as the forest is the town of Monhegan—home to many local artists, inns, shops, the world's first solar-powered post office, a farmer's market, and a general store that carries all of life's necessities, including fresh-baked baguettes. Smoking is strictly prohibited anywhere outside the village to avoid destroying the entire wooded island in a nano second. Through rain sprinkles the following day, we explore trail #11 in Cathedral Woods that leads us through dozens of  fairy homes, creative miniature constructions using bits and pieces of surrounding nature. We seek shelter from the rain and tour the Monhegan Museum, fascinated once again by the array of historical artifacts that these rural islands manage to collect. On this day after Labor Day, lobster pots begin appearing as Monhegan's fishermen return to being lobstermen after a busy season of playing deep fishing guides to visitors. It's time for us to go.
Even though we are far north of the hurricane line, Dorian threatens the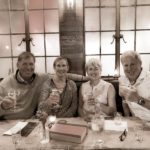 Eastern seaboard, having just devastated the Bahamas. We alter plans, as weather often dictates in this sailing life, and head to DiMillo's Marina in Portland where a slip costs us $200/night…ouch! Hurricane Dorian ends up bypassing Maine so we simply enjoy the sights of this lovely town built on cobblestone roads—martinis at Blythe and Burrows, lobster mac and cheese at 555, and the best…provisioning at Whole Foods.
In only four weeks, we've covered about 500 miles of Maine, just scratching the surface. We bid a sad farewell to this remarkable state and begin our southbound journey, props in tact and no lobster pots dragging behind.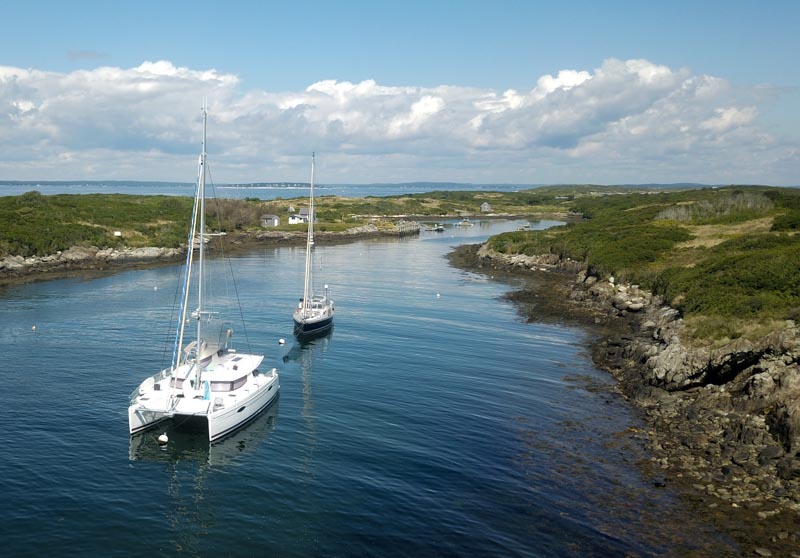 Click here to view our photo book of Maine.
Enjoyed this post?
Sign up at the bottom of this page
to receive email notifications of future posts!