Destination: Ft. Lauderdale, FL via the Bahamas
Crew: Allen, brother JP, Jim Moore, and Shiera
Mon 4.3.2017  Best laid plans…Jim and JP's luggage didn't appear at Provo airport so our planned departure of Monday morning was pushed out to the afternoon. Just as Jim and JP finally bit the bullet and purchased a new sailing wardrobe at the local general store, their luggage appeared. Gémeaux is now outfitted with two extra sets of rain gear! A small hole in the fuel line just 300 yards from Southside Marina was exciting, but we managed to repair it AND stay off the coral! Enjoyed our packed lunch of local fried chicken as we officially got underway on this second and final leg of moving Gémeaux to Ft. Lauderdale. The turquoise color of the water is unreal!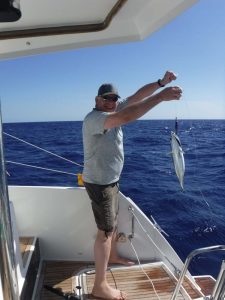 Not to be outdone by brother Don from part one of this journey, JP put out two fishing lines. Gémeaux once again was a fishing boat. Almost immediately, JP caught a barracuda. Just as he returned the barracuda to the sea, the other line raced. The crowd roared! We pulled in one of the sails to slow down and all hands were on deck to pull in what appeared to be an enormous fish! After much excitement and running around, JP successfully landed a 15lb red snapper! Or maybe it was 500 lbs, Don–it was soooo big! I watched from afar as JP transformed this living creature into dinner filets–hacking bits of the poor critter with a serrated bread knife and scales flying hither and yon in the galley. Note to self: purchase fish filleting knives for JP or provide a scalpel for this world-renown surgeon. We modified dinner to incorporate fresh snapper and sailed through the night taking shifts. Princess Shiera was allowed to sleep off a sick tummy, worse now with the new fish fragrance in the galley.
Tue 4.4.2017  Passage continues with this 360 degree view. Occasionally we see flying fish, some birds, or huge freighters on the horizon. Otherwise, we haven't seen land or any signs of civilization since we left Turks and Caicos.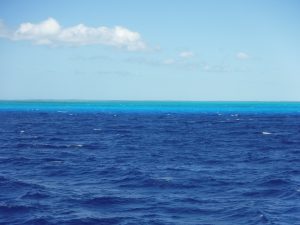 You really get a sense of how big the world is. After a full day of sailing, motoring, and catching up on shut-eye, we arrived into Flamingo Bay off Rum Cay just before sunset. It was quite a maze dogging hundred of coral reefs. The guidebook assured us it would be "okay," but before we knew it we were boxed in by coral. With each of us on deck as spotters, our excellent helmsman navigated the coral and we anchored as the sun set behind the horizon. Yummy grilled pork tenderloin and four hearty appetites now that we have all successfully gained our sea legs and put away the Bonine. Night swim and early to bed. Nice to be at anchor.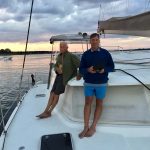 Wed 4.5.2017  Morning drone flyover confirmed the best passage out of the coral maze. Fishing gear out and sails up! Just a brief sail with the Gennaker–mostly motoring as we wished for more wind. Arrived in Emerald Bay on Great Exumas Island around 6pm to refuel and get underway again. However, we couldn't refuel until we cleared Customs. So, we showered at the marina, did a load of laundry, and waited. Customs finally arrived and we completed all the formalities for a mere $420! Now, of course, the fuel dock was closed. So, we decided to just stay tied up to the dock and have dinner. Besides, we still needed Immigration to clear us. Just as we were sitting down to a fiesta of fish tacos, Immigration showed up. Naturally, the official stayed for dinner. I think it was the highlight of his day–and we loved the chance to learn about the world of human and drug trafficking.
One would typically assume at this point that it was safe to have another round of Bombay gin and collapse into bed to prepare for an early fueling and departure the next day. Captain Allen had a different idea and I knew our plans would change as he said with a mischievous grin, "You know, I was thinking…" After a quick group discussion, we agreed the best wind was tonight and we should get underway to avoid potential fallout from an incoming cold front. We topped off our water supply, pushed off from the dock, and had sails up by 10:30pm. Argh, this night sailing.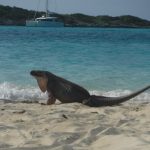 Thu 4.6.2017  Less than an hour into our sail last night we noticed the block on the main sheet finally failed and the halyard jammed inside. Damn, that halyard sure causes a lot of trouble. Allen and I were on the first shift so I sat dutifully at the helm, while Allen tackled the task of replacing the block…in the dark…under power. What a hero. We continued under power through the night and arrived at Highbourne Marina around noon. Bought fuel and ice cream bars and enjoyed this pretty, private island. After a brief stay, we motored a short distance to Allen's Cay–seemingly appropriate–with the lure of gigantic iguanas ashore.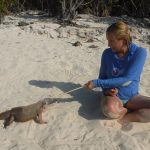 Just as we set anchor in these beautiful turquoise waters, Allen noticed a familiar green trawler pulling around the corner. Sure enough, it was John and Deb on Aftermath, our neighbors from Southside Marina. The sailing world is indeed small. Spent the rest of this sunny day snorkeling and of course feeding the iguanas. Busy little place with about 15 boats anchored by the end of the night. Expecting a shift in the winds overnight as the cold front approaches.
Fri 4.7.2017  After a quiet night, we woke to low cloud cover but not the dramatic storm we were expecting. What started as a leisurely departure from Allen's Cay quickly turned into a rough ride as we endured a 6-hour beat dead into the wind. What a pleasure to finally arrive at Bottom Harbor on Rose Cay just east of the Nassau metropolis.
Great snorkeling and JP actually retrieve a conch for dinner. It was a very entertaining process to remove the conch from its shell involving a drill, hammer, lots of pounding, and even an attempted get-away by the poor critter as it dangled from the fishing rod to relieve the suction. We invited John and Debbie for cocktails to officially kickoff our sailing socializing.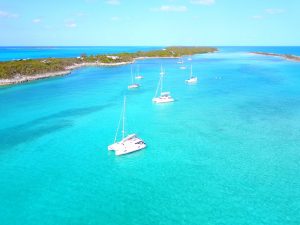 Sat 4.8.2017  9am and we were underway with sails up…for awhile. Wind died and we eventually turned on the motors and arrived around 4pm at Chub Cay–a quaint, but rather deserted island with no signs of life. Standard operating procedure now seems to be anchor, play, eat, and then sail through the night to maximize wind and weather conditions. So for playtime, we took the dinghy ¼ mile to some of the best snorkeling I've seen so far. Billions of fish, including a bat ray, a small turtle, and colorful, vibrant coral, which until today, I thought had completely expired from our planet. Eating included our final planned meal aboard–steaks and scalloped potatoes. After tonight, soup packets for meals! Now, we are underway again following AfterMath across the Great Bahamas Bank. Water depth is only ~15 feet and with a full moon, we can just make out the many dark patches of water indicating a coral reef just a few feet below our keels. I'm sure we're maximizing weather conditions by sailing through the night but it sure would be nice to see this amazing place in the daylight.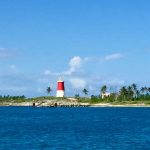 Sun 4.9.2017  I woke at 7am just in time to witness our final sunrise in the Bahamas. In the past, no matter how fabulous the international adventure was, that return to our USA home always felt good. This 2017 return, however, feels very anticlimactic and anything but home. We motored past the iconic lighthouse on Gun Cay, signifying the official entrance, or today, the official exit from The Bahamas. We bid farewell to AfterMath as they head to Key Biscayne and put up the sails for this fi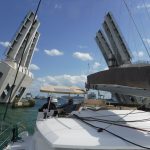 nal leg into Ft. Lauderdale. The seas and skies look the same, but the increased number of container ships every direction indeed confirms we are headed towards civilization.
Mission part two of our 1500-mile journey successfully completed. Gémeaux makeover ready to begin.
Enjoyed this post?
Sign up to receive email notifications of future posts!