A virus, not weather, drove th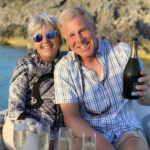 e decision—certain that this simple, solitary lifestyle was the best place to be; uncertain of how long the government would allow us to stay. Our friends sailed for home in the US, certain that being closer to family and healthcare was the best place to be; uncertain of what home would look like. We bid farewell to Exodus, our sailing buddies for more than a year, as we each decided to navigate this global crisis differently.
We're in The Bahamas, surrounded by beautiful turquoise water. Sunsets are breathtaking and we find joy and peace under the sea. We rarely go ashore because everything we need is on our boat. We're fully provisioned, as usual, in case weather dictates a delay or if there are no markets in this remote area. Our water maker converts salt water to fresh so we have drinking water.
Solar panels are charging our batteries. We even have a washing machine. Our plumbing is fragile so we know never to throw Lysol wipes down the toilet. When something breaks, we fix it ourselves…usually:) We forego haircuts and pedicures, movie dates and gyms. This is our normal day-to-day life as live-aboards on a sailboat and essentially it has prepared us for a pandemic.
Outside our 44-foot corner of the world, we know the coronavirus is taking on humanity. Newsfeeds, phone calls from the US, and social media fill us with updates. We wake each morning to heartbreaking reports in China and Italy, and a list of new cases and restrictions being implemented each day. We know lives are being lost and we are deeply saddened.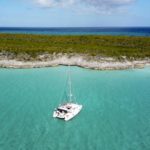 We read about the fear and panic and desperate measures being taken in communities everywhere. We hear about toilet paper hoarding and runs on hand sanitizers. And while in many ways and on many days, we feel completely insulated from the turmoil exploding across the globe, we understand the magnitude of this event. We're worried too—about our families and friends who are far away and simply how this planet is going to survive. And if this lovely tropical scene has provided any sense of insulation, it all disappeared the day we learned a family member tested positive for Covid-19.
In early March, coronavirus was just trickling into our lives and our sailing community. The biggest decision for us at that time was whether we should cancel two upcoming family trips to visit us. We live for the moments to play host and I was crushed to give up the chance to see my daughter. But the unpredictability of travel and health risks to everyone (including us) were too great. We put selfishness aside and cancelled. Two days later, the US announced travel restrictions, triggering a cascade of change that immediately shrunk our world. Countries started closing their borders to private vessels. Fellow cruisers were no longer allowed into ports and marinas. In some cases, foreign-flagged vessels were asked to leave the country entirely. Where does a US boat go when they're required to leave the country of Guadaloupe 2,000 miles away? We heard stories of cruisers who just completed a 2-week offshore voyage, only to be denied entry into a country. For many of our friends, their boat is their home—there is no house on land. Even if they could fly to friends or family, there are no available marinas in which to leave their boats. And in three months, hurricane season will be upon us and options will become even more limited. Many of our Canadian and US friends decided to sail back to their respective countries, uncertain of how to provision and fuel en route as each day brings more restrictions. Other friends stayed put—some by choice, some by government lockdown. Our own itinerary landed us in a country with open borders and only a 2-day sail to the US in the event that changed. We decided to stay put.
Then Nassau reported its first case of Covid-19 and the world came tumbling down. We were pulling into a marina to refuel and buy some groceries just as panic began spreading across the islands. The marina staff, all wearing bandanas across their faces, were flustered a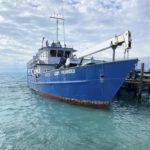 nd trying feverishly to establish a protocol based on the bits of information the Government was releasing. We were allowed off our boat only after our temperatures were taken. We purchased fuel. Groceries, however, were not available to us. It wasn't cl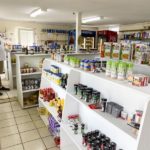 ear when the mail boat, which delivers food and provisions each week from Nassau to outlying islands, would come as scheduled. It wasn't clear, in fact, if the boat would come at all. The Bahamian system of supplying food to its islands is fragile—food was now being rationed for residents and resort guests until further notice.
This morning, less than a week later, we woke to news that the Bahamian government had closed its airports and issued a 24-hour curfew, i.e., a very strict shelter-in-place to reduce viral transmission and to thwart any potential violence in these difficult times. Although this mama would have loved to have had her daughter stuck with her indefinitely, clearly it had been a good decision to cancel the family trips. All non-essential business closed. Jobs came to a screeching halt. Ports and marinas closed. Visitors are no longer allowed in. There's not, however, a mandate to leave the country so we're still staying put…anchored offshore in isolation.
I'm not sure how to finish this writing. I've updated, rewritten and updated it again trying to keep pace with this fast-changing pandemic. We're sheltering-in-place like many of you—we don't go ashore, we interact with few people and only from afar. We have everything we need on our floating home—fuel and propane, enough food for a month. And since laughter is good for all of us—we're used to spending 24/7 with one another in a small space so I'm pretty sure we won't kill each other. If we run out of tp, we have a very big bidet off the stern of our boat:) But we worry—what if our water maker breaks and we can't fix it? Will our warming planet send some erratic weather our way? Will The Bahamas force all nonresidents to leave? Will our families be okay? Thankfully, we are healthy. All considered, we think the best place for us right now is to stay put on Gémeaux. That's our plan today anyway. Hoping you stay safe and find peace as our planet heals.