Sirocco, Mistrals, Bora, Meltemi—just a few of the named winds that make winter sailing inhospitable in the Mediterranean. For the first time in our six years, we would not be onboard through the winter. Instead, we'd leave Gémeaux in Sicily, return to our apartment in California, and resume sailing the following April. So, here it was August 15th – how do we get to Sicily 1000 miles away by October 1st and still see the sights?
I looked back through our daily logbook to capture the essence of this 6-week voyage and saw two themes— 1) take in the culture by eating at cute cafés, and 2) move fast. On one hand, I wanted to see it all and try everything on the table and geez, we were right here…we may never get back. On the other practical side, we had a deadline and just couldn't do it all. Somehow, we found a ton of cute cafés but boy our pace was fast. So many mornings, I would wake up wondering—Where am I?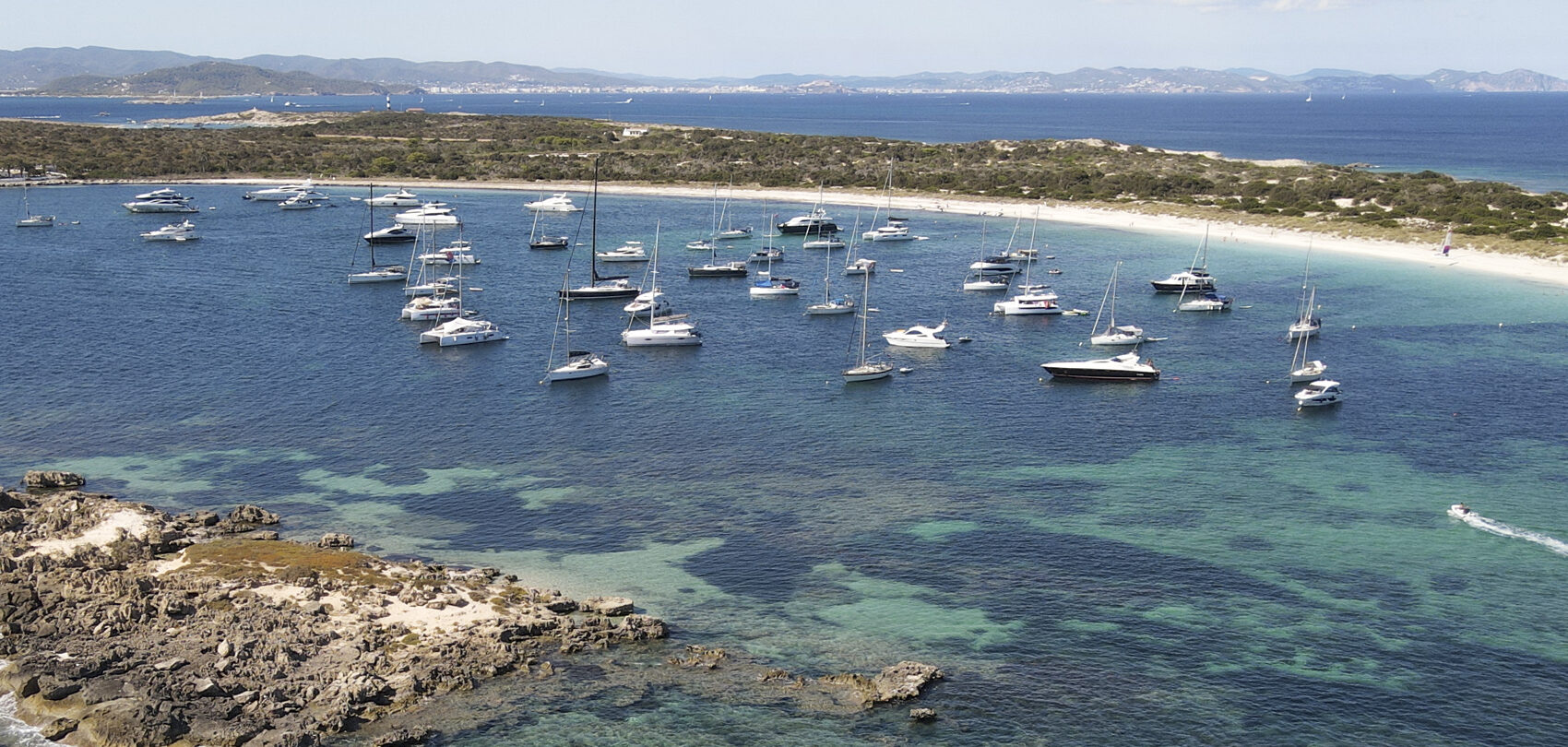 Our first destination were the picturesque Spanish Balearic Islands 300 miles away from Gibraltar. We crossed the prime meridian, placing us for the first time in the eastern hemisphere, and then made landfall on the island of Fronterra. Smack dab in the height of tourist season, the place was buzzing with boats and Europeans scantily-clad in teeny bikinis in bodies that weren't so teeny. We found tranquility in the shallows of lovely 80+ degree water, where we got our first closeup encounter with the famed Posidonia Seagrass, which has been flourishing in this area for hundreds of thousands of years.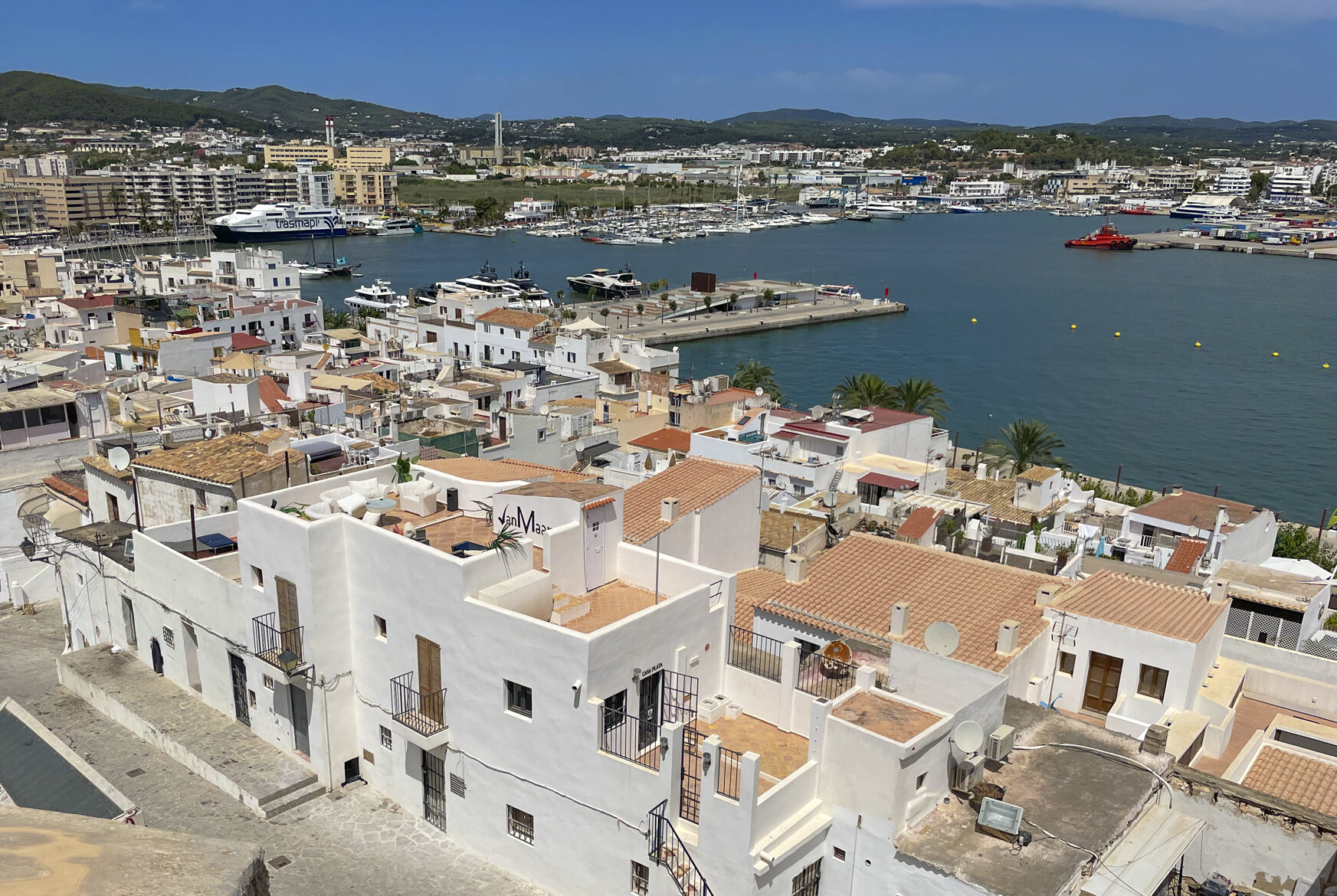 Many people regard Ibiza as the party capital of the world. We arrived midday, however, when the clubbing scene was fast asleep and the town center was quiet. Narrow cobblestone alleys led us past whitewashed flat-roof houses with the occasional Bohemian flare held over from the 1960s. We climbed to the top of Castell de Eivissa, much in disrepair, but still boasting a long history dating back to 8th-century North African Moors. On this hot and humid day, the highpoint was on our descent, dripping in sweat, we rounded the corner and landed at Plaza del Sol where we drank a gallon of fresh-squeezed lemonade under a canopy of trees and umbrellas.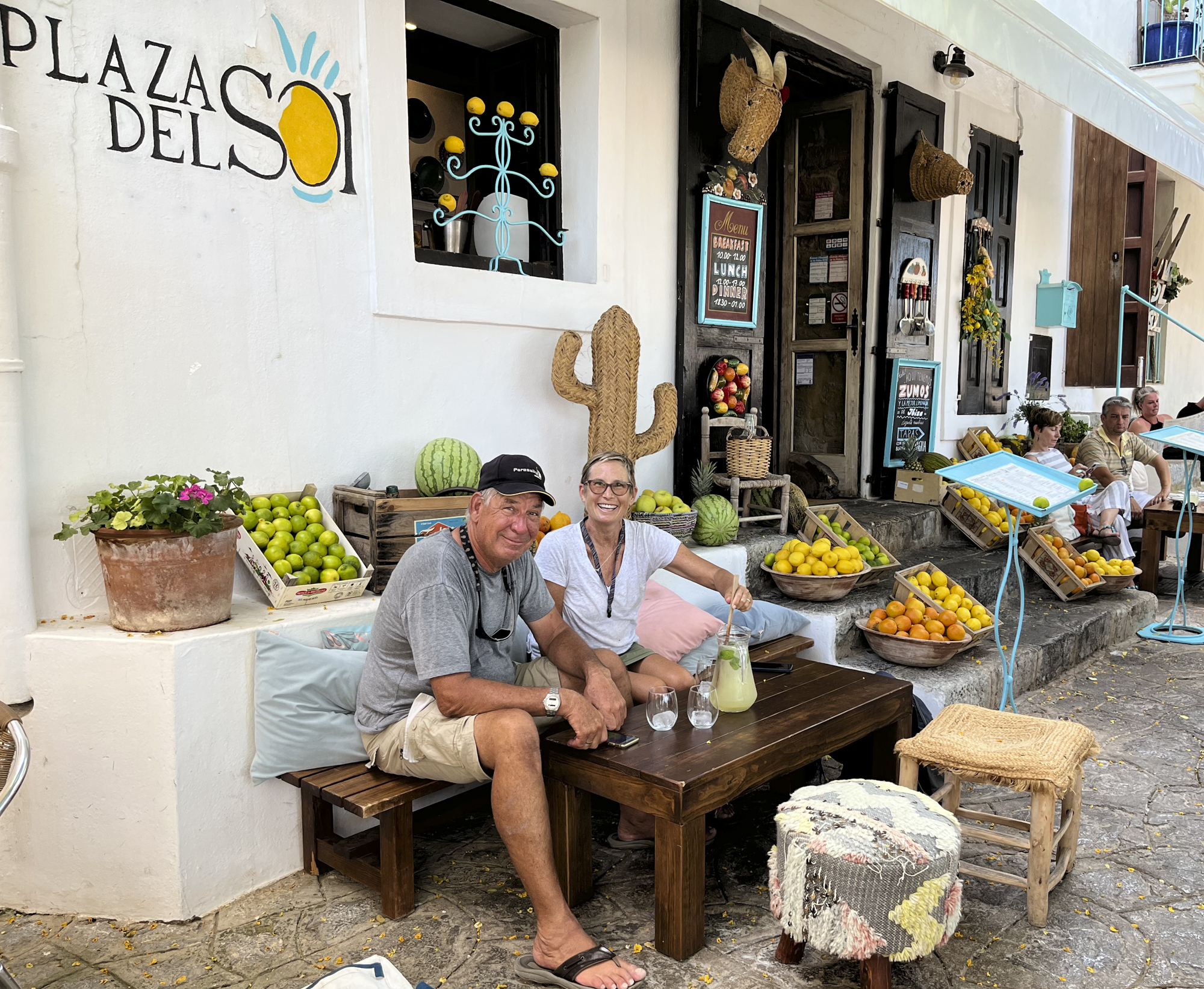 The western side of Ibiza amazed us with some of the most scenic sailing in our cruising history. We passed first through a narrow islet in the shadows of the dramatic 400-meter limestone island of Es Vedrà, rising sharply from the sea.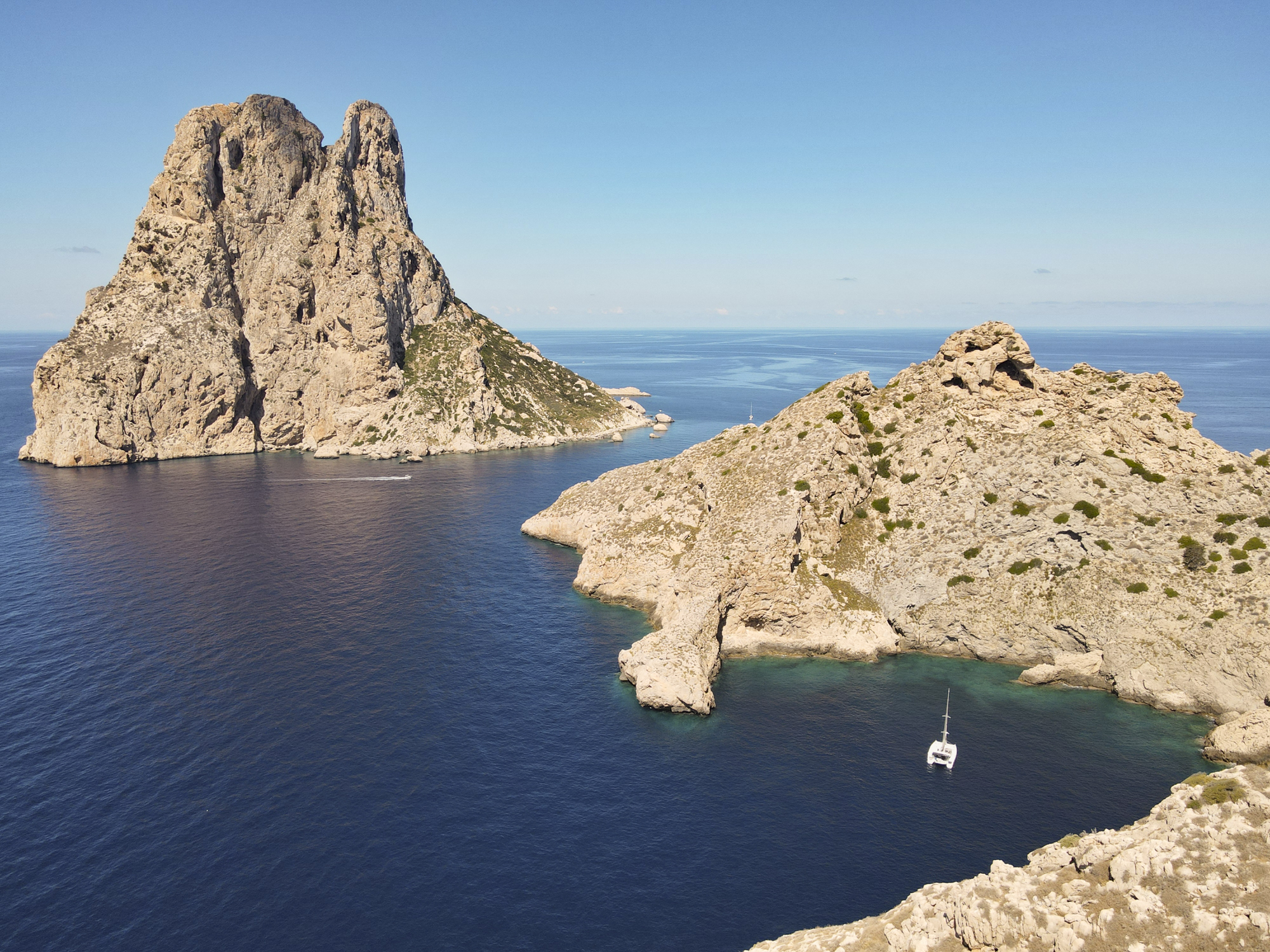 We pulled into remote coves for quick swims and drone photos to capture images we never wanted to forget. The bay of St. Miquel, although overflowing with boats and sunbathing bodies (quickly becoming another theme), offered excellent paella and snorkeling, where we discovered smacks of fried egg jellyfish. Although an intimidating large size, we later learned the jellies are harmless…whew!
The largest of the Balearic archipelago is Mallorca and the largest marina we had ever seen was in the capital city of La Palma. Built against a backdrop of hotels and palm trees, the marina easily housed 1000 boats that ranged from small sailboats to mega yachts, including Venus, formerly owned by Steve Jobs.
We accomplished our first Med mooring since arriving in Europe. Of course, the wind had picked up to 15k, making this system of backing stern in even more complicated. With fenders out on all sides, we worked with one marina worker on the dock and another in a tender to finally eek ourselves close enough to the neighboring boat to be able to squeeze in another three boats…and, we managed to keep the lines out of the props. We took full advantage of our 24 hours in a metropolis—fueled, reprovisioned, had a dinner date ashore, and well exceeded our daily steps just by walking to and from the marina entrance.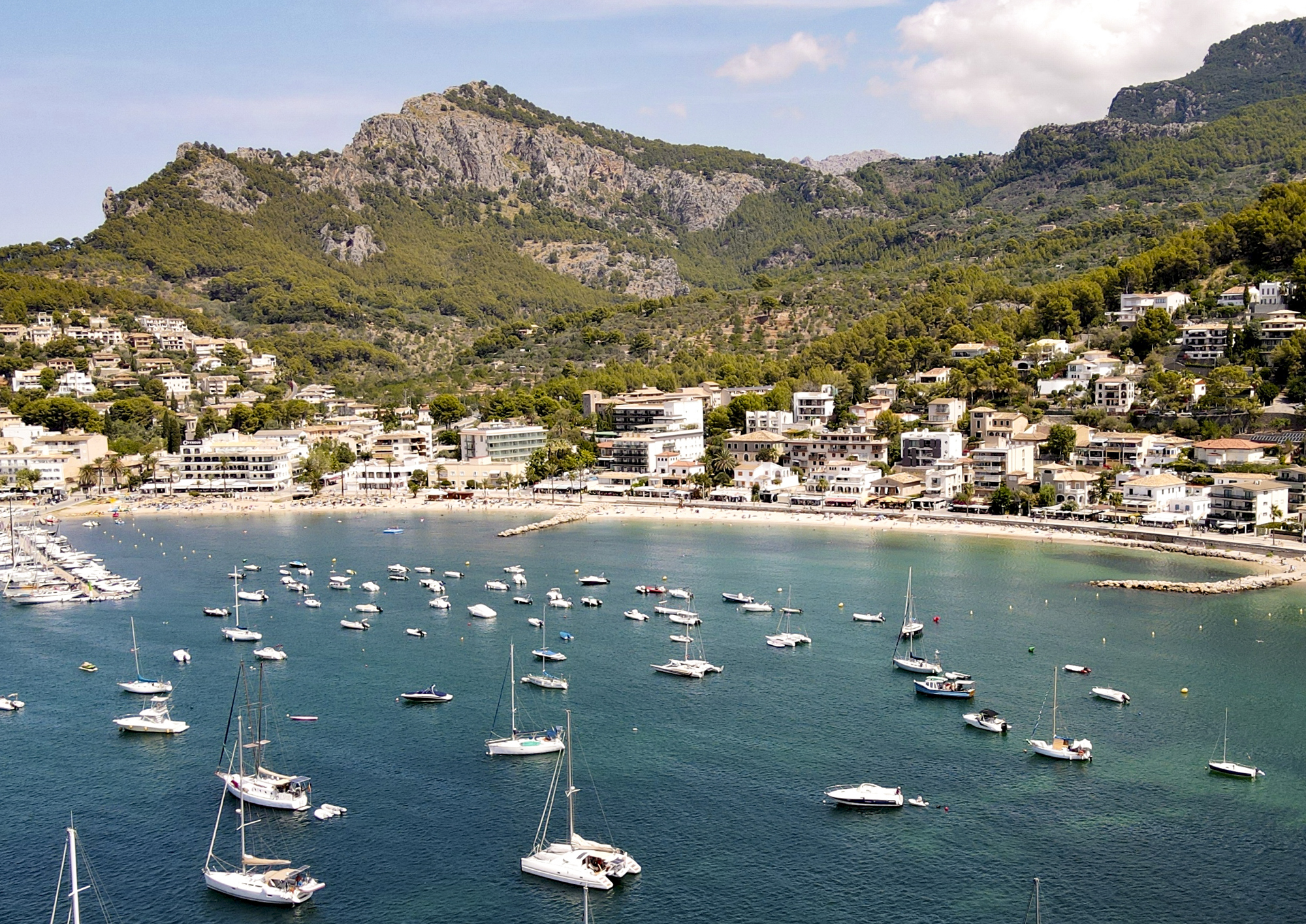 The guidebooks say Puerto de Sóller is the most beautiful village in Mallorca. We anchored in a nearby bay surrounded by beachfront, boutique hotels and restaurants of every flavor. The water toy of choice was a pedal boat equipped with a slide, where kids slid continuously into the water while their parents pedaled through the anchorage. Everyone seemed to speak a different language, except English.
Temperatures were soaring; nonetheless, we put on our street clothes and braved even warmer temps ashore. We boarded the requisite red train to travel two miles up the canyon to the town of Sóller. Indeed, the village was delightful with its tiny streets (will we ever tire of these?), small shops, and restaurants built around the grand Sant Bartomeu Cathedral that boasts Gothic, Baroque, and modern architecture all under a single roof.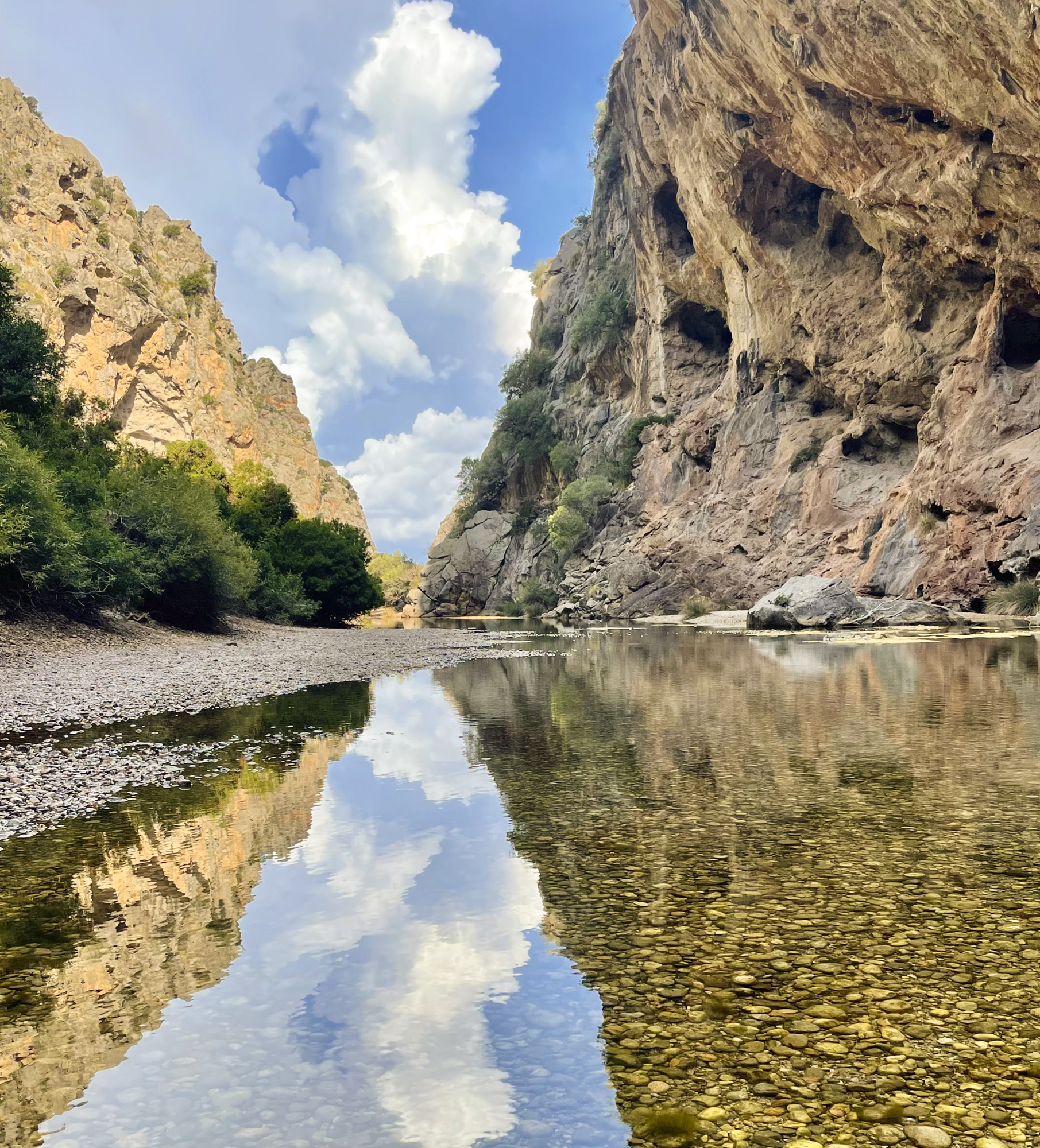 The early bird gets the worm…or some cool and calm. We left the anchorage by 7:30am and motored a couple miles north to Sa Calobra. We discovered this destination only by noticing the name of a local tour boat in our anchorage. We anchored in deep sapphire blue water with 150 feet of chain out and dinghied to shore, discovering two tunnels cut through a mountain that led us to a rocky beach. What a gift to hike in solitude up a narrow gorge that disappeared into the horizon. We left the tranquility for Cala Cales Coves, described as the most beautiful anchorage in the Balearic archipelago. The prehistoric limestone necropolis that once held 1000 tombs was cool to see, but the anchorage was jammed with so many boats that it was far from being the best anchorage…if we had to leave a Google review.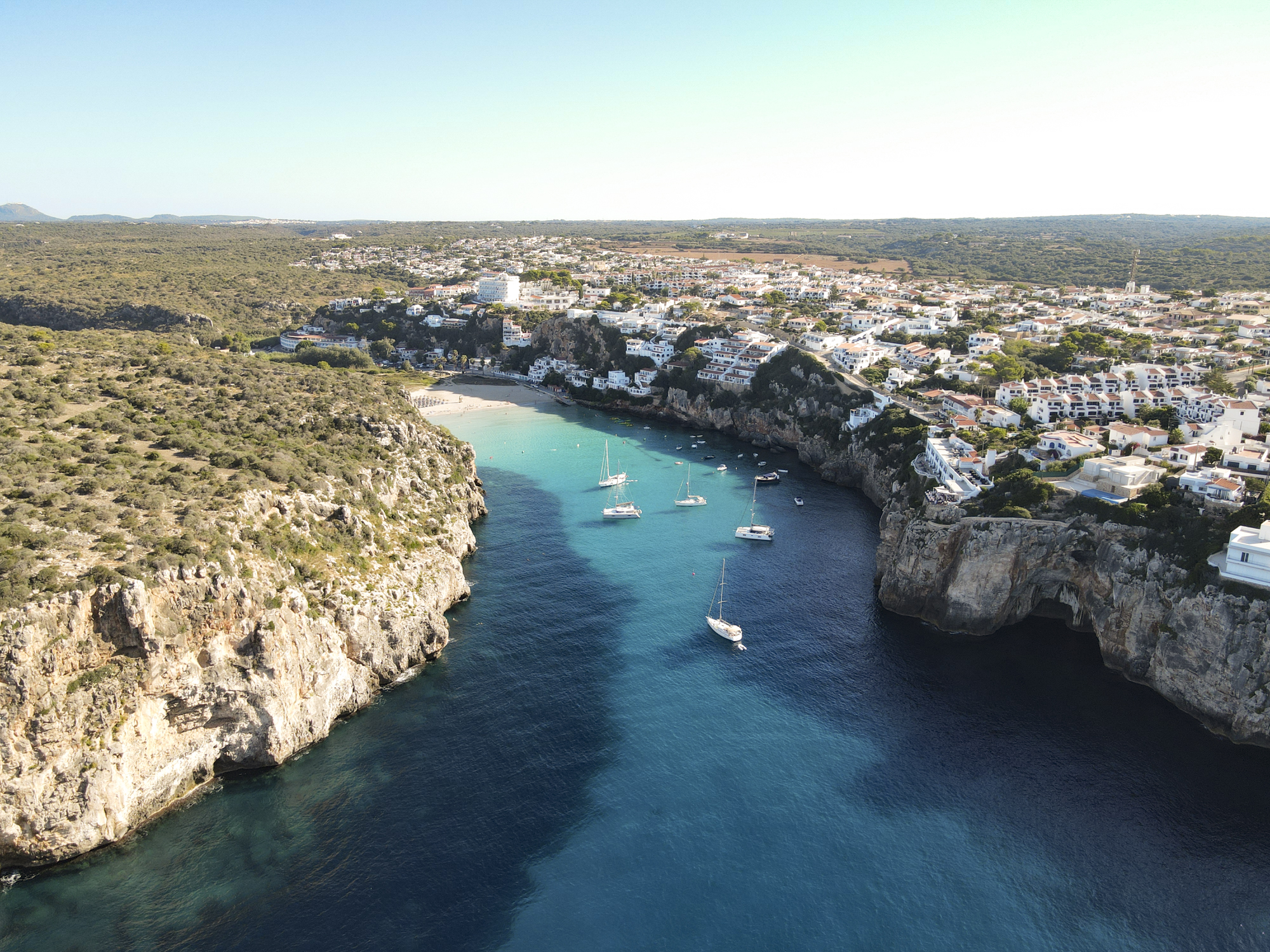 Just as the rising sun was clearing the mountain tops and goats cried from shore, we set off for the 30-mile crossing to Menorca in typical MED fashion—Motor Every Day,😁 We reached this smaller, flatter island and motored along a shoreline bustling with day boats and and herds of sunbathers onshore. Gradually, the flat landscape was replaced with rugged red cliffs littered with caves that stretched to the water. Compared to the other islands, Menorca has a reputation for being more laid back and I thought surely, we'd spend a couple quiet days snorkeling and relaxing. Shortly after arriving, after a lovely snorkel and dinner aboard, the captain said, You know, the weather is really good for departing now for Corsica…and so it went. We bid adiós to Spain and started practicing le français on night watch.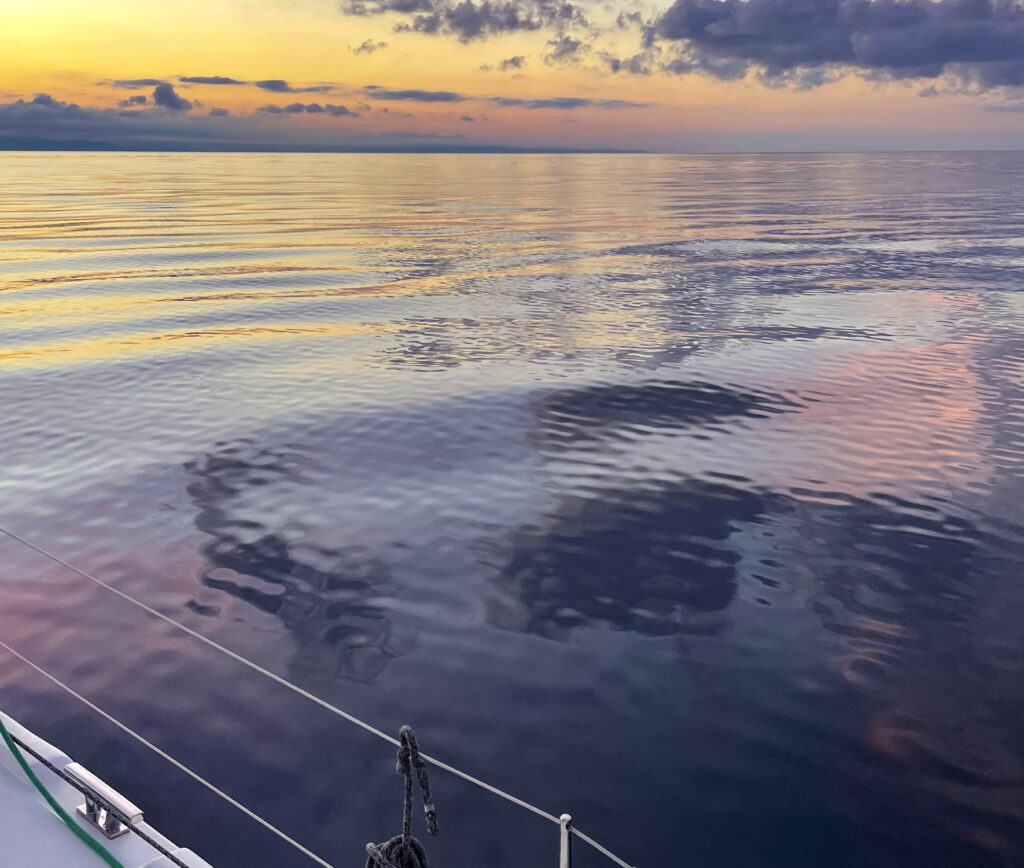 It was a three-day passage to cover 235 miles to Corsica. On day two, we were motor sailing with just the main up, when KABOOM! the sail came crashing down. The webbing on the head of the sail had failed, just as the clew of the sail failed in the Azores. The engines would do the rest of the work until we reached Corsica. We arrived in the marina sleep deprived, acclimating to yet another new marina protocol, and fumbling with a new language. We settled into our slip with a priority way ahead of napping—get the main sail repaired. By this time, the captain was expert at taking down the sail—a record 90 minutes down from two hours in the Azores!
We offloaded the injured sail to a local sailmaker, skipped the boat wash (water was restricted at the marina because of a current drought), and wandered into town to provision. We regularly forget the European system of inserting a coin to retrieve a shopping cart—a great system to make sure all carts are returned… unless you don't have any coins. We purchased a coffee and croissant and nearly paid by credit card before we remembered the very reason we were buying breakfast was to get change. Bellies full and equipped with a coin, we went to retrieve a cart only to discover that we had the wrong coin! These are the little things that complicate an otherwise easy household chore.
We collected our next guests and Barbara and I snuck out to explore town while David and Allen put on the repaired sail. The girls were given exactly 93 minutes before departure and we made the most of it—sampling Corsican beignets filled with a ricotta-like cheese, buying souvenirs, and tasting 20 variations of olives at the open market. We returned to Gémeaux just in time to cast off the dock lines.
Far and away, one of the most interesting stops was in Bonifacio, so the captain agreed to a layover day. The channel leading into this ancient city was dramatic with cliffs on either side and the old walled city, perched high on ledges that were slowly eroding, looked like any day would crash into the sea. At 5:30pm, it was like being on the 405 in Los Angeles as we queued with other boats all waiting to get a slip assignment. Two marina guys zipped around in dinghies directing boats into tiny slips and helping everyone med moor without tangling the lines in their props or taking out the neighboring boat. Finally, we got assigned to the very end of a t-dock, aka front-row seat to marina action. We swiftly changed our dock lines from a stern to starboard tie but still half our boat required a med mooring. With so many lines in the water we couldn't tell if they belonged to our slip or the one next door and if they did belong to us, exactly how did they work because one of the lines was cut? Eventually we settled in and David and Allen were immediately hailed by a nearby boat to help them dock since the two marina guys had their hands full. While our guys were getting credentialed to be marina employees, one of our neighbors returned to his slip and demanded to have his mooring line, which was now tied to our boat. We jockeyed things around and figured it all out without sending either board adrift…en français of course. It was all utter chaos and oh so entertaining.
The real show, however, was watching a 200-foot super yacht come down the 100-foot wide channel in reverse to take a slip at the very end. Elysia belongs to the owner of the Boston Globe and Mets and, with its lighted infinity edge swimming pool on the stern, definitely was the most remarkable yacht we'd ever seen and drew hundreds of spectators at the marina.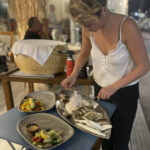 Desperately in need of some fine dining, we scored a table at the highly-recommended 4 Vents. Food and service was exquisite and the entire meal a delight…until our bill arrived. The fish that Barbara and I shared ended up being a whopping €165…we had ordered enough fish to serve the entire table.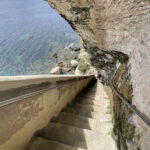 Note to self: pay attention to the weight of the fish you're ordering. We wandered the citadel, walked along quaint streets with shops, ate lunch at a sidewalk café, and finally tackled the l'Escalier du Roy—189 stairs straight down to the water. In blazing hot temps, we donned the mandatory helmets and started down. We returned to Gémeaux just in time to see Elysias depart and use more water than we use in a month just to clean their anchor.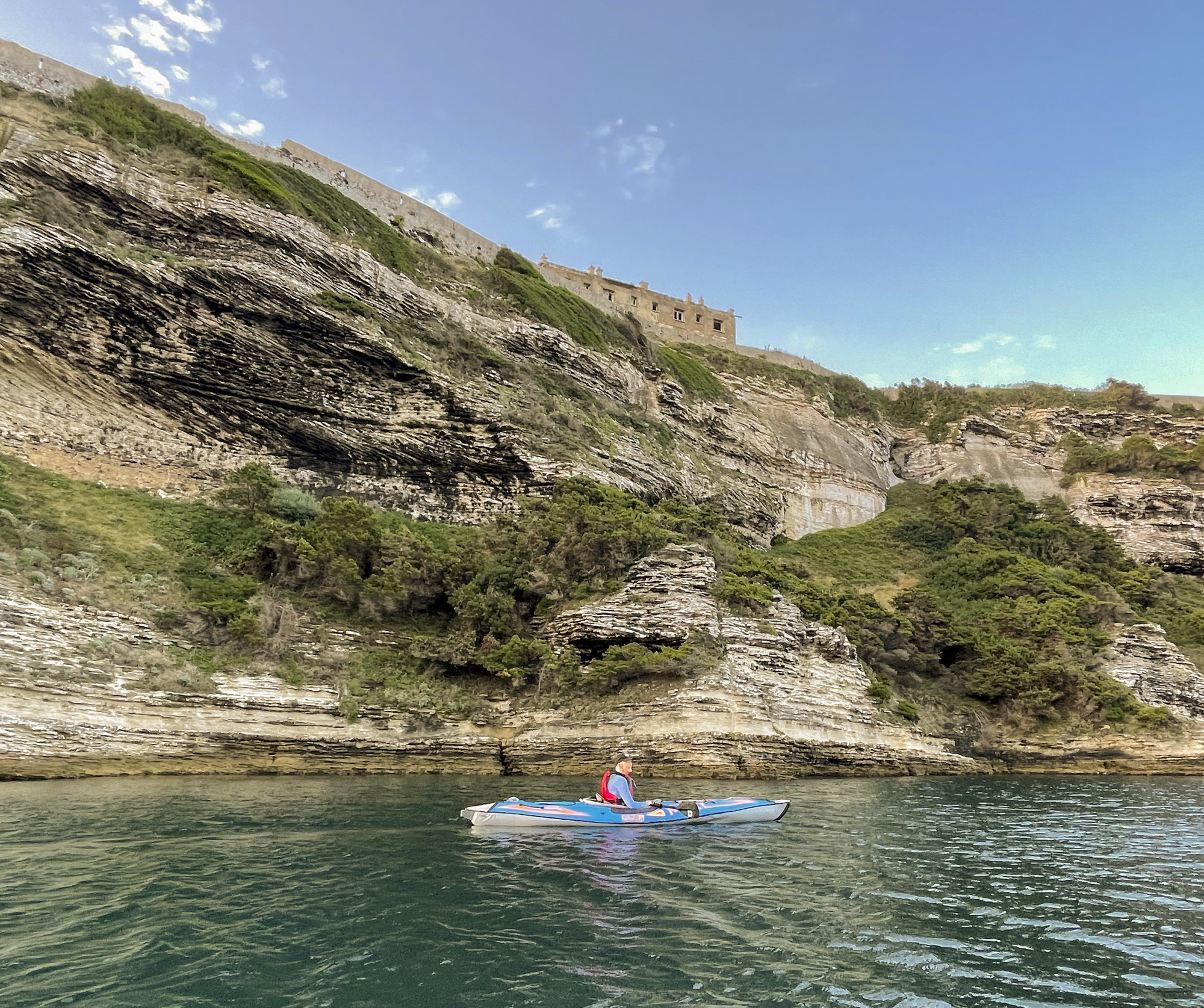 With the city still in slumber, Barbara and I rose before the sun and jumped into our kayaks, where we paddled out the channel, into a cave, and directly below the walled city above. It was spectacular and spectacularly quiet. By the time we returned to Gémeaux and dropped our mooring lines, we were back on the 405 navigating a traffic jam of tour boats. We crawled along the shore taking in the cliffs until the captain's pouting became intolerable and then raised the sails to carry us to our next very brief stop at Plage de Rondinara, aka the placemat anchorage that we had admired in the souvenir shops (this is how we now choose anchorages).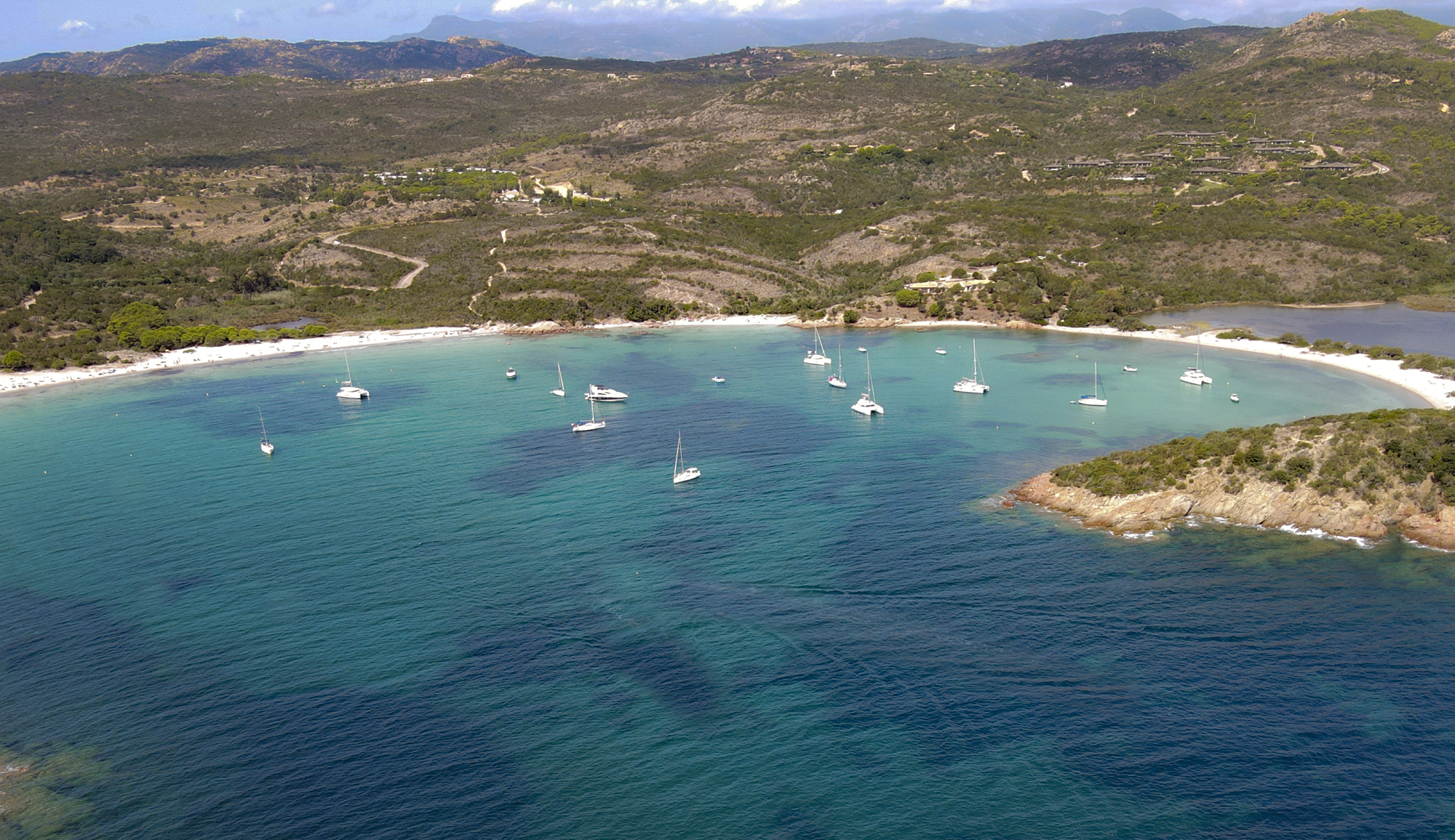 Arrive after 5pm, the guidebook said, after all the tours leave, and you'll love the Lavezzi islands. Sure enough, boat after boat departed until we had the anchorage practically to ourselves…and 5000 mosquitos. Early the following morning, we kayaked and snorkeled and scoured the beach for treasures until promptly at 9am, hundreds of visitors descended on the anchorage like an army of ants, instantly turning our little paradise into a Disneyland scene.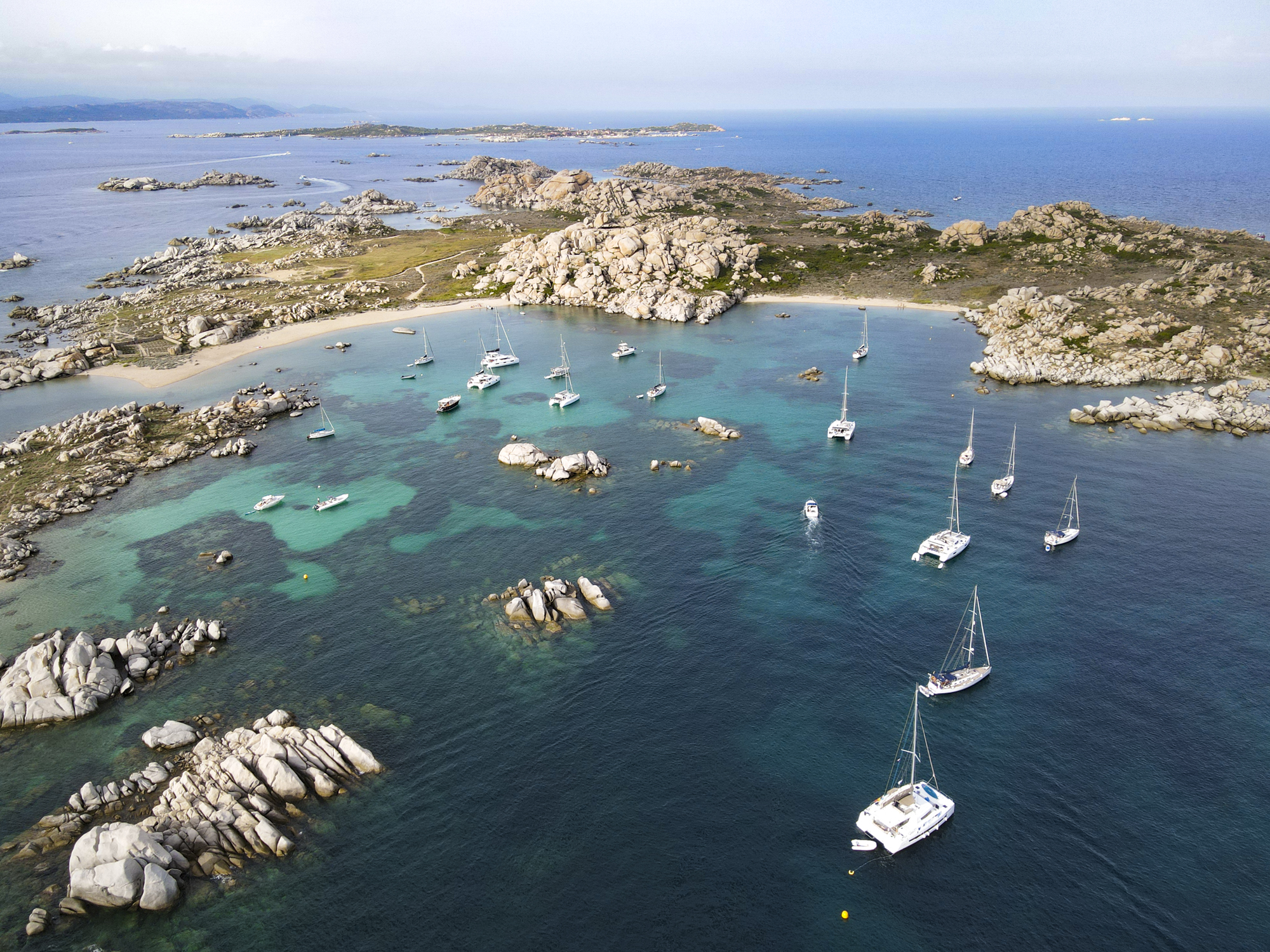 Crossing the Strait of Bonifacio, we reached Sardinia! Nestled between the Santa Maria, Razzoli, and Budelli islands, we landed in an anchorage where Italian was definitely the most popular language we heard from neighboring boats. This was a popular destination for Italian vacationers and there was a constant stream of day boats drinking, singing, swimming, and paddle boarding.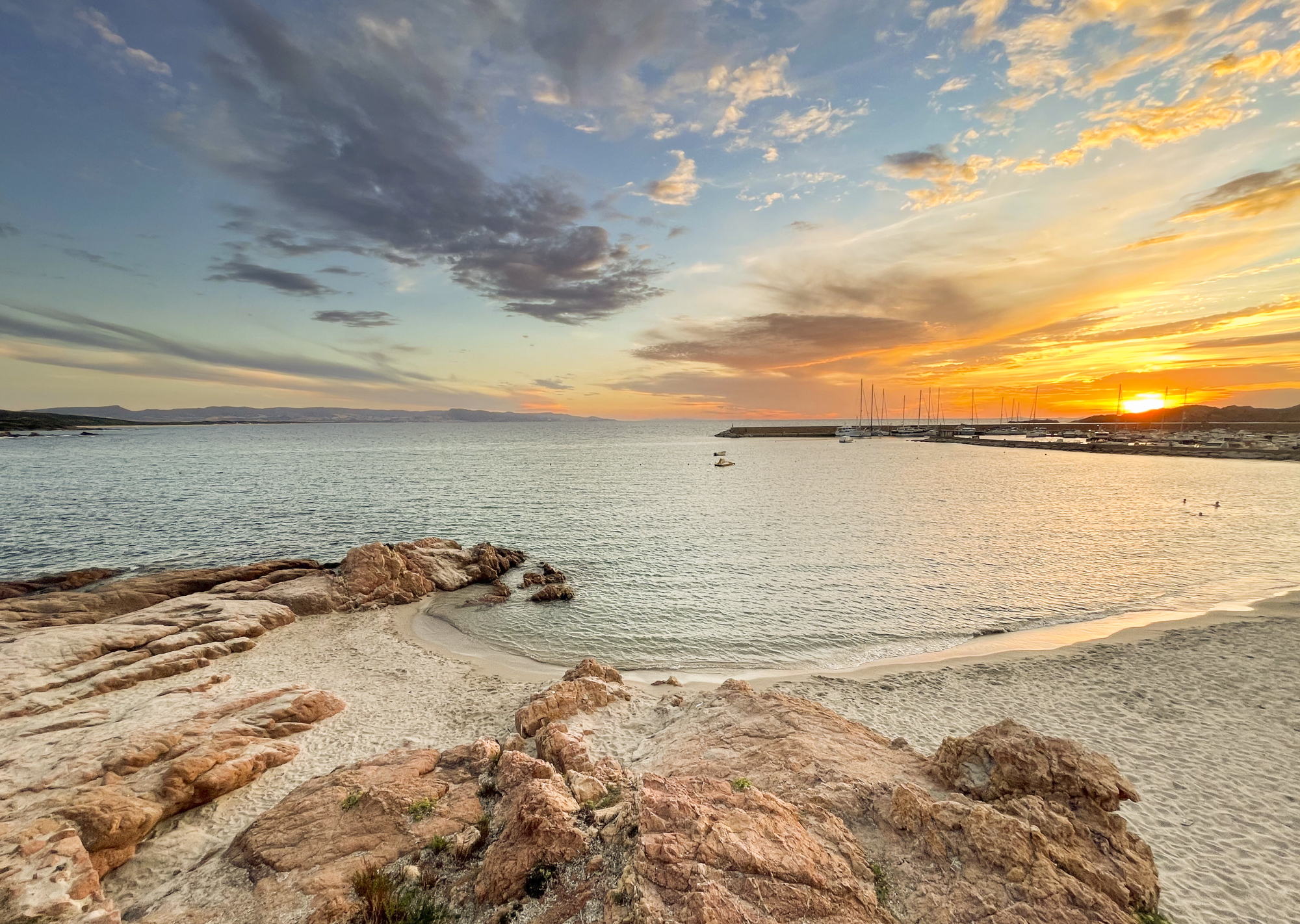 Dinner in Costa Rossa was one we'll never forget. Hungry and anxious to find food, we set out at 5:30pm and landed at an outdoor restaurant recommended by the marina. The staff inside told us that the kitchen was closed until 8:30pm but we could enjoy cocktails until dinnertime. So sat we did and drink we did…with a small plate of complimentary appetizers to tie us over until dinner. Just before 8pm, the server announced our table was reserved and we needed to move. No problem, we said, how about that table? The server ran away and returned with an okay. We moved and ordered another round of drinks, excited that dinner was just around the corner. By 8:30, dinner patrons had replaced bar patrons and most of the tables around us were set for dinner. Finally, we flagged down the server and asked for dinner menus. One moment, she said, and ran away…again. She returned and announced that the restaurant was full and they did not have any available tables. I thought Allen would lose his shit. In our broken Engli-talian dialogue, we explained to the server that we had arrived more than two hours ago and were told we could have drinks until dinner was served. Not possible, she said. As a last-ditch effort, the girls went inside where our dinner plan was originally approved. The chef/owner realized who we were and told the server that we were an exception. The server's body language told us that she felt undermined…which would affect our service for the remainder of the night. We gleefully reported back to the guys and with menus in hand, promptly devised a concise ordering strategy to eliminate any further delay. We were certain at least our appetizers would arrive shortly. We waited and waited. We watched tables come and go and still we waited. At around 10:30 (five hours after we had originally sat down), dinner finally arrived…or kind of just slammed down on the table. I will say the food was delicious but damn, it was painful. We walked back to Gémeaux past the many restaurants that we would have could have should have…
One of my favorite memories of Alghero on the northwestern side of Sardinia was doing laundry. We had a piles of it so instead of doing multiple slow loads on Gémeaux, we decided on the city laundromat. Seemed like a good idea until we dragged huge bags down one cobblestone street after another to find that all the machines were full. Turns out it was laundry day in the neighborhood.
Although the project took a half-day, it was a delight meeting all the locals who came and went, talking in Engli-talian and learning about life in Italy. With clean clothes and a belly-full of local pizza, we traded in our mooring along the city promenade for a nearby anchorage…and a little breeze. We visited the Museo Antoine De Saint-Exupéry, a charming and impressive exhibit in an old watchtower featuring The Little Prince and the extraordinary life of this author.
We tried really hard to just skip the ticket line and take our own dinghy into the famous Neptune's Grotto. But, we also try really hard to stay out of foreign jails. We opted instead to hike in…down 300 narrow steps that had been cut into the cliff to the sea. Certain this was just going to be another tourist trap, we were shocked to find the grotto absolutely stunning. The interior of this enormous cave was so dramatic with huge stalagmites and stalactites cascading into calm clear pools of water. It just didn't matter how many people you were wedged in between. Well, until we had to climb the 300 steps back up!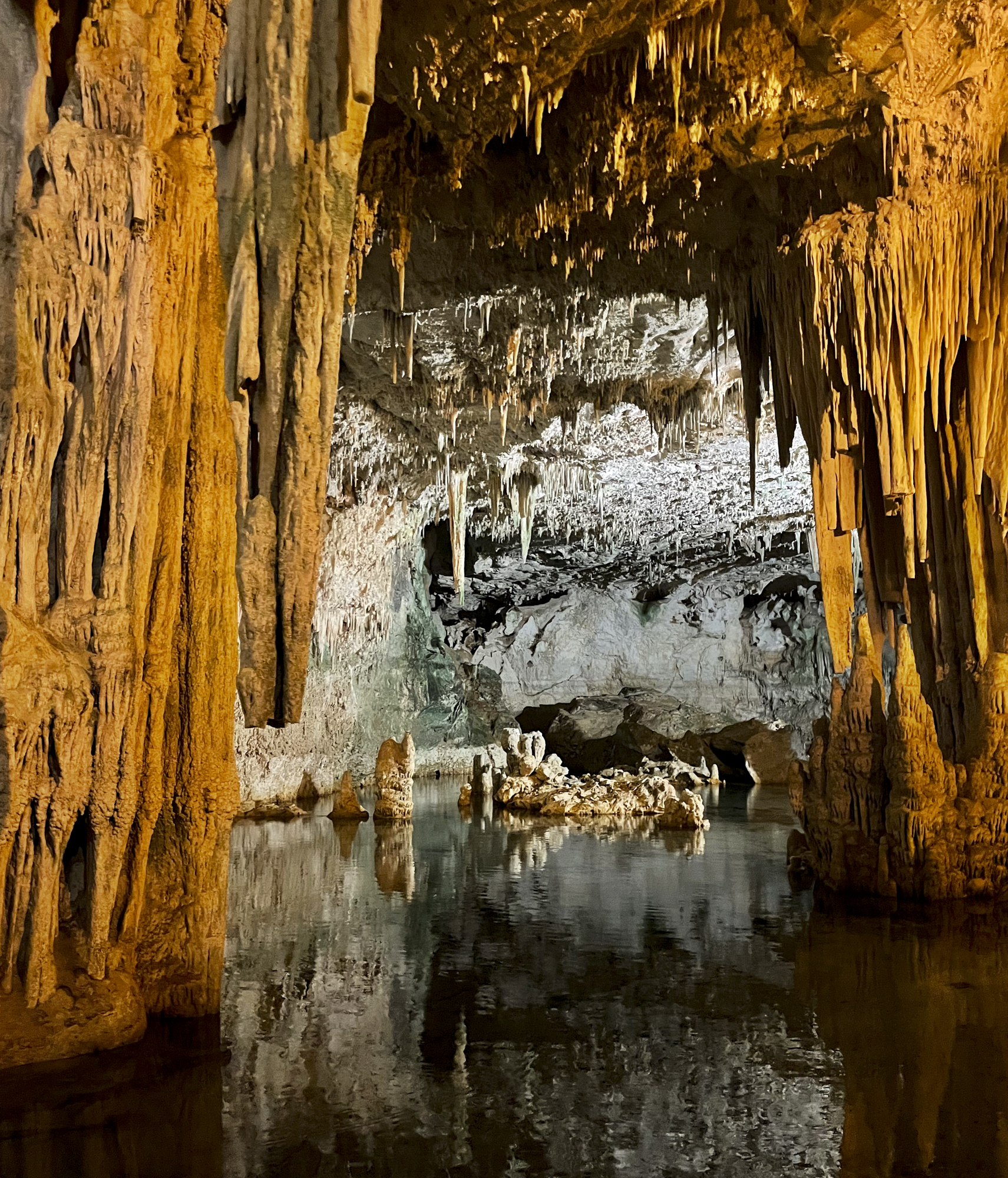 At this point in our journey, I have to say I was tired of sightseeing. I just wanted to sit on the boat and do nothing. The captain gave me one day, or rather squally weather granted me the layover day. Then, we travelled down the western coast of Sardinia, where the landscape flattened, rose again with tall mountains, and finally settled into craggy headlands that poured into the sea. Eventually, we reached the southern tip of this massive island and blue skies and a promising forecast sent us on our final passage for the season.
After two days at sea, we made landfall in Trapani on the largest and most populated island in the Mediterranean. Perched 2500 feet above the town center is Erice, a medieval walled town accessible via cable car. We had the good fortune of sharing the car with two Italian school teachers who gave us a superb tutorial on their lives as educators in rural Sicily. And we understood it all—The Google Translate microphone feature is a wonderful thing! For the best panoramic view of Sicily, we climbed to the top of the Torre de Re and then were once again dazzled by the wealth and artistry beautifully preserved in the adjacent Real Duomo di Erice cathedral. We indulged in the local dolcini di mandorla marzipan cookies and strolled through town until the rain made the slick cobblestones too slippery to stay upright.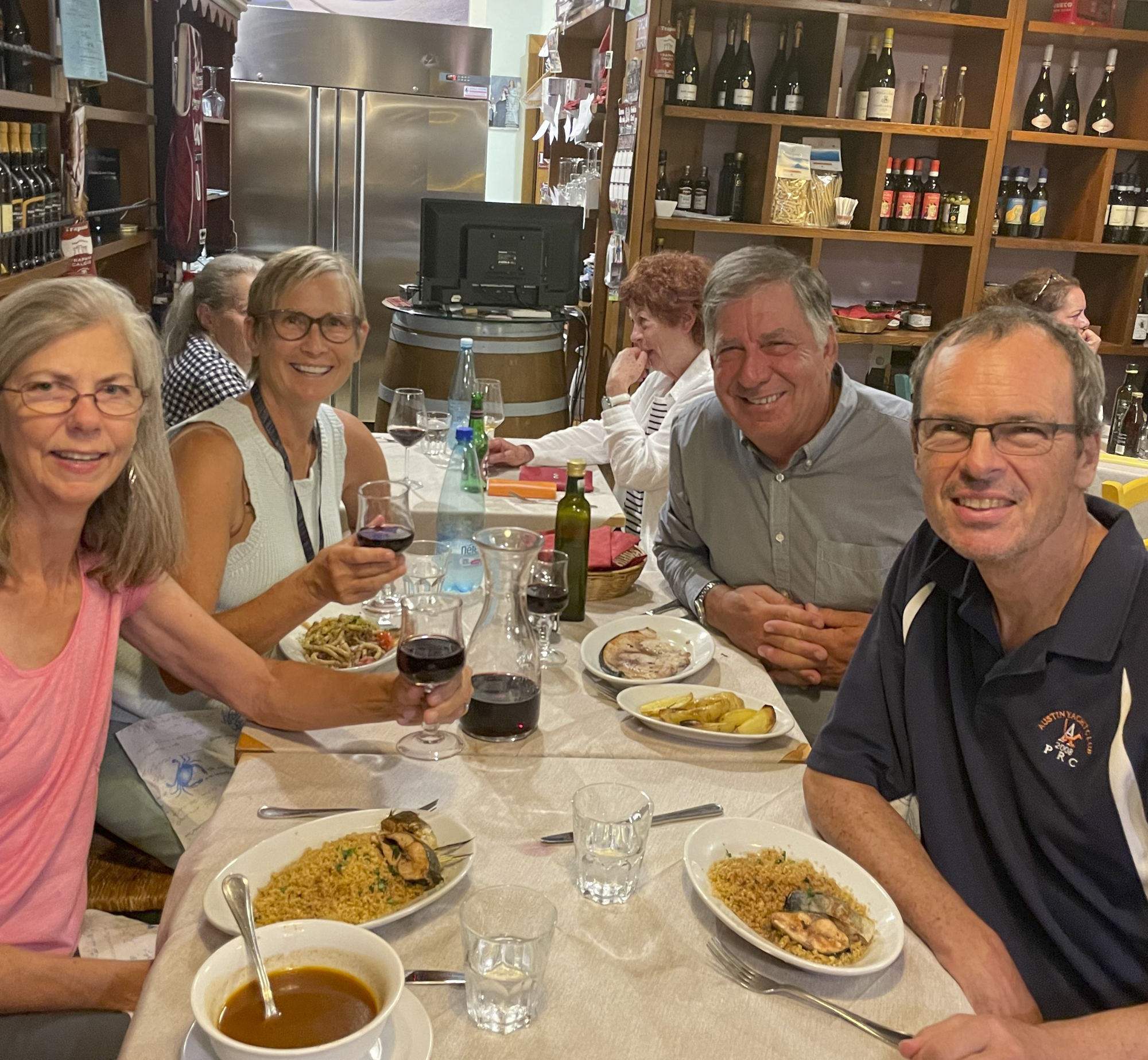 There's nothing better when you're thousands of miles from your home country than bumping into old friends. We met Ted and Barbara in 2018 on the Suzie Too rally to the western Caribbean. They had spent the Covid years sailing through the Med and were now headed back towards the Atlantic. Barb and I discovered an open market next to the marina and joined the masses of locals and tourists alike buying tablecloths, hardware, clothes, shoes, and so many piles of underwear. We finally found the food section with big barrels of capers buried in sea salt, nuts (pistachios are locally and widely grown), heads of bibb lettuce as big as floppy hats, and an array of tomatoes, peaches, and dates that found their way into our bags.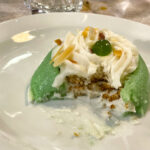 Osteria Vineria a Casa Mia was the perfect introduction to local Sicilian food and culture with wine served by the liter in a pitcher—a characteristic I've come to use in describing my favorite European restaurants. The calamari pasta was excellent but dessert was exceptional, which, like the pasta and meat, was served in courses. First the dessert itself, which in our case was Cassata Siciliana, an odd lime green gelatin cake, redeemed by an almond marzipan filling. The liqueur course came with a chance to fraternize with the locals when the next table shared their little carafe of Passito, Sicilian liquor made from dried grapes. Able to speak English, they quashed the language barrier and showed us photos of all the places we should visit, including their personal home colorfully painted with bright blue shutters on the neighboring island of Lèvanzo. We had an open invitation. Expresso was the final course of the dessert round, but we skipped it and enjoyed our passeggiata walk after eating…or in our case a waddle.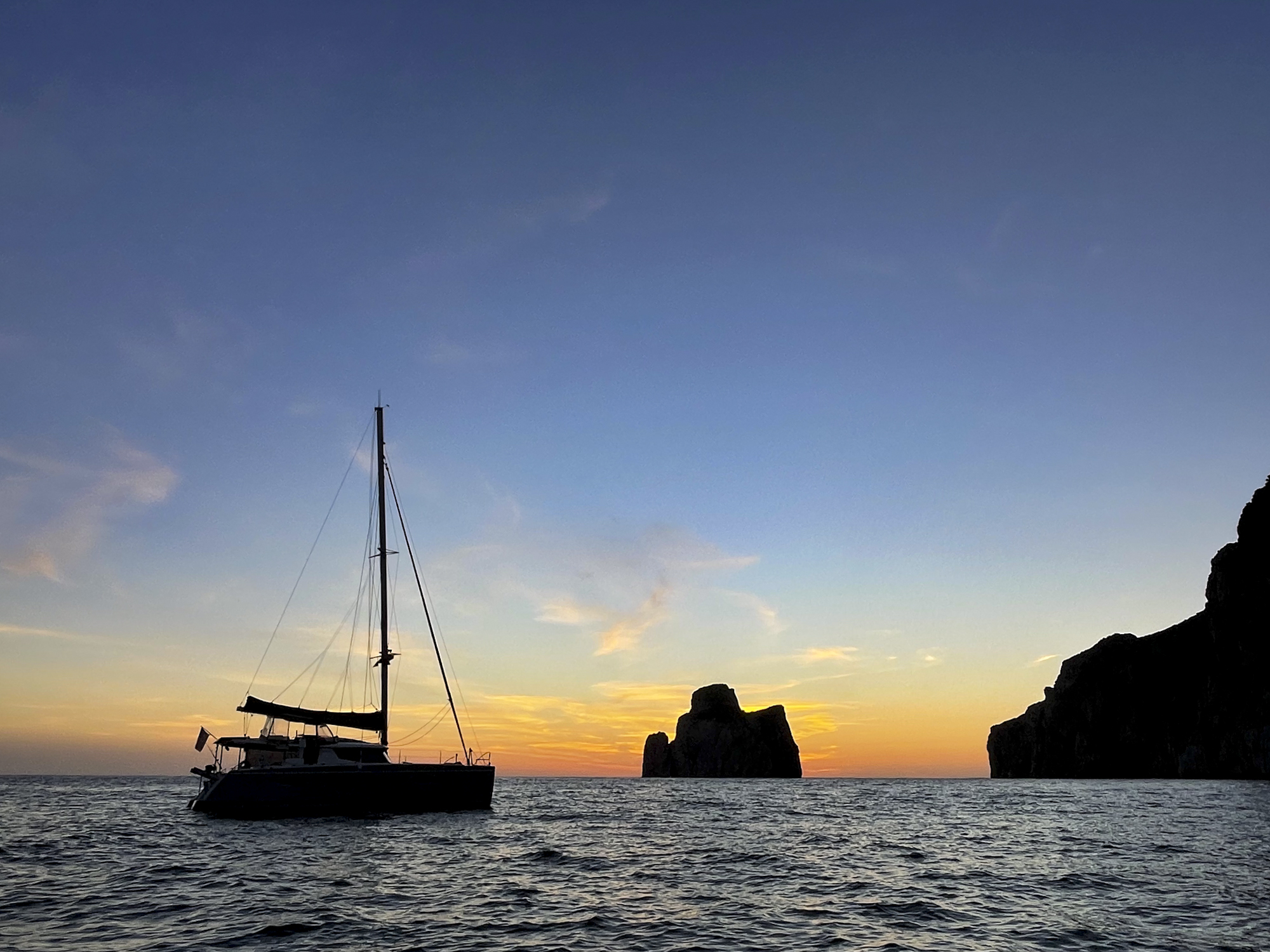 The upside to living on a boat is seeing the coastline up close and personal. The downside is that often we never get inland. We made an exception and hired a taxi to visit the Valley of the Temples. I figured this would be a quick check the-box tourist attraction so we planned only two hours. In fact, we could have spent two days and a guide would have answered all our questions. Instead, we used a combination of Google and old-fashioned imagination wondering what these Greek, Roman, and eventually Christian civilizations looked like when they were in their glory. Why did the Christians take over that temple but not this one? How in the world did they transport all that stone here? I should have paid more attention in my high school history classes.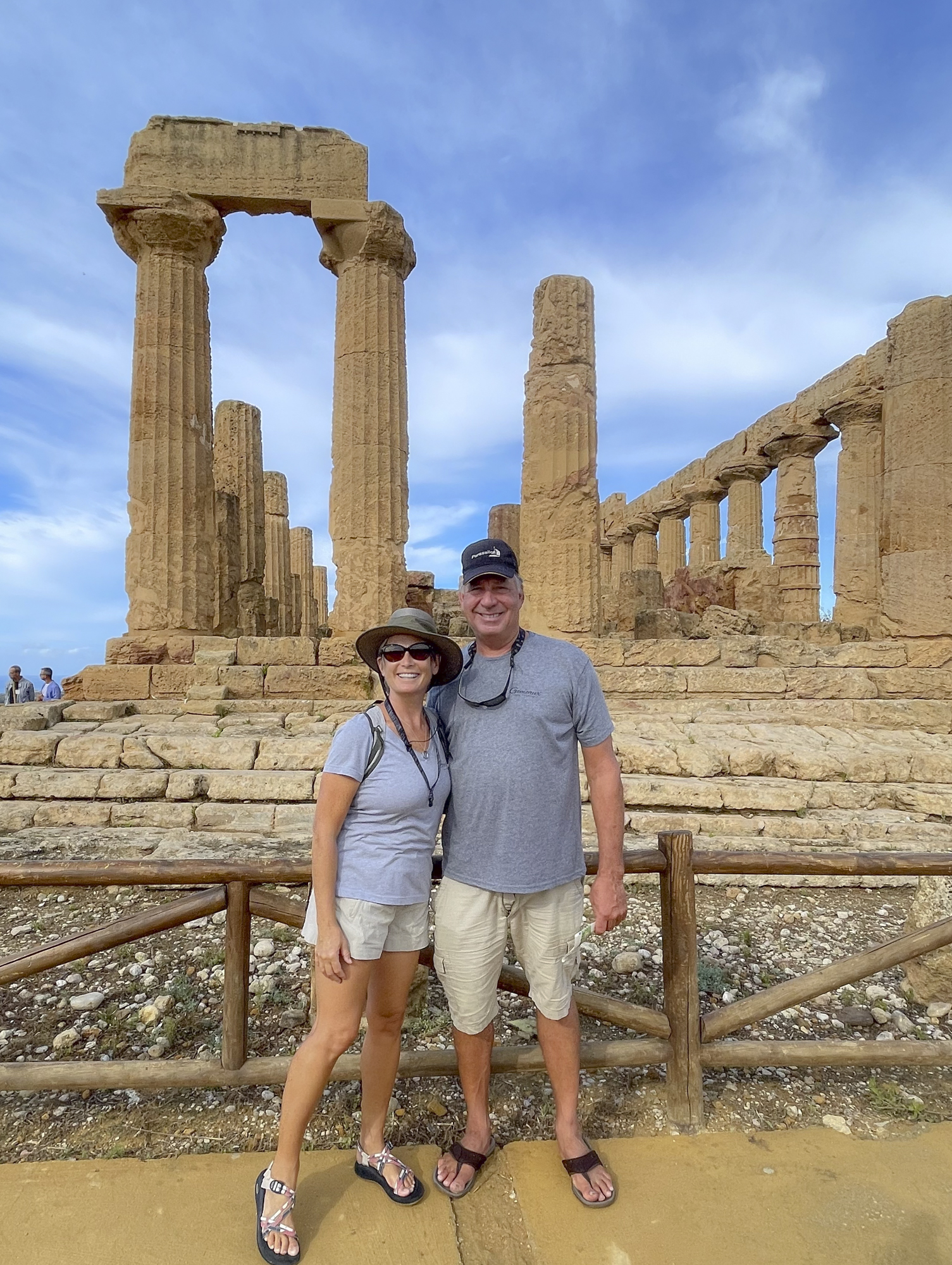 On September 29th, we arrived at Marini di Ragusa in southern Sicily—a full day ahead of schedule (we really could have eaten at one more cute café!) It's hard to believe we were in the Bahamas at the beginning of this year, crossed the entire Atlantic Ocean, and now ten months later, we were in the eastern Mediterranean!  In 46 days, we spent eight on overnight passages and stopped at 30 anchorages/marinas. Yep, for those of you doing the math—we moved practically every day:)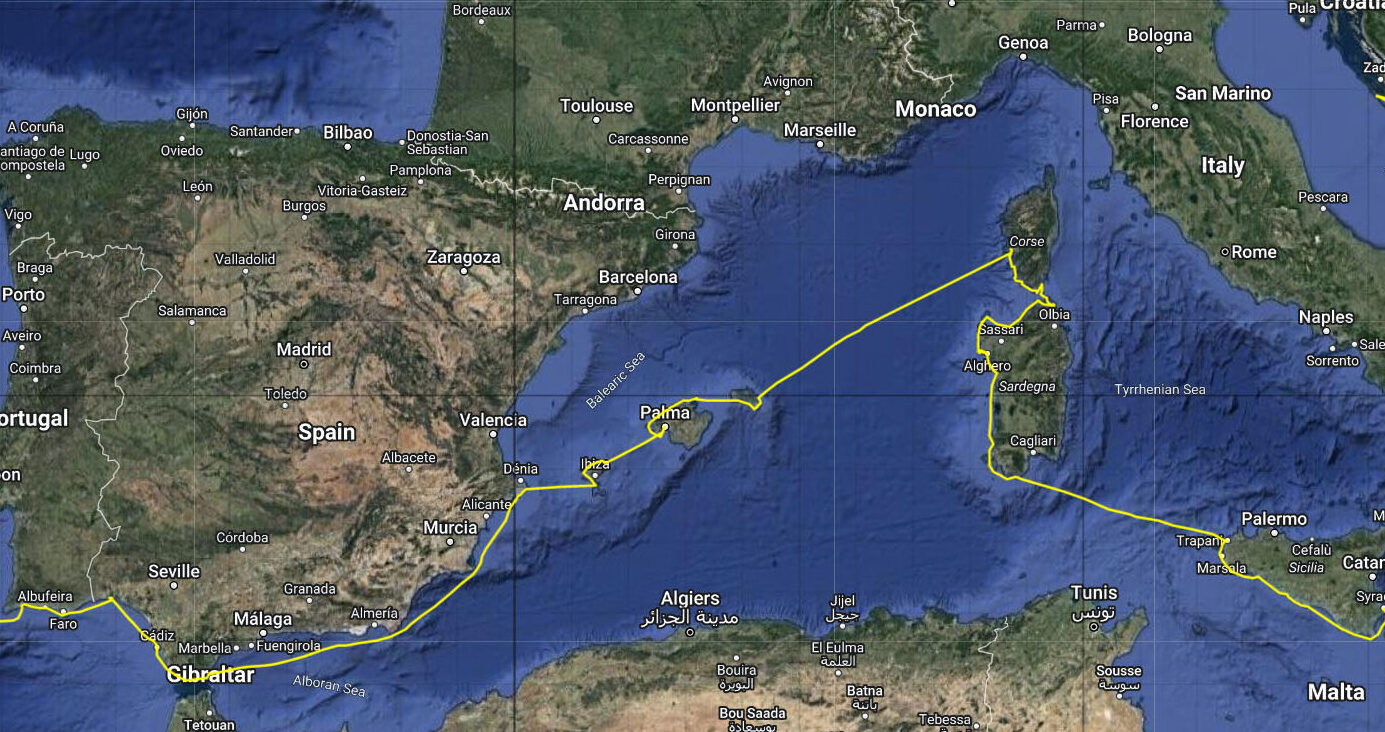 We prepared Gémeaux for a winter by herself taking down all the rigging and tightly securing her to the dock. And then we left. Bye bye Gémeaux—be a good girl, don't wander off the dock, and we'll see you in 2024!