We cast our friends off the dock and bid them a safe voyage to Antigua. Most of the 80 Salty Dawg rally boats depart throughout the day destined either for The Bahamas or Antigua. We listen to one final Chris Parker weather forecast to confirm our plans for a 10pm departure to The Bahamas—Gulf Stream conditions were projected to improve so we thought some delay and the ability to ride the outgoing tides was a winner. We take in a final sunset over the Chesapeake and slip under the covers by 7:30pm before we launch into a 5-night sleepless passage. Two hours later, we concede defeat against insomnia and sheer adrenaline turns us into night owls. Nobody to cast off lines. No fanfare. Just a quick and quiet exit in the dark from the US. Next stop Abaco…750 miles away.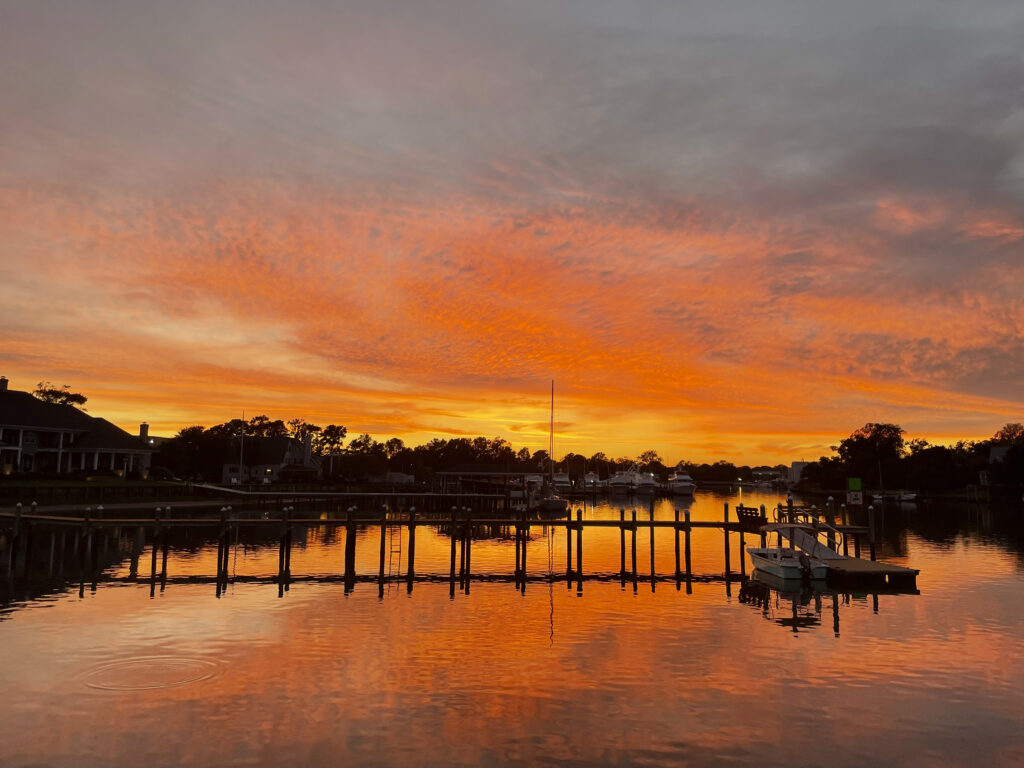 If last year's rally was Mr. Toad's Wild Ride to The Bahamas, this year was a sleigh ride in It's A Small World…well, after a few revolutions through Space Mountain. After witnessing one of the rally boats nearly collide with a 700-foot freighter in the Thimble Shoals Channel, we stayed alert and clear of ships larger than small towns. We were under power with the wind 15-20k behind us so, remaining outside the congested highway where four major shipping routes merge, pilot boats zip around guiding freighters, and even the occasional military submarine practices maneuvers.
Days and nights blur together on passages, but we declared the beginning of day two at 12:30am as we made the turn around Cape Henry just before exiting the Chesapeake Bay. The turn presented a much more favorable wind direction so we raised the main sail for a smooth and swift 9k speed over ground down the Outer Banks of North Carolina. Anxious to get some shut eye for my eventual shift, I returned to bed and found deep sleep—a testament to the smooth sailing. Just before sunrise, however, wind began gusting to 24k so the captain woke me to help reef the main and jib. I took over the helm, promised not to run into anything, and started my new audio book. After a mere 3 hours, the captain was up again.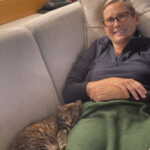 Of course, I promptly returned to bed, where even under the comforter, it was hard to warm up. Nighttime temperatures hovered in the 50s so it would be chilly until we reached the Gulf Stream. Around Cape Hatteras, where the Gulf Stream makes a big turn towards Europe, we found tall steep waves and rough conditions. I was certain I'd be sick, even though I was trying a new regimen of Zofran for sea sickness. The extended forecast called for no wind so I knew we needed to make tracks when we could but it was a lumpy ride through Space Mountain. It's these conditions when seas are pounding the hulls and wind is stretching the sails and sheets so taut that I'm sure something is going to snap. Allen reminds me that people typically break before something on the boat does. Great… 
The inReach trilled, triggering immediate euphoria like a doorbell chime announcing your Amazon package has just been delivered.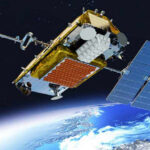 Having left the land of cell service, we savored any communiqués from the outside world via our satellite texting device, and my friend, Courtney, knows this better than anyone else. Last year, she was our political correspondent keeping us abreast of tense election results. We love her geographic tenacity and we delight in her gift of making the humdrum hilarious (and her tips for the ultimate snack on overnight watches).
Good afternoon sailors! Gémeaux is currently the westernmost boat among ~20 other rally boats that have passed south of Okracoke Island (not counting the solo boat that left from near the mouth of Cape Fear River). No big World news to report since you left the grid. We're watching the Niners at Chicago (close game!) on this sunny, cool day in CA. Happy popcorn popping!
We entered the Gulf Stream late afternoon, where the water temperature leapt instantly to 85 degrees and we started shedding outer wear. Dinner was on the table by 4:30pm and I was back under the covers as the last fragments of daylight disappeared. Contrary to Chris Parker's advice to go left (or east) to sail perpendicular to the unfavorable 3-4k of Gulf Stream current, our captain decided to continue south. Already a rebel. He explained that going east meant sailing dead down wind and Gémeaux only does that well with the wicked spinnaker, which we were not deploying on the bow…in the dark…in 14k of wind. Instead, we made the same 5k progress we would have made in the Gulf Stream on a broad reach AND we were going south—our ultimate direction to reach The Bahamas. The wind eventually diminished and shifted behind us, so we took down the main and began motoring with just the single port engine to conserve fuel. Fuel management was a critical component with this windless forecast and we were diligent in calculating consumption so we didn't end up drifting to Africa. I took over the watch and settled in at the helm with my popcorn and audio book. Orion's three bright stars rose brilliantly in the eastern sky—my favorite constellation acting as a totem for a safe passage.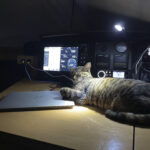 Around 1:30am on this third day, my eyelids began to droop. The captain woke, took one look at the chart plotter, and accused me of nearly running over a boat. I was fired and sent to bed. Yay—I must remember that strategy. Honestly, sleep deprivation is my worse torture and I'm relieved I'm not the captain in charge. And p.s., it was just s/v Dreamweaver, a fellow rally boat, and we were 4 very very long miles away.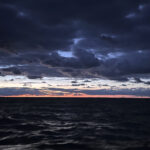 At 5:30am, the captain made a gaffe nearly as egregious as running over a boat…he let the cat out. Keeping Zemi inside is always a challenge, especially at night when her nocturnal instincts lure her onto the solar panels, which extend off the stern of the boat. Our policy is to keep her indoors when we're underway, conditions are rough, or it's nighttime. I retrieved the cat, terminated the captain's shift, and sat on the top deck for a 360° view of the sky and sea, only now discernable with the first glimpse of daylight. 
It was about this time that I began thinking about breast cancer. I left the US with an unconfirmed diagnosis of something suspicious on my annual mammogram. Hospital chaos delayed any immediate answers and ultimately, I convinced myself it was nothing and decided to press on with the passage. If I received bad news once arriving in The Bahamas, I would return to California for follow up. Still, the anxiety of not knowing sent me spiraling down a rabbit hole. Would this 20-year celebration of being a breast cancer survivor mark its evil return? Would this be the end of our sailing life?  I crawled out of the rabbit hole and busied myself with cleaning—washing dishes, picking up clothes and folding blankets. I turned our zombie setting that our zombie brains had created into something resembling home again. And I forgot about cancer. The captain woke just before 9am. His body said sleep more. His mind was wide awake. My body took full advantage of his confused state and swiftly relocated to bed. I made the bed before going to bed—something I do only on passages. Like popping popcorn for nighttime watches or drinking mochas instead of coffee, or brushing my teeth 8 times a day because it's a bedtime ritual and I seem to be going to bed that often. They are all things I reserve only for the weird blurry transitions of days into nights into days that define a passage. Little habits to stay awake, avoid sea sickness, and just try to maintain some semblance of being human. I slept until 11am and finally broke down and showered off the building stench.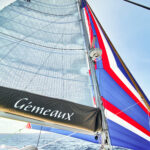 Winds increased to 10-12k from behind us so we turned Gémeaux back into a sailboat and hoisted the gennaker. Although we couldn't actually see them, we knew we had company. In addition to being a stickler for safety (yay!), recall that our captain is a computer geek and we own every electronic widget for communicating beyond internet range. AIS transmitted the location of nearby vessels and showed us that Valentin, a sailboat not on the rally, had appeared yesterday and remained 5-10 miles behind us. We also were compulsively entertained by PredictWind's fleet tracker, data supplied by yet another satellite constellation, that displayed a doodling jumble of colored lines, each one assigned to a specific rally boat. We noticed unusual jogs in tracks and speculated what had happened.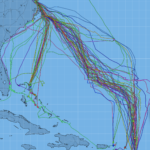 Why is that boat so far east? Did they lose something/someone  overboard? Are they going to be far enough south to avoid the next weather front? This morning, we noticed Dreamweaver was veering west from us and we were catching Change Up, another Bahama-bound rally boat who we heard, through the tracking system, had snagged a giant Mahi yesterday. We hadn't put a rod in the water because our fridge and freezer were overflowing with provisions from the land of plenty. Instead, Gémeaux served as a wildlife haven for mosquito eaters and moths of every size and today, a very tired little shore bird. Zemi had eyes on all of them and was trying feverishly to establish contact through the inside of the window as the critters taunted their safety on the other side. 
Wind filled the gennaker nearly the entire day but by nightfall it was barely a whisper. Seas were calm. Gémeaux was once again a motor boat cruising gently through a small world of singing children. I wasn't sea sick but I was oh so tired. As the light crept into the day, clouds and color gave an edge to the fusion of sky and sea. In my weary, bored state, I played a game trying to guess at which precise location the sun would rise. Sometimes, a tiny hole in a cloud offered a hint and the game was immediately over. Today, a line of clouds obscured the horizon so the guessing game continued, the commotion behind stratocumulus peaks breaking down colors and rearranging shapes. Clouds were outlined with a yellow highlighter, any second giving way to the big ball of fire. My eyes burned but I couldn't risk blinking and missing that first peek. I couldn't lose the game. And there it was…a tiny flash of intense orange clearing the horizon, instantly melting all the red and pink tones of the pre-show. I quietly celebrated the new day. The peace of a sunrise is always glorious. It's the reward for a passage. One day closer to our destination. And a sure sign that too many days at sea would make me loony.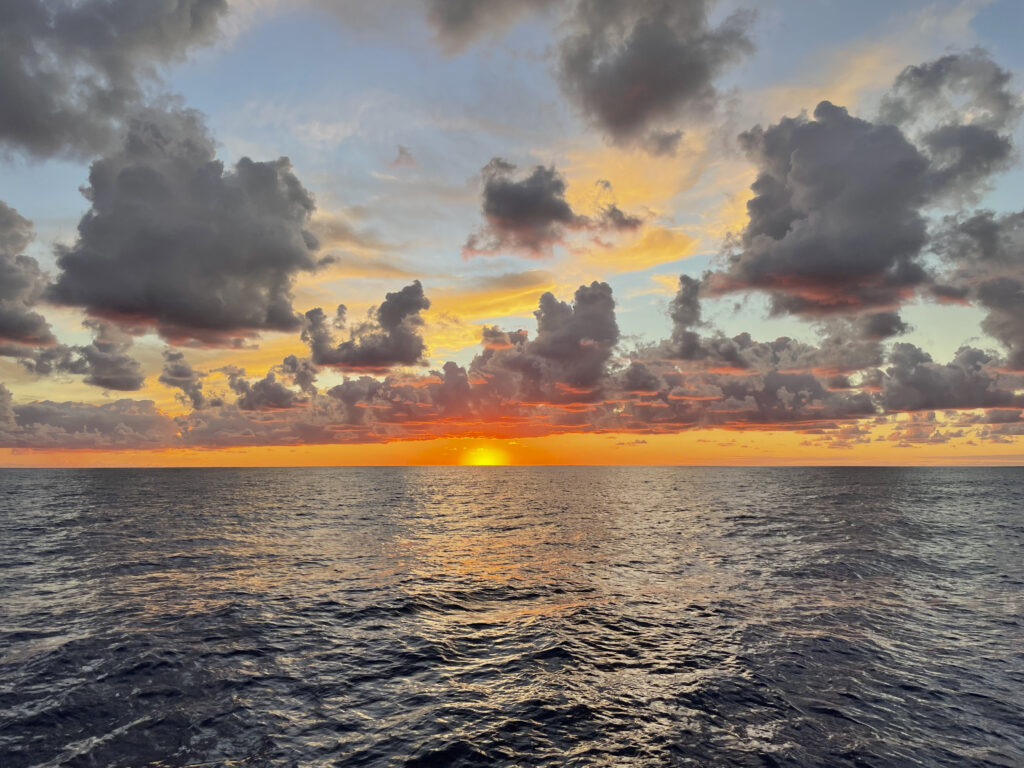 At 8:30am, I poked my head downstairs to make sure the captain was still breathing—he had slept for more than 4 hours. After realizing I had finished my audio book but didn't know how it ended, I decided to switch to movies, which kept me better engaged and more awake. Suddenly, passages weren't so bad! When the captain finally woke, we compared notes. I learned that by comparison, Allen kept himself awake during his shift by overlaying weather and current models atop one another in Photoshop to assess the best routes and to compare actual against predicted. Nearly the same level of entertainment as watching a sitcom wouldn't you say? 
Our shift changes went from spending 10 minutes together at the nav station reviewing wind, sails, and nearby vessels to Allen simply collapsing in bed and saying, It's your turn. I liked this—I knew he needed sleep and it reinforced the confidence he had in me alone at the helm. Besides, I was in the middle of binge-watching Life in Pieces and couldn't wait for the next episode. The spinnaker had also been put to bed and we were under motor once again. We would continue to motor the rest of the way to Abaco, using a total of 85 gallons of our 124-gallon tank (and an extra 20 on the deck). Later, we would learn that other vessels arrived on fumes and one rally boat even delivered a jerry jug of fuel to another boat in the middle of the ocean.
Get in by Thursday evening, Chris Parker had said…before nasty weather hits. So we did. At daybreak Thursday morning, we entered the narrow Man-o-War Cut just a few miles before the marina. Relaxed seas, slack tide and the sun behind us made it a nonevent. Before re-entering civilization, we stopped outside the marina and I jumped off the bow to celebrate the gorgeous clear warm Bahamian water, reminding myself why we do these things called passages. Friendly staff eased us into a slip at the Abaco Beach Resort just after 8am on this fifth and final day.
Over the course of the next few days, all 20 rally boats destined for The Bahamas would make landfall, one arriving at the end of the weekend with stories of 47k winds, as Chris Parker predicted. Another boat destined for Antigua changed their course and diverted to The Bahamas. Three dogs, two cats, and two great kids rounded out the group. We enjoyed sundowners each evening at the poolside bar, most of us getting acquainted for the first time since were mere lines on the fleet tracker. We exchanged tales of our voyages, which were generally drama-free thanks to the mostly windless state of the passage. Instead, stories focused on who caught the biggest fish and who had the least amount of fuel pulling into the marina.
And I got a brief note from my doctor…All good. Please return in April for follow up.