After 48 hours of sailing, we entered Georgia's Wassaw Sound that boasts sprawling 3-story antebellum mansions, complete with their own dock and a perfect line of Adirondak chairs. The 90+ degree weather and dripping humidity, however, kept any signs of humanity indoors so our arrival on this July 4th was quiet.
"Good morning ma'am," was our first encounter with this southern civilization as we tossed our dock lines to the three young men at the Isle of Hope marina outside Savannah. Memories of being Miss Shiera from my Atlanta days came flooding back. "May I take your trash ma'am? Yes ma'am, it's very hot today. Thank you ma'am, y'all have a nice day." Ahh, that southern charm.
No sooner had we docked and were settling into our home for the next three nights, I heard the familiar voice of my dear friend, "Hey y'all, welcome to Savannah!" Complete with flowers and birthday balloons from my kids, Kathryn launched the beginning of a fabulous birthday. First stop–boiled peanuts from a roadside stand to accompany a lovely brunch of mimosas, Georgia shrimp, berries, and gluten-free cupcakes. The Stout hospitality even included a doggy fix from their two Golden Retrievers.
Now with full bellies, sleep deprivation really kicked in and we couldn't get back fast enough to Gémeaux for a nap. Following yet another shower (we took many to combat the high humidity and temps), we drove the dock's loaner car downtown to join the millions of other tourists visiting the historic squares of Savannah.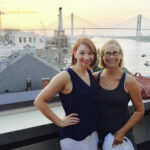 We spent the rest of the evening with Rachel Henry, who's all growed up and taking Gulf Stream by storm. She entertained us with stories of how to build and test aircraft and Allen and I had great fun watching Rachel and Jim Moore talk airplane shop. Fantastic views of the Savannah River from the Topdeck Bar on the top of the Cotton Sail Hotel, followed by dinner at nearby Vic's with a fireworks display just outside the restaurant window completed the perfect birthday.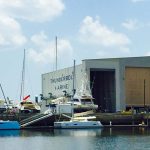 Later in our sailing adventures we would discover three things–we always visit the local West Marine store, we always hire the local marine expert to fix something on the boat, and we often end up hiring the local expert at the next stop to fix what the first guy repaired. I like to think of it as doing our share to ensure the various local economies are thriving. And thrive they did as we pulled into the Thunderbolt Marina to repair the steering and autopilot issues that the first guy in Ft. Lauderdale repaired. These were issues that we discovered during our night shifts (of course) were not properly working. 
No time like an offshore night passage to pretend you're Christopher Columbus and practice hand steering. But all was not lost–Thunderbolt was an impressive facility in the Port of Savannah and it was our first chance to watch giant 150-foot vessels be lifted out of the water and dry docked, like Larry Ellison's former super yacht that we just happened to have seen on an earlier sailing charter to Catalina in CA. Nice to know we travel in the same circles.😉 While Allen and Jim supervised work on Gémeaux, I had a delightful afternoon being a southern belle with my girlfriend. Kathryn took me to the famous Pink House for a lovely champagne lunch, followed, of course, by ice cream at the famous Leopold's. One must hit all the famous spots, right?
Not to be left behind, Allen and Jim got a chance to be tourists too after they finished their chores and safely returned Gémeaux to Isle of Hope. Having hiked the 200-mile John Muir Trail through the Sierras, this trio is quite accustomed to walking and it's generally our preferred method of sightseeing. Given the sweltering heat, however, we chose to do a trolley tour of the city. It turned out to be fabulous and I highly recommend it if you're headed to Savannah.
We were on our way the following day. So happy to have had the chance to finally visit my dear friend and see her southern home.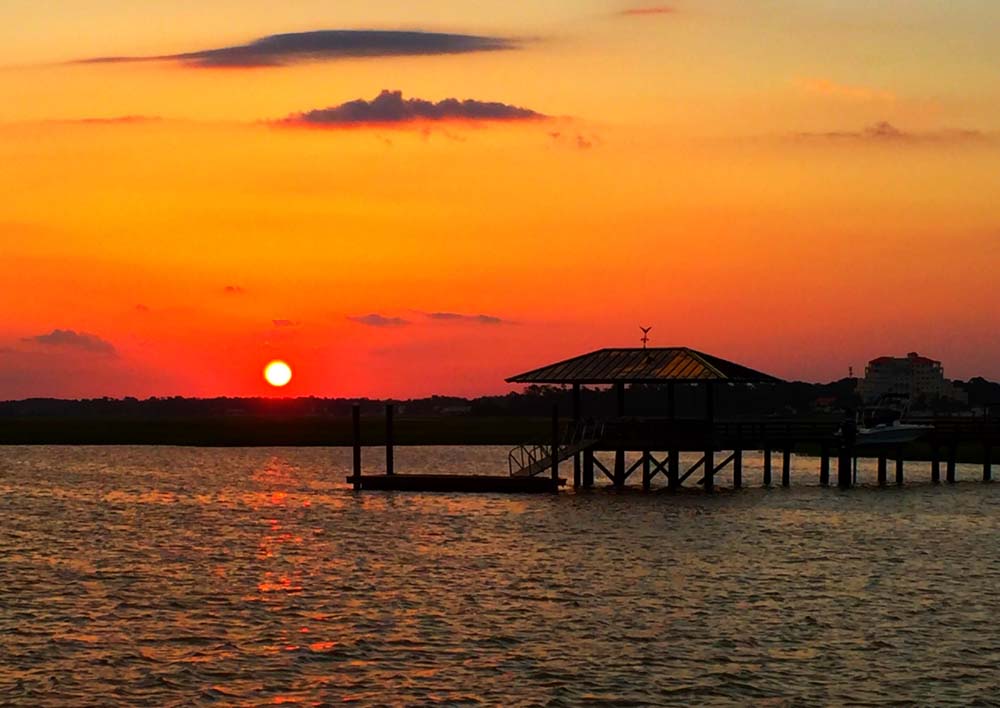 Enjoyed this post?
Sign up to receive email notifications of future posts!