I'm not sure any urban mecca could be at the top of my sailing list, but taking Gémeaux down the East River certainly was a thrill and an absolute spectacular way to enter New York City. 
On that late September day, skies were perfectly clear—that is to say weatherwise, they were sunny and blue. New York's congested airspace was a jolt to the senses. Commercial airplanes flew in and out of the area's three busy airports. Helicopters gave hourly tours and transferred company executives whose time was too precious to sit in standstill car traffic. On the water, police boats, water taxis, advertisers, ferries, and pleasure boats raced busily from one port to the next.
I sat on the pulpit at the front edge of our bow and took in all the sights and sounds and, yes Greta Thunberg, smells of the Red Apple. Every few hundred yards we would pass under yet another historic bridge with the subway, bikes, and cars clattering above. What a wonderful perspective from the water noticing, for example, that there is a docked prison barge on the other side of the river from the famed Rikers Island prison.
We passed the United Nations that was just warming up to host the 74th session of the General Assembly, with none other than Greta herself. The new Freedom Tower and Empire State Building towered above hundreds of other skyscrapers and large blocks of apartment complexes. Clearly, our view was better than any car, airplane, or helicopter!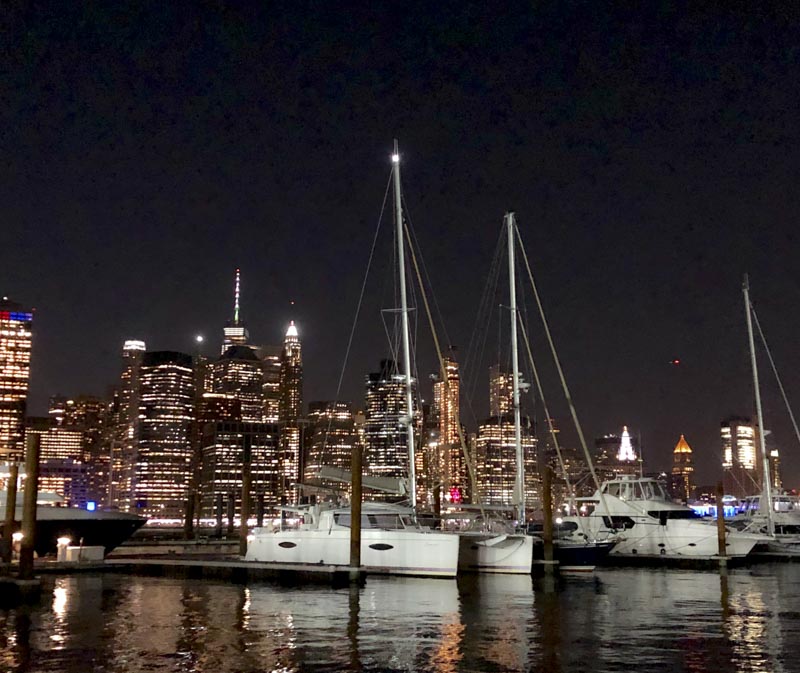 We finally landed at the Brooklyn Marina on the shore of Brooklyn Heights with a jaw-dropping view of Manhattan in the background. We slipped out of boat clothes and put on those horrible things called shoes to wander the upscale neighborhood of historic brownstone townhouses. We provisioned with yummy wines and deli treats and I even got a cat fix at the Brooklyn cat café. I still can't believe they all escaped becoming boat cats.
The following day, we boarded New York's subway, the largest in the world with more than 450 stations. The 911 Memorial took our breath away with its creative design and exhibits of artifacts, which immediately transported us back to the heartache of the 2011 attacks.
On a brighter note, Allen's sister, Anne, joined us the next day where we crammed in a 2pm Broadway matinee of Hamilton and an 8pm performance of The Great Society–LBJ's presidency facing Vietnam and the civil rights movement. Our family friend, David Garrison, played all the bad guys—Nixon, George Wallace and Alabama Sheriff Jim Clark. We joined more friends and delighted in the chance to go back stage and hug the cast. In typical New York fashion, we sat down for dinner at 11pm. Somehow, in our sleep-deprived stupor, we found our way back to the marina via subway and our heads finally hit the pillows just after 2am. Whew—this pace is hard on us cruisers:)
The next day brought some wind so we sailed up the Hudson River and down by Ellis Island and the Statue of Liberty, dodging busy waterways on this gorgeous sunny Sunday. The entire weekend was surreal, playing city tourist on land and returning at night to… a sailboat of all things.

Click here to view more New York photos in our photo book of Maine.
Enjoyed this post?
Sign up at the bottom of this page
to receive email notifications of future posts!