I never learned to say goodbye in Croatian—the word was too hard to pronounce. Rarely have we visited a place that I could not understand at least a few words of the language. Even with all the Italian, French, and Austrian influence on Croatian history, I couldn't make out a single word in conversation. After two months in this Baltic country, I finally learned that š sounds like shh and if you learn nothing else, practice hvala. As we sail by Dubrovnik's walled city for one final look, I realize I can now pronounce doviđenja, but my heart has a hard time saying it.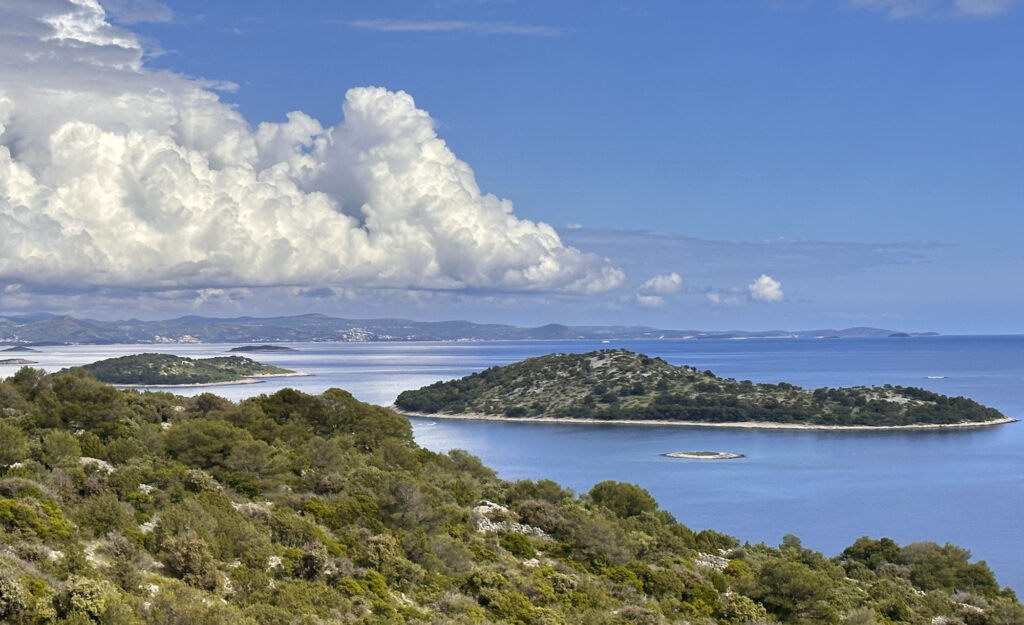 We arrived in Hrvatska at the beginning of May when temperatures were cool and we had the seas to ourselves. Water is now a perfect 80 degrees for swimming and after a season of navigating around the world's largest charter boat community, I kinda wish I was one of them—headed out for another round of sailing along this rugged Dalmatian coast or finding a hidden sea cave off one of Croatia's 1,200 otoci.
It's actually not the islands but the city of Dubrovnik that draws the largest crowds, attracting even armchair travelers who come in search of dragons soaring over Kings Landing. While the famed Old Town put Croatia on the map for many, this area has been in the making since the 7th century, albeit as many different countries. If you're like me, you'll remember it mostly as Yugoslavia until 1991 when it declared independence.
The Walls of Dubrovnik was our first stop and the perfect place to begin our cultural and historical lessons. We walked the requisite 1.2-mile promenade for stunning views of a sea of terracotta roofs in the center and a sea of turquoise Adriatic 80 feet below on the outside. The juxtaposition was awesome—marveling how heavy slabs of limestone were hauled up here; astonished how Italian and Napoleonic warriors actually broke through the fortification; and then watching flocks of visitors today drag luggage over cobbled alleys where antique doors opened to airbnbs on one side and a family's laundry hung outside the other. There's a restaurant every direction you look, each boasting its own style of ćevapčići sausages and outdoor seating. For us, Dubrovnik Gelato set a high bar by tossing scoops of gelato in the air to form a perfect stack high on your cone.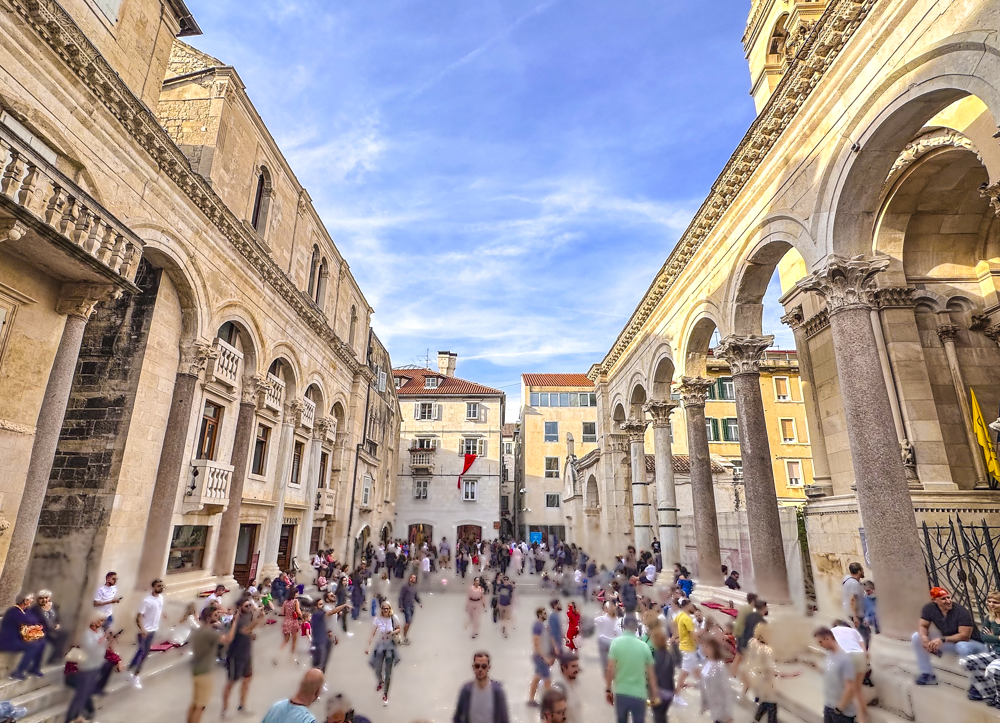 Another town rich in history and gelato is Split, 100 miles north from Dubrovnik. This was our home base for nearly all our guests, serving as the perfect launch point for visiting Croatia's most popular islands. It's where we left both cats—Gémeaux and Zemi—when we returned to the US for a family wedding. Both experiences gave us an early look at just how genuinely kind the Croatian people are. When we asked the local veterinarian if they board cats, he said, No, but my wife and I would be happy to take care of your cat. Wow! Or, the Kaštela marina shuffling around their fleet of charter boats and private yachts to find us a slip.
We learned the system of getting free dockage or mooring in exchange for buying dinner at the local restaurant. But, when we told the owners we had planned to eat onboard they said, Please, just come for a glass of wine or Karlovačko beer. Živjeli 🍻 to you—that's so nice! On our final night in Croatia, after nearly smoking out the neighbors with our bbq, the local captain said with a smile, No worries…as long as the food was good. Store clerks helping us decipher the many packages of flour, cab/uber drivers and restaurant staff giving endless language lessons as we struggled to pronounce words void of vowels and loaded with foreign marks—all a testament to Croatian hospitality and role models for our planet.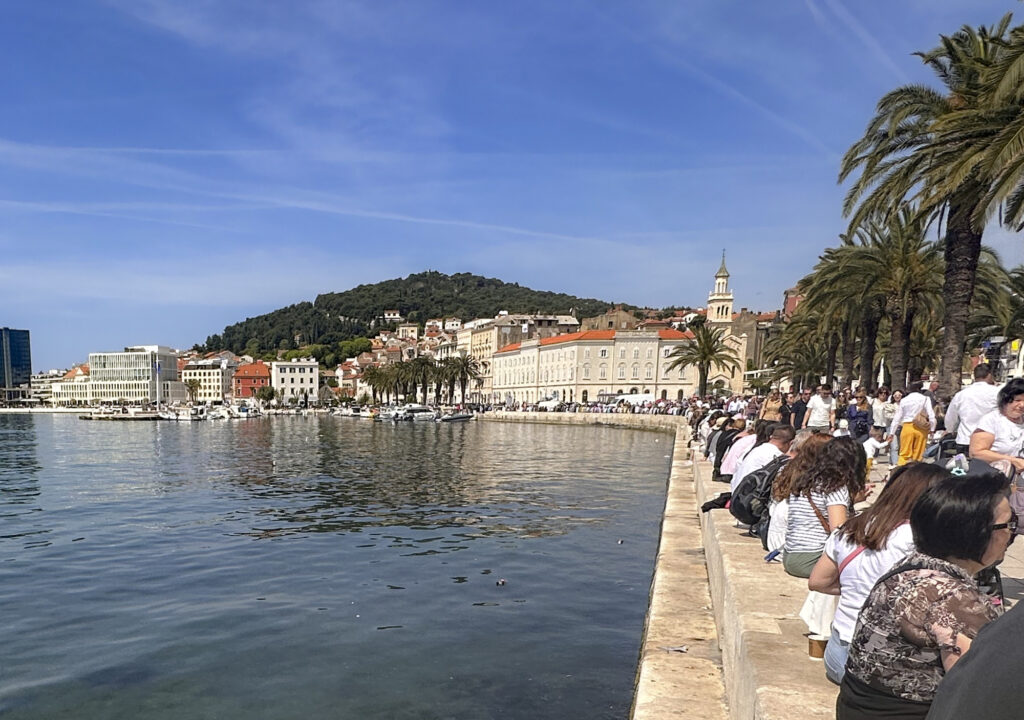 Our first glimpse of Split was unforgettable. We entered the harbor on a Sunday morning expecting to do a quick self-tour of the Roman Diocletian's Palace. The waterfront was chock full of people sitting on the promenade wall, drinking coffee at sidewalk cafes, and strolling down the Riva waterfront in colorful couture. Angelic choir singing echoed across the water as though church was being held outside.
Sure enough, we had landed on Saint Domnius' Day where this devout Catholic population was celebrating its patron saint with a birthday party flare. When we learned the cost of overnight anchorage along the promenade was €400(!), we took the one-hour free parking pass and joined the crowds for the open-air high mass. Later, we would return for a proper tour of the Palace, awed by its ancient cellars and granite sphinxes. One of us received a tour of the Split Hospital, (which provides outstanding AND affordable medical care), when their finger got bit by an electric winch! And, by the way…four hours of dockage on the promenade is free for a medical emergency—another example of the local kindness.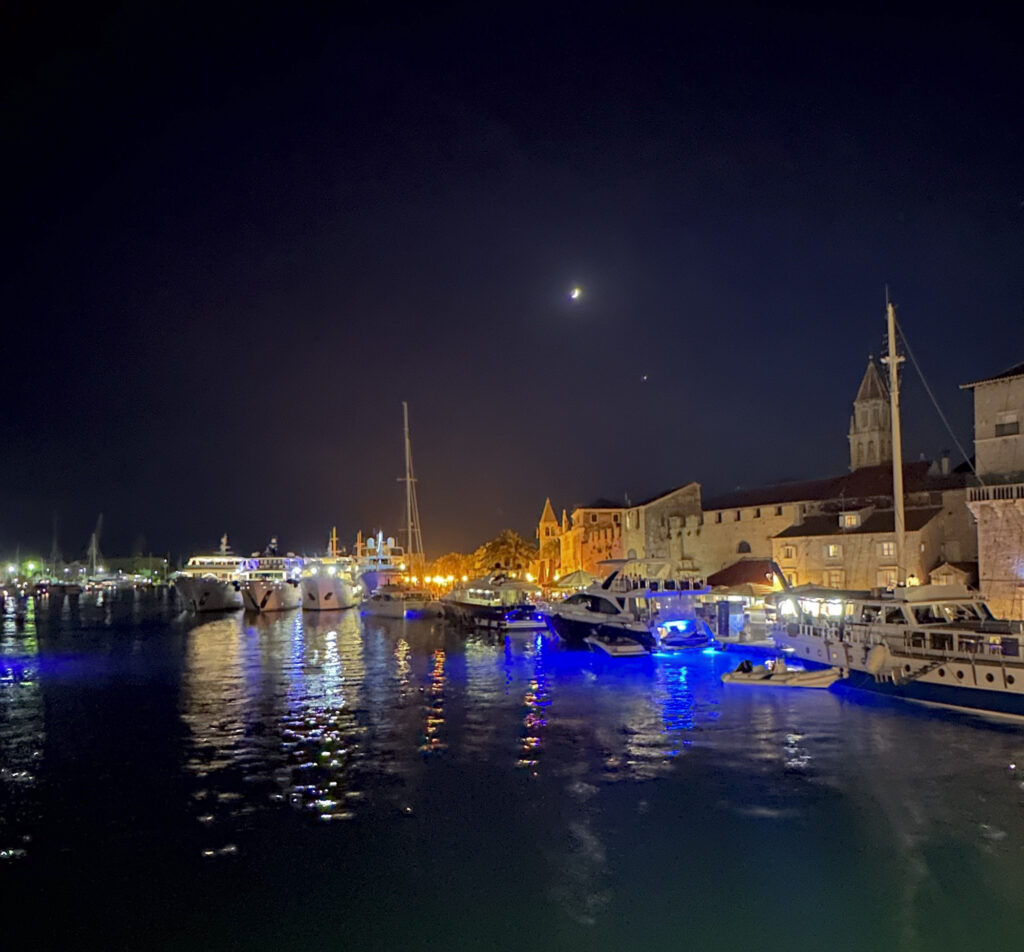 The nearby charming town of Trogir was a miniature Split and we loved it. On our first visit, we secured dockage on the Trogir Riva, a coveted spot normally reserved for boutique cruising boats who raft together five deep.
In this fish bowl setting, we entertained curious passersby as an American boat with a cat onboard in return for a front-row seat to the local vibe, which included a neighbor belting out beautiful Croatian opera…until 3:30am(!) We never tired of Trogir, returning with all our guests to dine at Franka and stroll the promenade with a gelato in hand.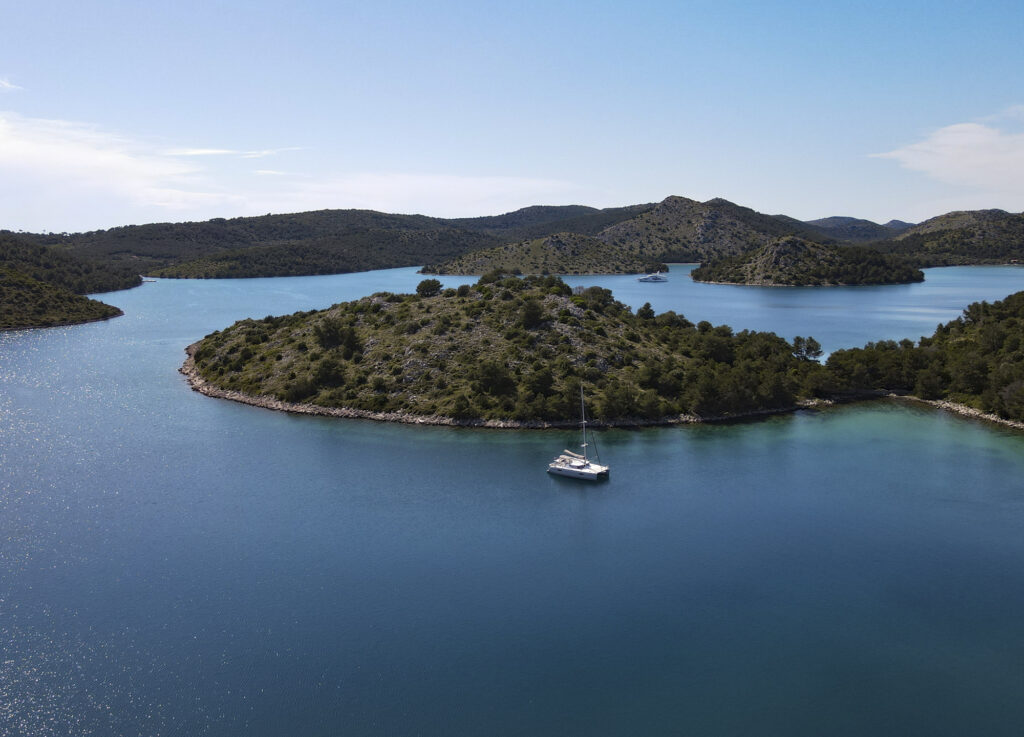 Before Gémeaux's airbnb doors opened for the season, however, we sailed north to explore some areas a little off the beaten charter path. The Kornati Islands were beautiful. At 68 degrees, the water was too cold for our swimming standards so we walked and hiked through pine trees and along tectonic cliffs in the Telašćica Nature Park, and reveled in anchorages we had to ourselves.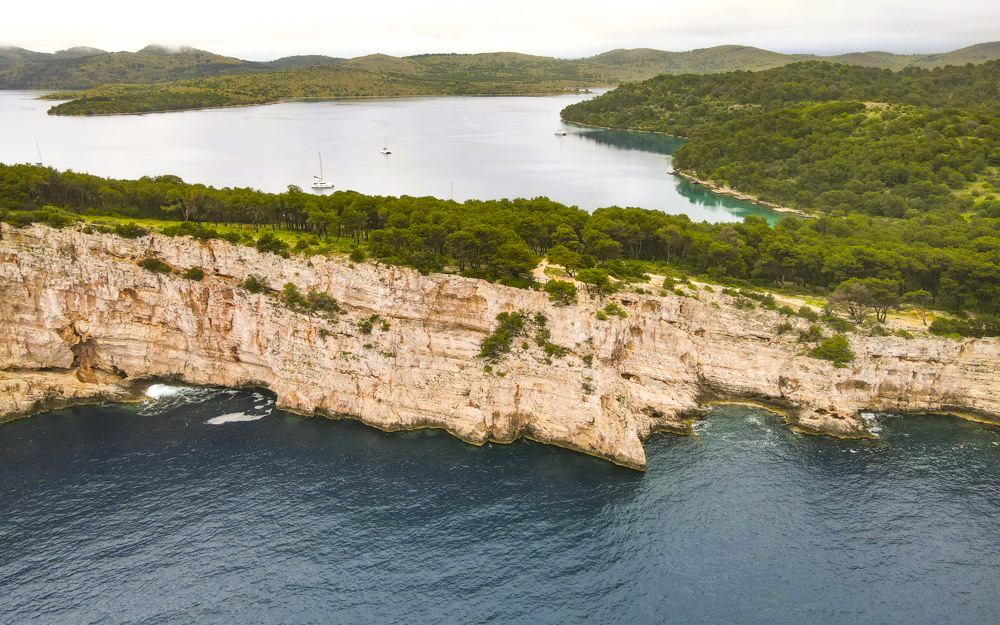 We discovered WW2 submarine tunnels carved into islands and the medieval wall of Oštrica. With a little time on our hands and plenty of space in anchorages, we practiced stern tying to the shore in preparation for those anchorages we soon would need to share. We also learned that no matter what direction you sail, the wind is always (okay mostly) on your nose.😂 We did a lot of motoring.
Look at the photo below and you'll understand why Primošten was one of our favorite stops.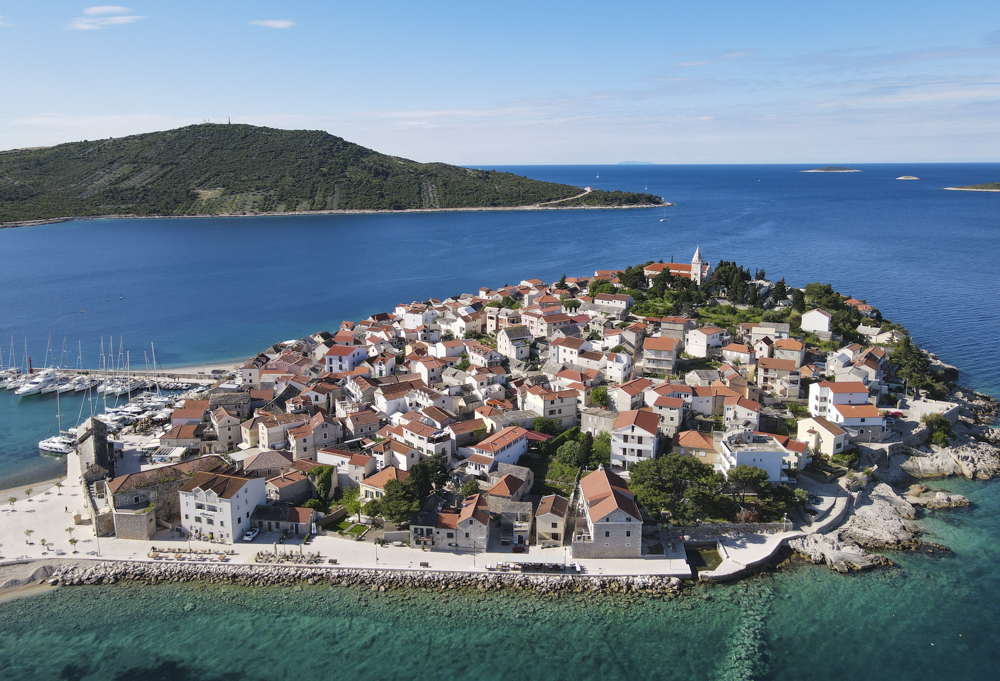 Anchoring just outside the little harbor, we got our first peek of how boats dock with their stern to a concrete wall and the crew literally steps off to a restaurant table. We would come to love this practice of yummy food practically served at your front (er back) door and the ability for the captain to keep a close eye on everything…that is, after we figured out how to do this tricky Med mooring ourselves. On that rainy day, however, we chose peril over pleasure and opted to explore town on slippery cobblestone steps.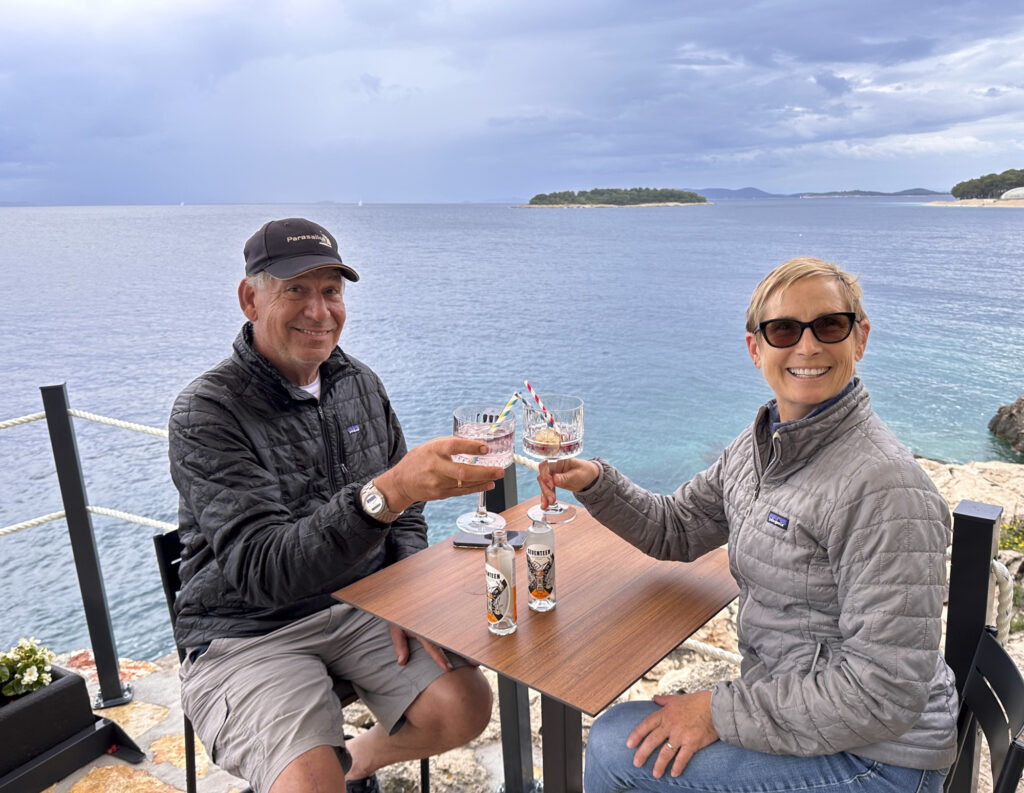 Our gamble paid off—the tread on our shoes held and we discovered the Tramonto Gin and Wine Bar, where we savored every drop of pink! gin and tonics served in vintage glasses. Who says g&ts are only for hot summer days?! Of course, perched under the protection of an umbrella on a rocky cliff overlooking a blank canvas of sea kinda put it in the extraordinary category.
You can't come to Croatia and skip  Hvar. Fresh out of fancy clothes and dancing shoes, we avoided this party capital at first and opted for its quieter sister city of Starigrad.
Eventually, however, we worked up the courage to squeeze in on a mooring ball situated on a thoroughfare of ferries, charter boats, and water taxis. We put on a clean Gémeaux t-shirt and set out to wander this upscale port. While we skipped the lively night club scene, we panted our way up to the Fortica Fortress, taking in views of Vis and the Paklinksi Otoci on the horizon and Gémeaux still secure in the harbor below.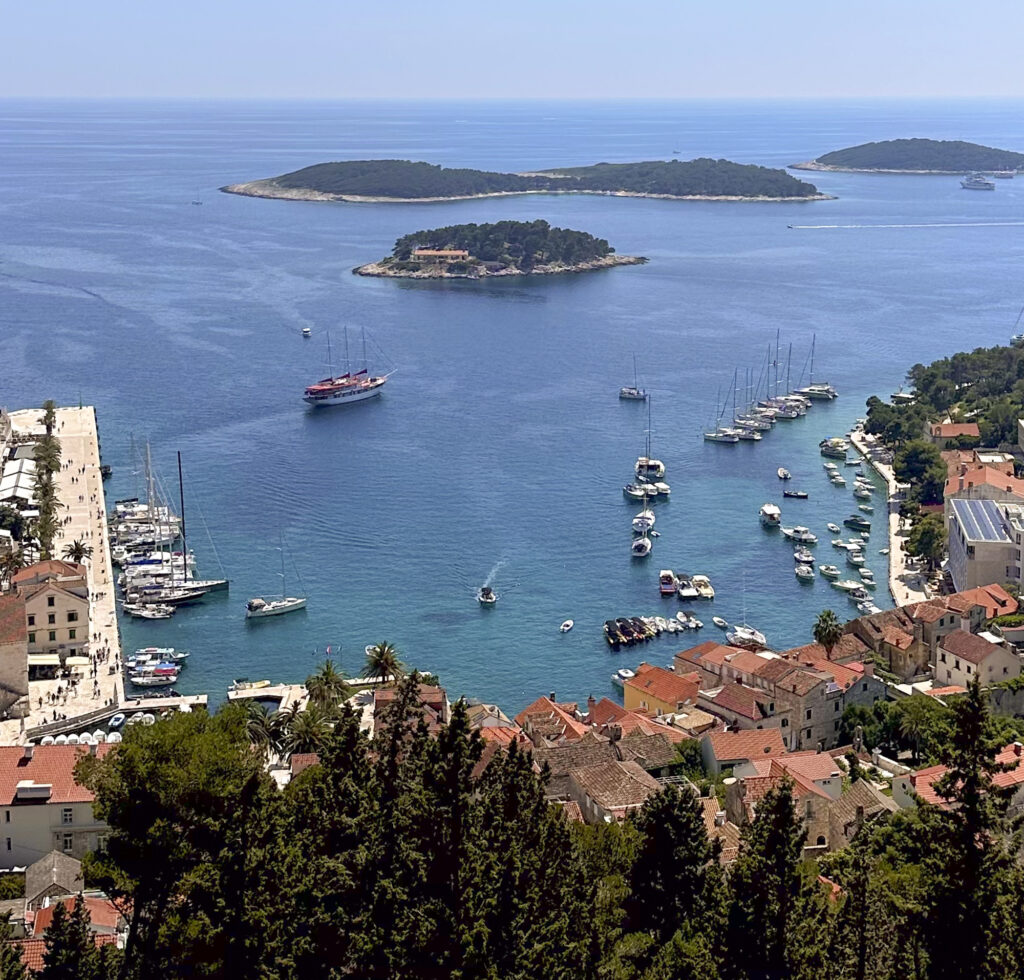 Our dinner at Mediterraneo Dine and Wine was one of the finest, where we were introduced to Medenica, a complimentary honey aperitif that the server shares with you. The wait staff was amazing and they somehow stayed upright for their entire shift.🤪 The only outdoor restaurant where smoking was not allowed at the table…yay!
We got into a rhythm of spending a few hours in the hubbub of Hvar and then escaping across the channel to the tranquility of the Paklinski islands for the night. In fact, we found Taršče Bay so inviting that we tied close to shore in just 10 feet of water and studded in for a few days to play in our own private swimming hole.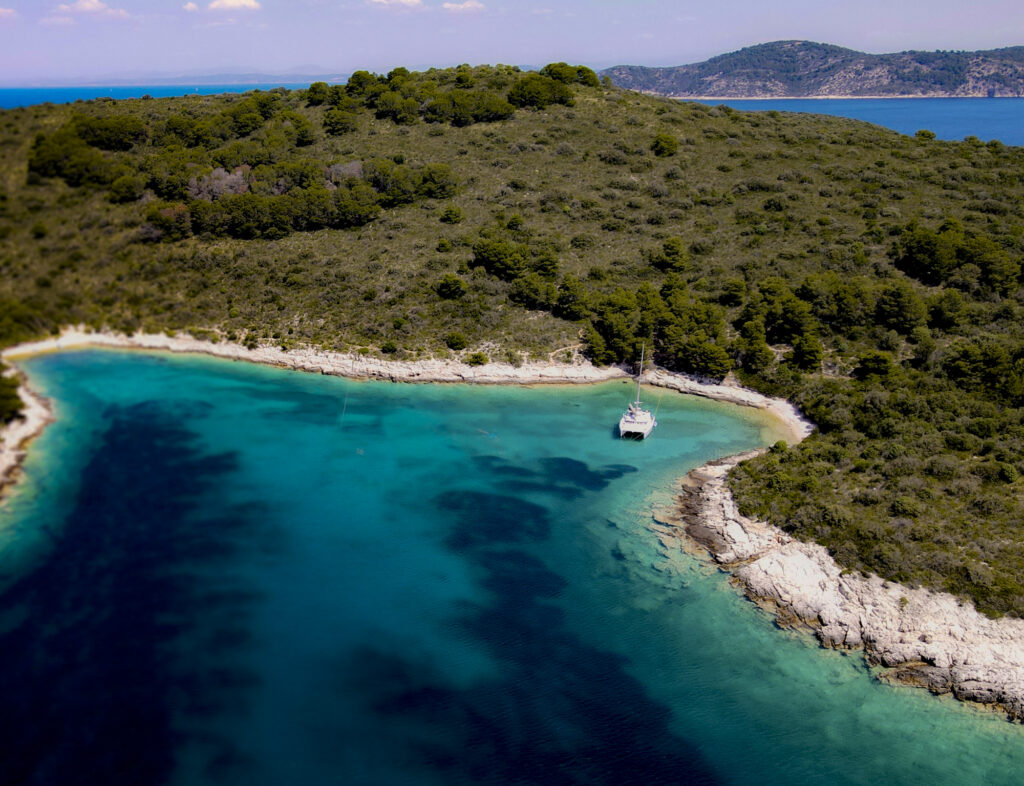 When we got waterlogged, we explored the trails onshore, which led us to discover the Dionis family restaurant. At 7pm, we dinghied to shore, walked ¼ mile on a trail over the hill, and then down to a small building overlooking a garden of olive trees and vegetables and another bay beyond. The floor was stone, the roof thatched, and the absence of walls and windows allowed a breeze to blow gently through the dining area.
We ordered the house favorite of eggplant pie and meat on a stick—a 2-foot jaw-dropping kebab. The meal came with homemade olive oil, wine, the daily chocolate and peanut cake, and the real stinger, a homemade liquor called…Hornet!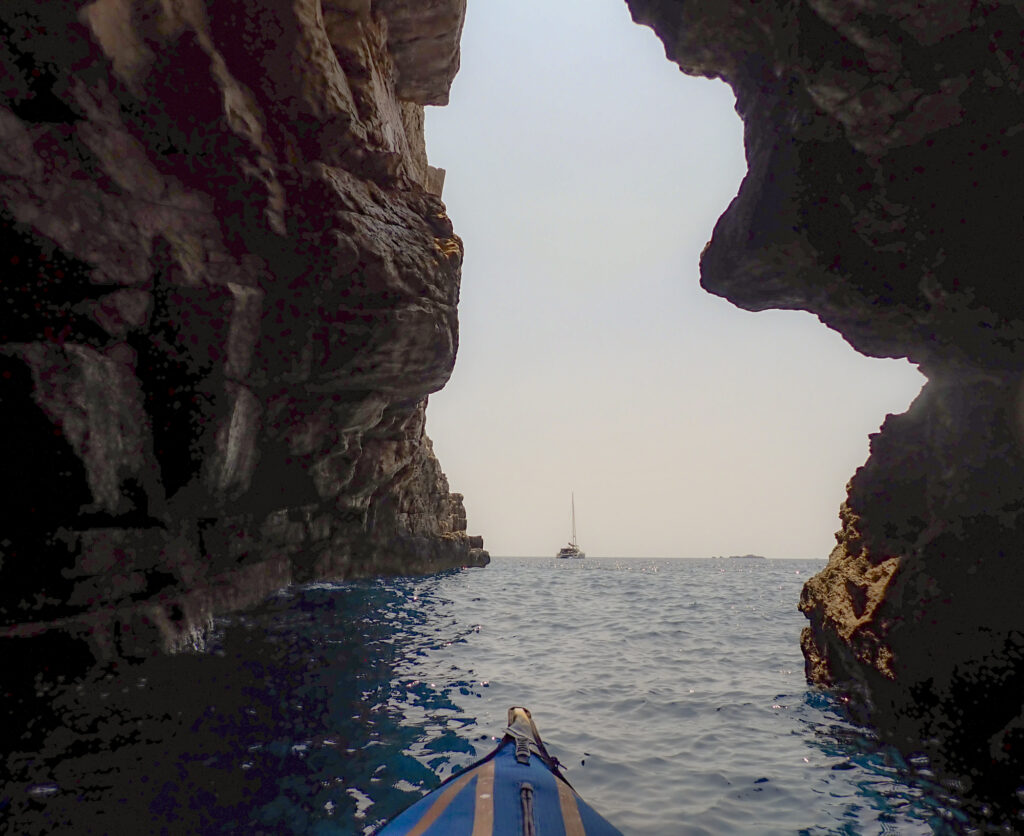 There's THE Blue Cave on Biševo, another Blue Cave on Koločep, the Green Cave, Odysseus Cave, and a hundred other seaside caves and grottos that don't make the guidebooks. They're all stunning and, fortunately for us, all accessible only by boat.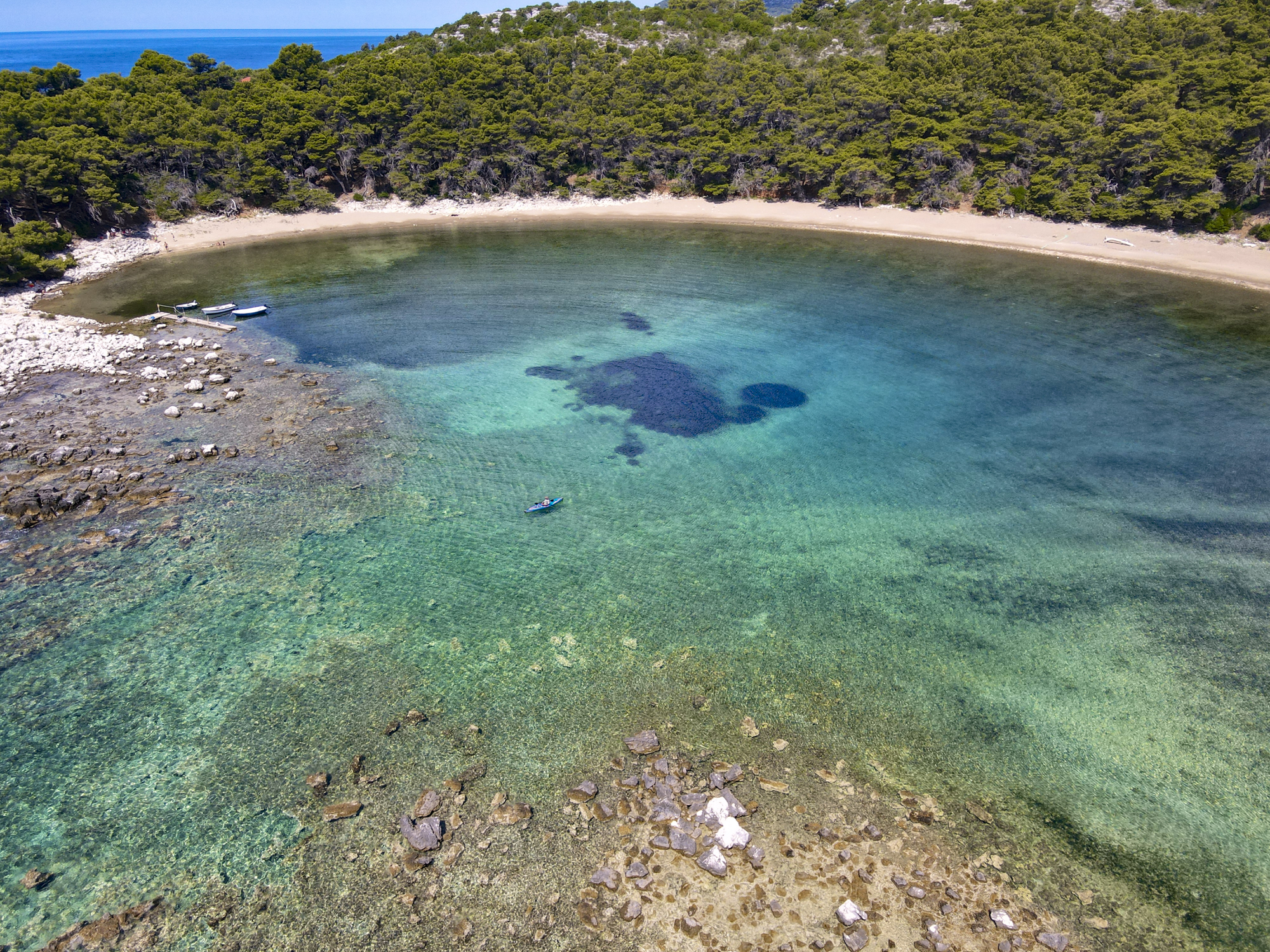 If Gémeaux couldn't anchor nearby, the captain would drift around while I launched a kayak or paddleboard to explore. Even when tour boats crowded the entrance, it was still a thrill to see these natural phenomenons and their magnificent underwater bridges and vibrant colors highlighted by the sunlight.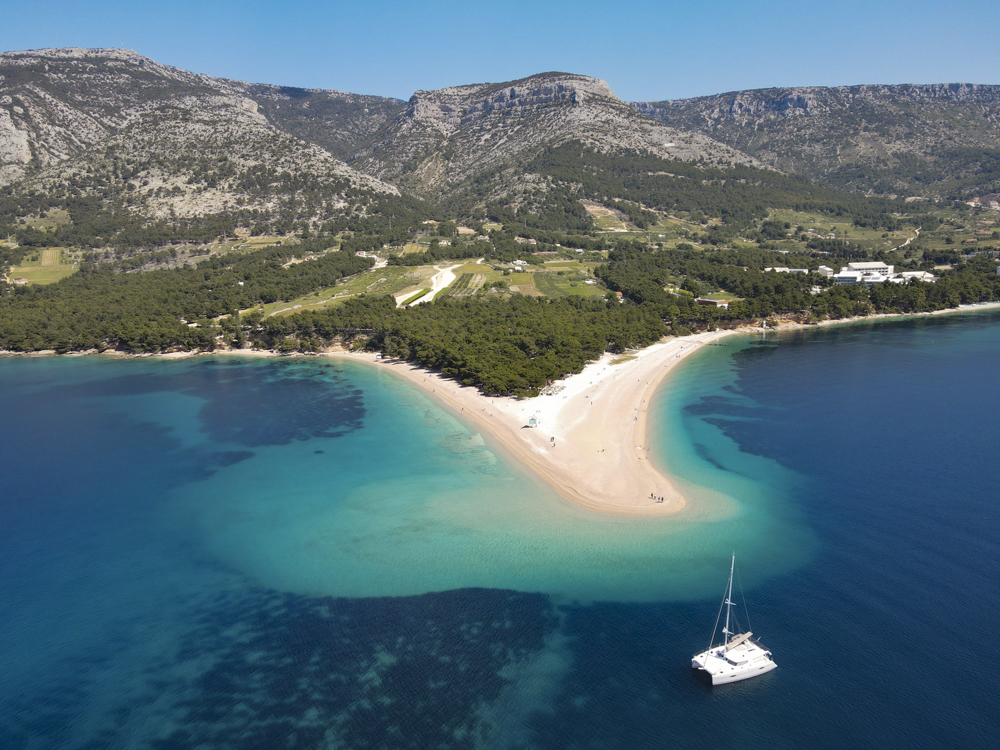 Legend has it that the island of Braç provided its bleach-white limestone to construct the White House. If that doesn't tickle your toes, pick up any guidebook and you'll likely see its famous pebble beach of Zlatni Rat on the cover. We visited this Golden Cape in early May when icy water took our breath away, but we got an aerial photo that rivals any book.😁 Later in the season, we sailed around the entire 30 miles of the Dalmatian archipelago's longest island. One morning, the strong Bora winds forced us to take a sharp turn to starboard for shelter. Even with the wind howling, we were dazzled by the bright white buildings of Pučišća, all constructed from the local quarry that is still actively producing limestone for the world.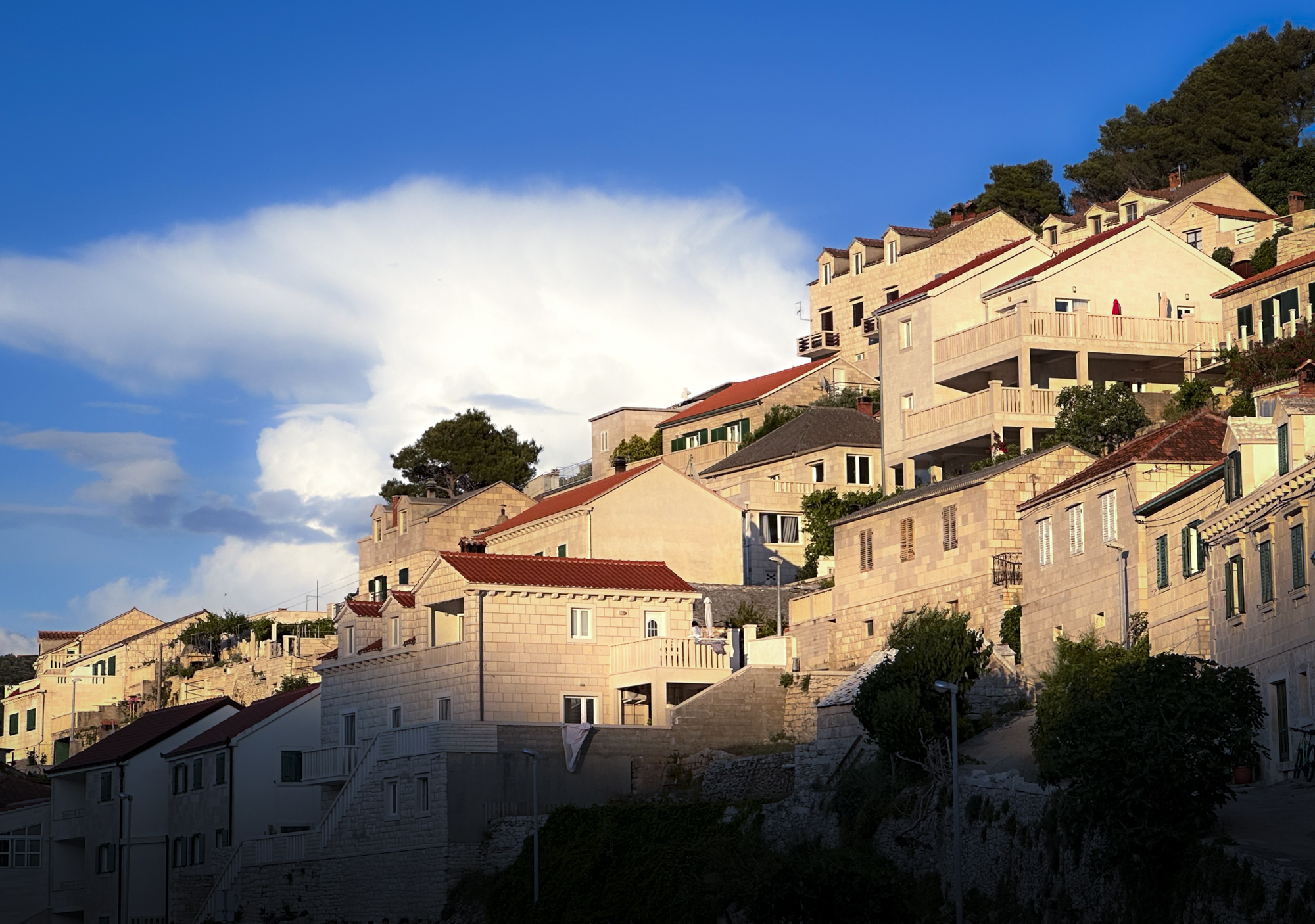 Not surprising, the town is also home to a Stonemasonry School, which practices the traditional Roman technique of manual stone processing, using the same tools that masons did 2000 years ago. Every building, beachfront, bench, table…even lamp posts are built with this stone. The waterfront is beautifully landscaped with gardens and statues produced by masonry students, the people friendly, the streets clean—and on this windy day, we practically had the town to ourselves.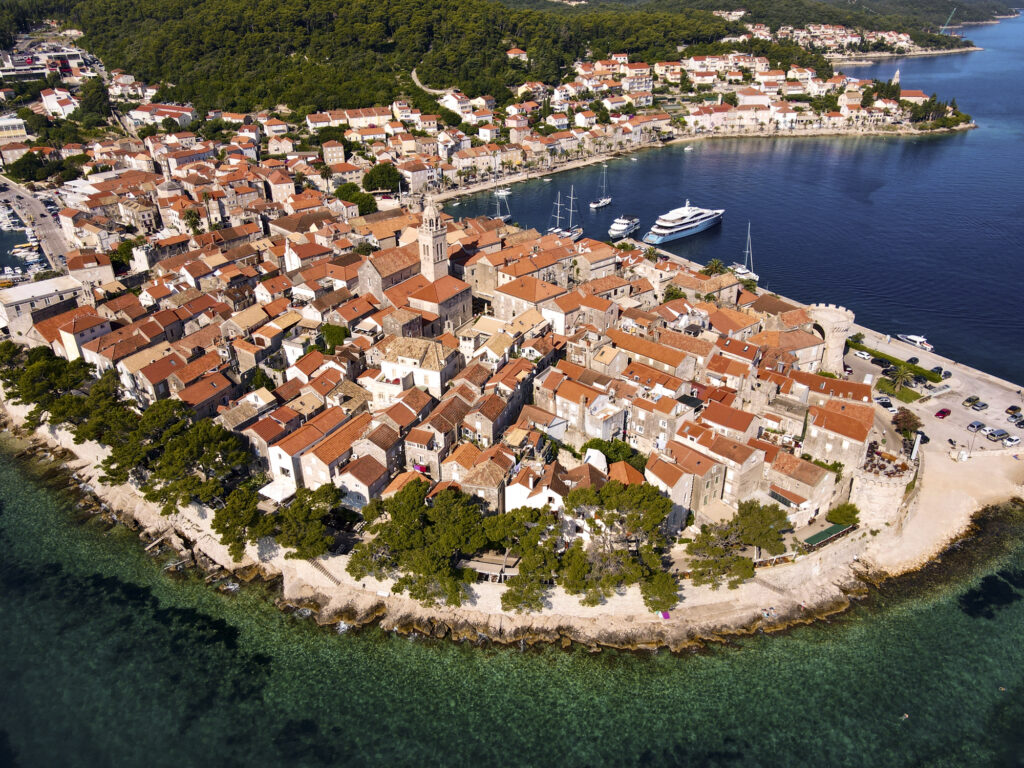 Although the Venetians would argue, some believe the medieval town of Korçula is the birthplace of Marco Polo. There's a cat on every stair and stairs on every street, except one—the street of thought, where you don't have to think about where you're stepping. What makes this town remarkable to me is the stunning backdrop of the Pelješac peninsula. Rugged mountains and sweeping valleys stretch 40 miles towards Korčula, with a climate perfect for producing some of the country's top wines.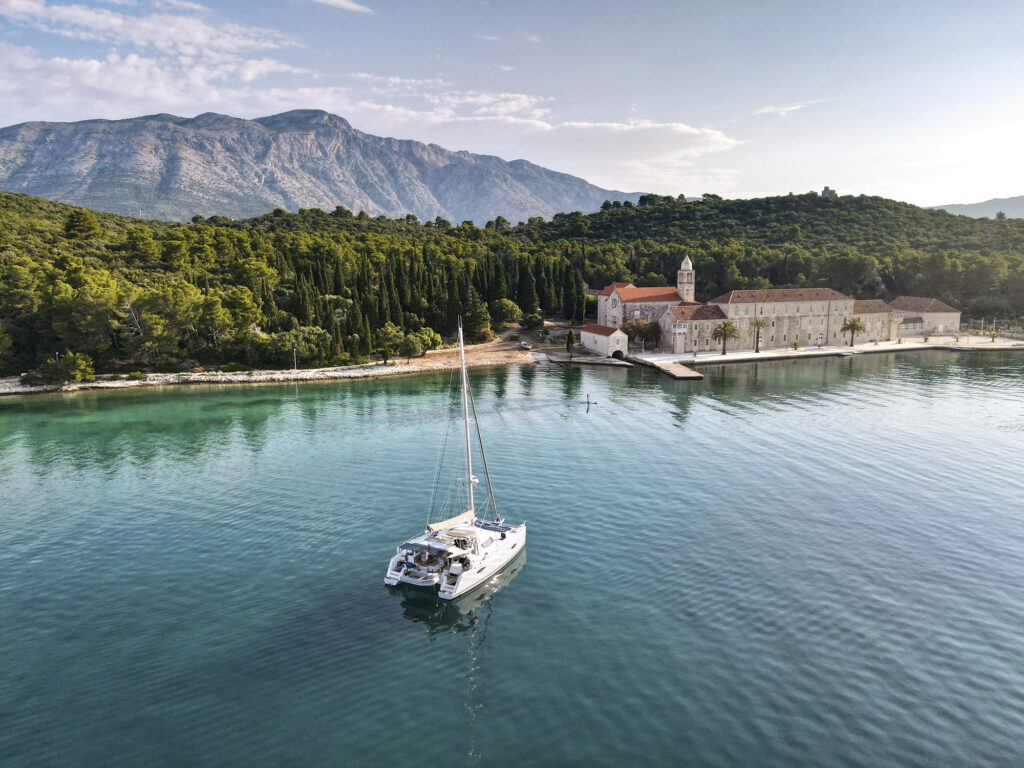 In the town center, we climbed the skinny stairs to the bell tower of St. Mark's Church for a bird's eye view of the peninsula and the harbor life below—super yachts holding court on one side and the rest of us slumming it on the other.
The waterfront is beautifully shaded under a canopy of pine trees, making it the perfect place for eateries of every flavor. Each kitchen delivers yummy cuisine so we chose a restaurant based on how comfortable the chairs were.
A softie for National Parks, we made a last-minute decision to visit Lastovo, one of the most remote islands farthest from the Croatian mainland. We barely went ashore and it didn't matter. We thoroughly enjoyed the pristine water and the fragrance of dense Aleppo Pine and Holm Oak forests.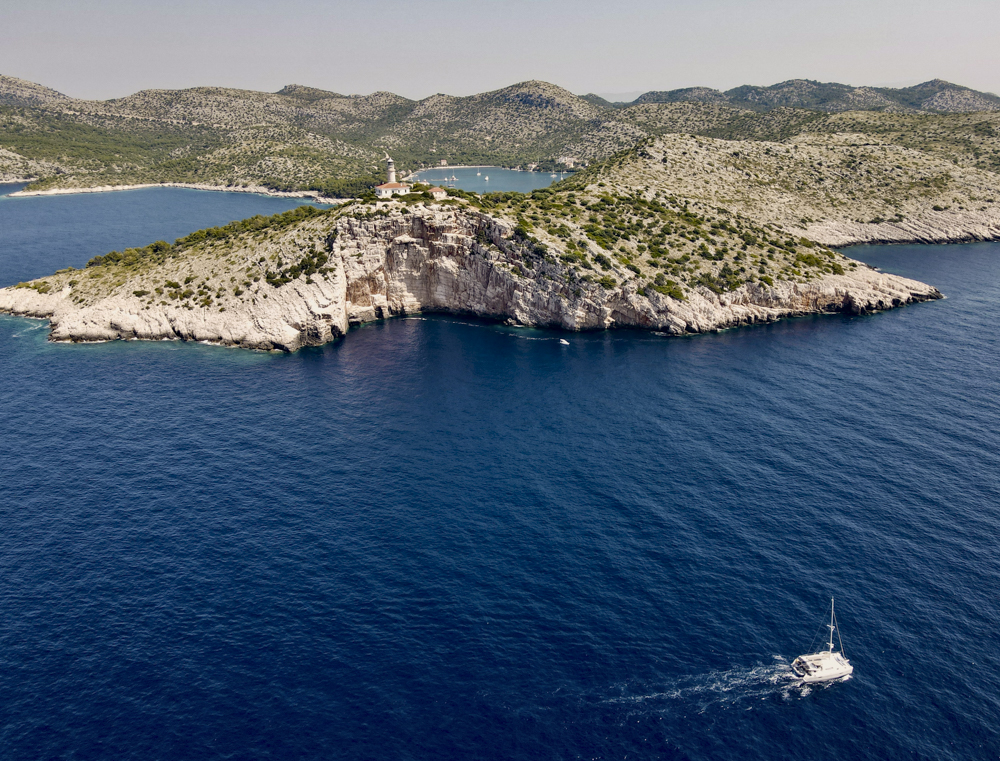 The Lastovo Archipelago of 44 islands is one of the country's youngest parks, established in 2006. It's considered to have the second darkest sky in Europe and is recognized as one of the last ten biodiversity treasures of the Mediterranean. And…in the morning, a local man and his son deliver fresh croissants (and their family wine!) to the anchorage. What's not to like!?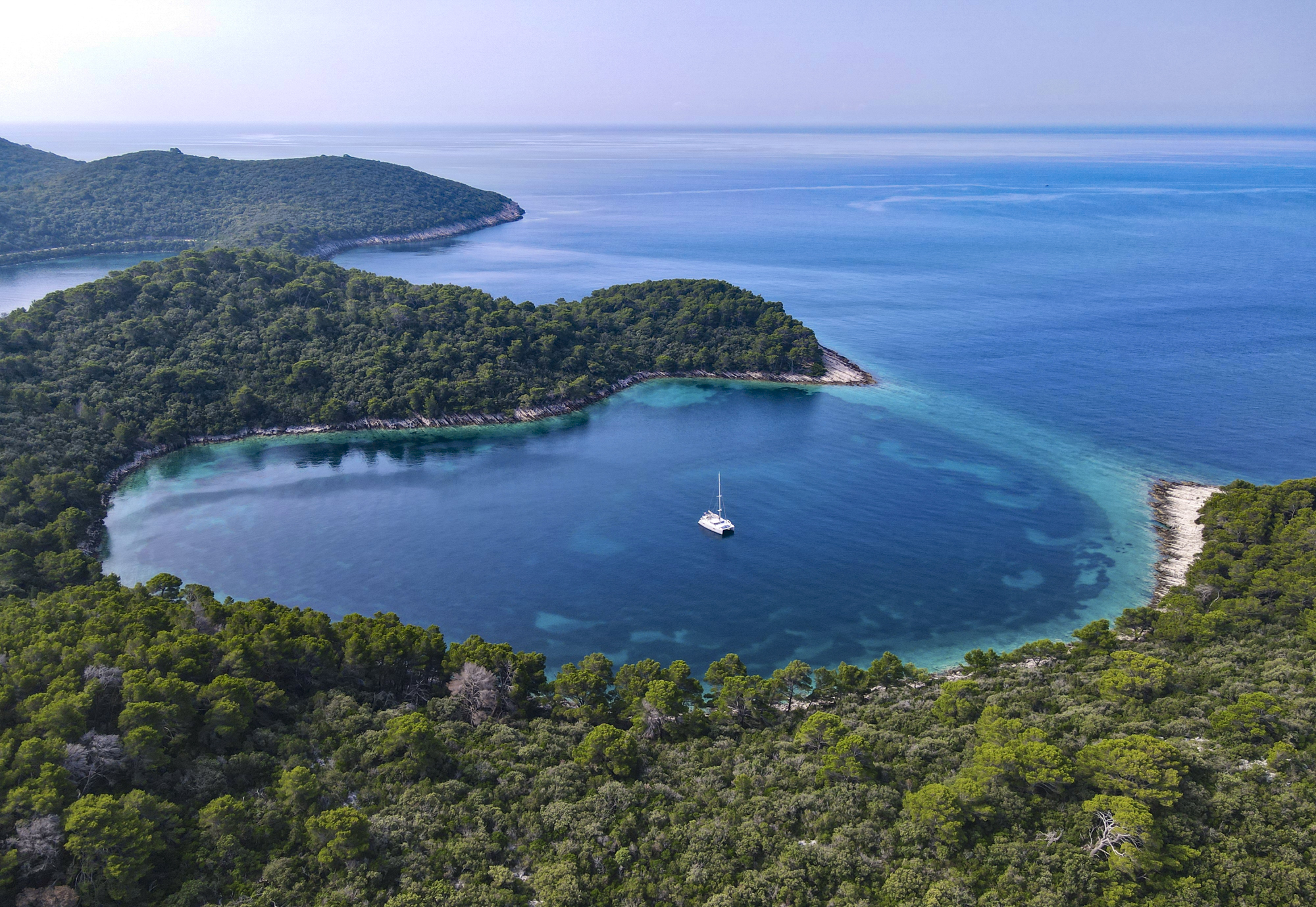 In keeping with our National Park tour, we made several trips to Mljet, taking in the popular National Park with its inland saltwater lakes at the northwest end, but also sailing underneath the cliffs and caves of the mostly uninhabited west side. Pomona is one of those towns that offer free dockage in exchange for eating at their konoba just steps from your boat. But which restaurant do you choose? What if you pull into the dock of one restaurant and then discover what you're craving for dinner is on the menu next door? Eager to have a little elbow room at the dock, we chose Konoba Herc on the end, where it opened to the sea.
Family members helped us dock and then put on their chef hats to prepare peka, a Croatian cooking style more than 5000 years old where a stone pot of meat or fish is slow roasted over coals. The most memorable moment of our stay, however, was watching the restaurant staff discreetly lure Zemi off Gémeaux. Turns out their house cat looks identical to Zemi and they thought she was planning an escape.
Are you packing your bags? Keeping up with the geography and pronunciations? Or, have you had enough? Okay…we'll save the slideshow of 1500 photos and our stories about eating sashimi at Šišmiš in Šešula on Šolta for when you visit. Indeed, we covered a lot and two months gave us the chance to discover those faraway villages that aren't in the guidebooks. On the other hand, we still didn't see it all. We never made it to the waterfalls of Krka and Pitvička Lakes National Parks, the inland wineries, or the Cave Bar in Dubrovnik. And, we didn't see any dragons. In the end, we learned a lot about this Slavic language and tried our best to master all the extra letters. We did learn hvala and we said it often.
Thank you, Croatia, for an extraordinary visit.