New Year…near year's resolutions—I'll write more! I actually do write an entry every day in our log book but all the sailing talk would bore you. You know I love to write and really I want to keep you up-to-date on all our adventures. Did you also know I get sea sick? Yes, an occupational hazard. So when we're sailing I can't write, or read for that matter. I do all my reading through Audible books now. When seas are calm at our anchorages, I swim or snorkel or hike or explore town. Sometimes I do laundry, sometimes I provi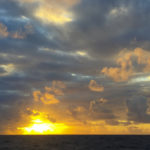 sion the boat, i.e., walk or take the dinghy to a market and schlep groceries back to the boat. (Stay tuned for an article on provisioning.) When we have company onboard, forget about writing. And of course, there's always a long list of projects and stainless steel that needs to be polished. You don't really think I sit around and watch sunsets all day, do you?
Okay, let's bring you up to date because we've covered a lot of ground and we're going to be covering more. One more excuse—it's hard to keep up!
Most insurance companies define hurricane season between July 15th and November 1st. During that time, your boat must be either north of Cape Hatteras, North Carolina or south of Grenada to maintain regular coverage. In 2018, we pulled Gémeaux out of the water and she sat on the hard in a Grenada boatyard for hurricane season.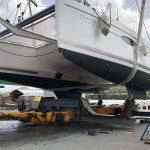 For the 2019 summer, we decided to keep her in the water and sail to Maine. The Suzie Too Rally to the Western Caribbean (See Rally Reflections) finished at the end of April in Belize. We needed to put on some miles to get all the way north to Maine for the summer. One month after the rally ended, we were sitting in a marina in Annapolis, Maryland. We sailed nearly 5,000 miles during that season, 2,000 of which we covered in the final 2-3 weeks making our way up from the Caribbean, past Florida, and into the Chesapeake Bay. I didn't write much at that time:(
While we ran around the country in June, visiting family and making sure the California house was still standing, Gémeaux remained in Annapolis for a little facelift—galvanized anchor chain, carbon fiber sails, and new 1200 watt solar panels were the most exciting. And you thought only seeing an octopus tickled my fancy. Finally, after nearly six weeks, we snuck out of the marina one pre-dawn morning, pointed Gémeaux north, and headed for Maine.
Since it's about 600 miles between Annapolis and Maine, the Captain graciously allowed a few stops along the way. We stuffed our faces with Maryland Blue Crabs in Cape May, NJ; rented bikes and ate hot donuts from Payne's Killer Donuts on Block Island, RI; and watched 12-meter sailboat races with Jim Moore off the coast of Newport, RI—the sailing capital of the U.S. Up and down the east coast, we sailed with dark-hulled monohulls and weekend sailors. We were definitely the black sheep in our double-wide.
July was family month—first my dad and then my niece and nephew. New England proved to be the ideal destination for these visits—short day sails, lovely beaches and anchorages where we could paddle board and swim, lots of seafood, and ice cream everywhere. I've spent little time on the East Coast so I thoroughly enjoyed finally seeing M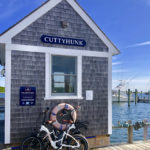 artha's Vineyard, Chappaquiddick Island, and my new favorites—Cuttyhunk and Hadley Harbor. We even witnessed history as a water spout and record storm with 65 knots of wind struck the area. I loved having the kids onboard—teaching them to paddle board, playing for hours in the sand, watching Kyle fish for hours, and watching Sydney's horror when Allen first showed her how to shuck oysters and then ate the critter.

The revolving door continued into August as our dear friend, Barbara Thomas, came onboard in Plymouth, MA and sailed with us to Maine. First stop, however, was Provincetown on the northern tip of Cape Cod. And what an absolute delight. We explored great shops and galleries, met up with long-time Park Service friends, climbed the Pilgrim Monument, kayaked and paddle boarded up and down the bay, and hiked the Dune Shacks Trail and gorgeous shoreline. I even had a spa day—haircut, massage, and chiropractor. Most importantly, we learned the REAL story of where the pilgrims landed—in Provincetown of course.
Next stop…Maine.
Enjoyed this post?
Sign up at the bottom of this page
to receive email notifications of future posts!