It's no secret that our favorite place at sea is far far away from civilization. No marinas, no neighbors—just glorious nature above and below the water in a bay all alone. Generally, when we set out to one of these faraway paradises, we stock up on all the pantry staples so there's no fear of running short of our favorite crunchy peanut butter. But what happens when we run out of pineapple? You know, fresh pineapple that the captain eats every morning. Tucked deep in Bahamian paradise hundreds of miles away from a supermarket, we learned about the Mailboat.
Over 70% of Bahamians live in the capital city of Nassau, where supermarkets carry nearly everything you'd find in your local Safeway. The rest of The Bahamas is a series of remote Out or Family Islands, where residents subsist on what's available on the island, raising goats and chickens, fishing, etc. Markets do exist on most of the Family Islands but they vary as much as a gas station convenience store does from a Costco. Only in this case, it's a spectrum of just convenience stores. Beggars can't be choosers—we stop at these markets at every chance and delight in finding fresh carrots and potatoes and if we're lucky, a small freezer selection of chicken wings, ice cream bars, and colossal bags of French fries—there are always frozen fries. As we explored more and more islands and more and more little stores, I began to wonder what exactly do the locals eat? They can't possibly live on a diet of goat, eggs, and potatoes. And by the way, how do they get those ice cream bars to their little islands?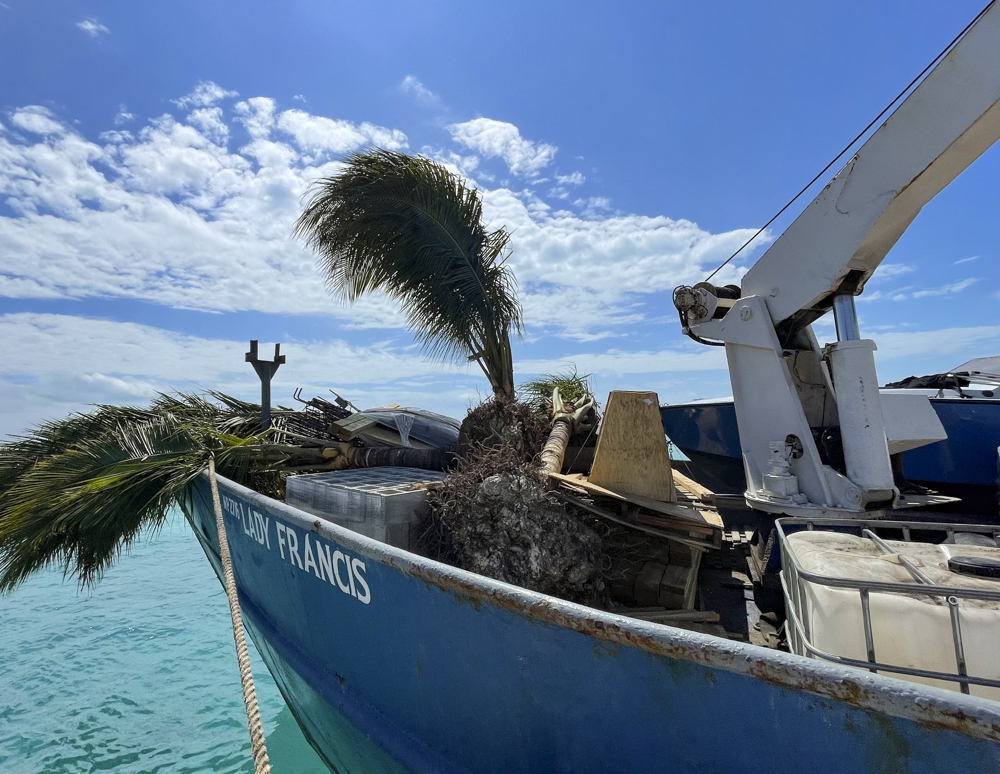 Mailboats are the largest shipping network in the Bahamas, delivering cargo (and people) each week to the Family Islands. The 150-foot cargo freighters are loaded in Nassau with pallets of toilet paper, rice, flour, canned goods, chips, and oh so many plastic bottles of drinks—all shrink-wrapped to stabilize their tower of plunder. The pallets are wedged on the bow between cars and back hoes, construction materials, and even palm trees destined for an island landscaping project. Inside the freighter, a large walk-in refrigerator contains boxes and boxes of dairy and anything found in the produce section, which explains why baking potatoes and onions are usually cold when they first arrive in the island stores. Finally, a large freezer holds meat, all those French fries, and of course, ice cream bars. Loaded to the gunnels, the mailboat begins its journey to 6-8 island ports. Pallets of consumables are unloaded at each dock and exchanged with pallets of island trash. The mailboat continues its journey to its final destination in the southern-most Ragged Islands and then returns to Nassau to rinse and repeat the following week. Sounds like a pretty well-oiled machine. Did I mention the delivery dates are tentative, sometimes adjusted by holidays and vacation schedules, always affected by weather and tides? There's a general idea of when the delivery will arrive but never the exact day and asking what time the mailboat is due in would be met with a great deal of laughter. 
In mid-December, as we were preparing to sail to that very last stop on the mailboat line, we decided to learn first-hand how to shop via mailboat. Much like the Covid-made famous Instacart, we needed to first establish an account with the Nassau supermarket and then be assigned a shopper. Much unlike Instacart, there's no phone app with instant registration or pretty photos of all your choices. After a week of tracking down the one person in charge of account creation, we became a certified customer and were introduced to our personal shopper. Over the next several months, we would form a unique bond with Ms. Pinder through email and WhatsApp—learning so much about each other but never meeting in person—a little bit like online dating. Anxious to cultivate our new friendship and to eat radishes again, we whisked off an email to Ms. Pinder with our wish list of favorite produce that included as much product detail as possible. We kindly requested she shop close to the mailboat departure date so food was at least mostly fresh when it arrived a week later, load it on the dock in Nassau, and deliver it to a remote island 200 miles away. What could go wrong? 
Who knows exactly what step was mis-stepped but our much-anticipated produce never arrived for our Christmas feast. Being a first-time customer in the middle of the holiday shopping rush probably didn't help our cause. No worries—we'll submit the same order for the following week. Oh, that week—between Christmas and New Year's? The mailboat captain is on vacation. But don't worry, Ms. Pinder told us, the mailboat could deliver the first week of January. At that point, we planned to depart the Ragged Islands for a new destination and had no idea when and where we would land, let alone if the island was on the mailboat route. We watched our produce drawer dwindle to a single precious carrot and we subsisted on canned vegetables while we celebrated the holidays in the hinterland.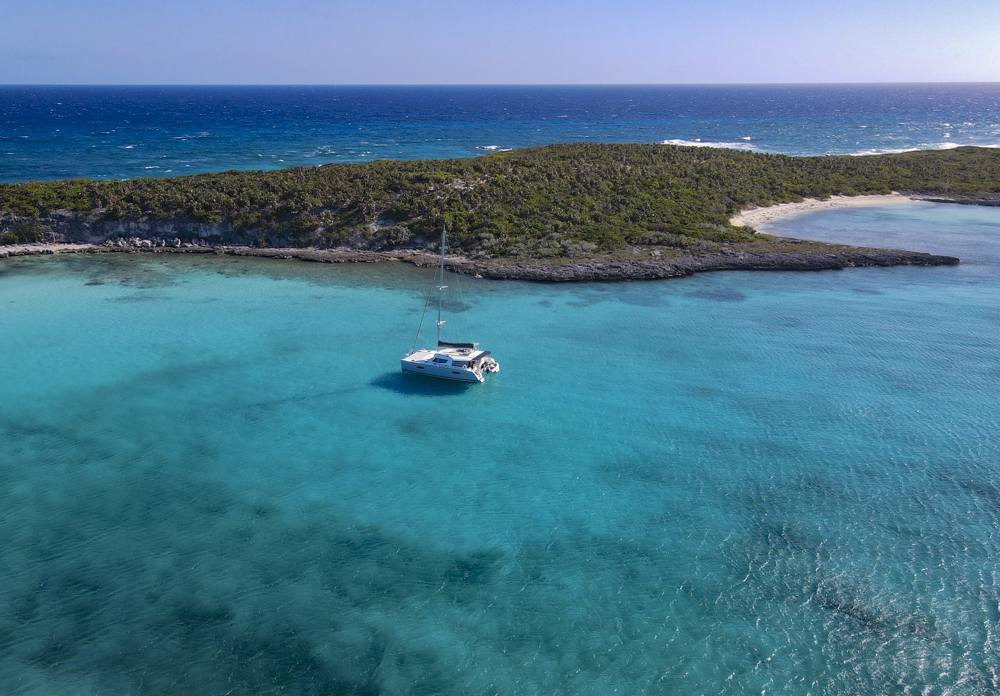 Fast forward one month and we had another chance to fine-tune our relationship with Ms. Pinder. Finally vaccinated and eager to travel again, family and friends requested a visit to Gémeaux. When it's just the two of us onboard, we can subsist on what's available in the local markets, but always seeking a 5-star Yelp rating, we step it up for company and try to serve more than just Top Ramen. Plus, we were now a registered SuperValu customer—shopping by mailboat should be easy peasy. Just in case, however, we decided to do a test run and we fired off an email to Ms. Pinder with a short shopping list. I'll be in touch, Ms. Pinder said…with questions. And with that, the mailboat became the center of our world and our itinerary was tethered to grocery shopping. We chose anchorages based on internet service and delayed activities for fear of missing Ms. Pinder's call. We stayed close to stop #3 on the mailboat route in case the weather or a crew's vacation plan or a rare sighting of a UFO dictated a change in schedule.
Just as I put on my wetsuit for a long snorkel, the call came through—it was shopping time! For the next 1-1/2 hours, I walked the supermarket aisles vicariously through my phone, reviewing Ms. Pinder's photos and giving a thumbs up or thumbs down on the products she ticked off from our list. Yes, we'd like six packages of radishes, not 6 radishes. No, I don't need the 15-pound wheel of cheese. Could you please check the package to make sure the spinach hasn't started to wilt? Occasionally, we would discuss price, but my wallet was basically in her hands and I hoped she was a conscientious shopper. Finally, the cart was full. Ms. Pinder checked out and relayed that our groceries would be loaded on the Captain C mailboat tomorrow. I wondered at this point where exactly our groceries were? Surely, they were stored in the supermarket's refrigerator and freezer, right? How long do you think they sit on the hot, humid dock before they're transferred to the refrigerator on the mailboat? It occurred to me that ordering fragile produce like spinach was probably a bad idea.
Unlike most commercial vessels, the mailboat doesn't use AIS (a boat's Automatic Identification System) to transmit its position, which would have been the easiest way to track its progress. So we sat. And we waited. And we watched the horizon for signs of Captain C. Finally, the faint outline of a freighter appeared on the horizon and sure enough, by 4pm, Captain C was making its way into the bay.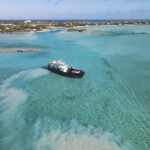 And then, just 200 yards from the dock, on this day with exceptional low tides, the mailboat ran aground. So close—couldn't' we just dinghy over to fetch our provisions? After about an hour, water crept in with the changing tide and Captain C stirred up enough sand to dislodge itself and make its way to the dock, leaving behind a cloudy muddy trail in the sea. Still uncertain of the process for claiming our plunder amidst the disposition of everything from eggs to palm trees, we leapt into our dinghy as the mailboat docked. Residents and store owners from around the island jumped in their golf carts, bikes, and trucks to become part of the mayhem. After getting shrugs and I don't knows for the past week on the ETA of the mailboat, everyone on the island seemed to know the minute the boat docked. I imagined a secret code being relayed around the island to announce zee mailboat zee mailboat!
Instantly, the dock was transformed into a major economic center. We stood in the middle of it all and I realized I didn't even care if our groceries showed up—being part of this hullabaloo was the real captivation. A crane on the mailboat transferred the pallets from its bow over top people and vehicles jockeying for position and somehow landed on the dock without taking off anybody's head.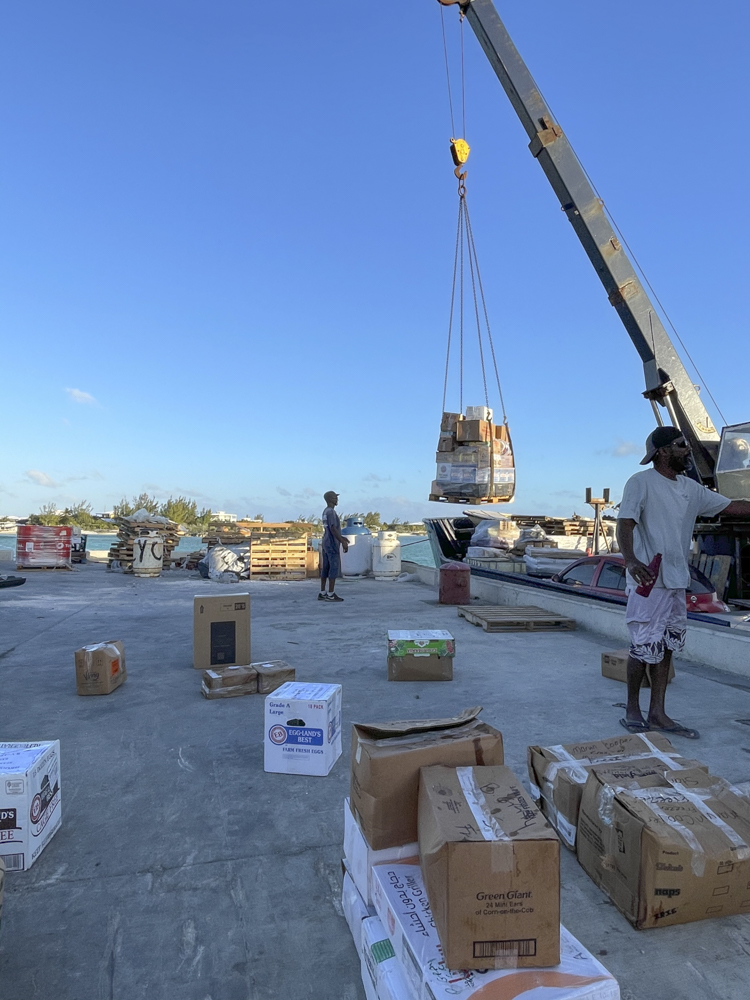 Workers carried off smaller boxes first from the freezer and then more from the refrigerator. Individual egg cartons were hand delivered to the dock, as though they had just been picked up from the market and made the oceanic journey on somebody's lap. Each box, each carton marked with a person's name. A sense of organization took over as heaps of loot took shape—yachts, resorts, local markets, and individuals each had their own pile. You could almost tell whose pile belonged to whom just looking at the goods—cases of wine and champagne?
Yep, those were going to the super yachts. Packages of toilet paper and local Goombay Punch—destined for the local markets. And then, as though the skies parted and the light shone down in the middle of it all, stood a lone box labeled Shiera Brady… Oh my gosh, the groceries actually made it! Of course, we had no idea what was inside the box wrapped with an entire roll of tape. And were there more boxes? How many? Sure enough, as the refrigerated items were unloaded, another box appeared. It was like Christmas! We opened one box, impressed by the remarkable packing job of baking potatoes wedged in between blocks of cheese and milk whose expiration date was still two weeks away.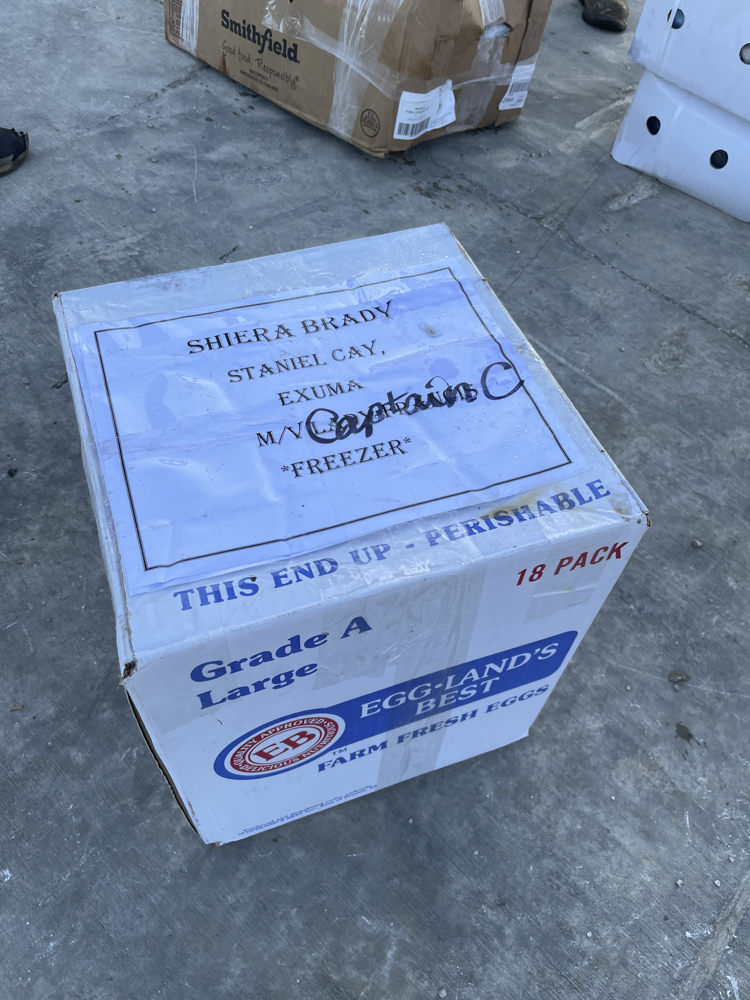 Even the bag of spinach showed no signs of wilting. And there in the corner were two glorious heads of fresh pineapple that made the Captain smile. We pulled out a receipt confirming that we had our total of two boxes. Do we have to leave? This commercial epicenter, now peaking at warp speed, was the most excitement we've had in weeks! 
That night, we loaded our plates with a colorful salad of fresh veggies, smug in the satisfaction of successfully navigating mailboat shopping. A week later, we would place another order for our incoming guests, excited that we now understood the secret nuances of this coveted system. What date? Oh, next week Captain C is on vacation. 
Hmmm…now what was the name of that other mailboat and when does it leave Nassau? 
Enjoyed this post?
Sign up to receive email notifications of future posts!