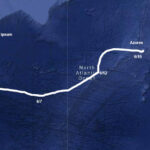 We estimate it will take about two weeks to sail from Bermuda to the Azores. As we wait for a window of good weather, tropical storm Alex debuts in Cuba with the prospect of hitting Bermuda. Two of the three weather forecasters we've hired recommend leaving on Thursday to put us 600 miles east of Bermuda when the storm passes. Less than 24 hours after our 3rd crew member arrives in Bermuda, we hoist the spinnaker in 12k of wind under blue skies and watch land disappear from the horizon. A pod of dolphins swim alongside giving us the perfect sendoff. Next stop is Horta in the Portuguese archipelago—1800 miles away as the crow flies, but we aren't a crow so it will be longer.
Our new crew, Allan, is full of energy and optimism and immediately breaks out two fishing lines and two hand reels. He would dutifully set out lines nearly every day of our passage but would catch only large clumps of sargassum seaweed. Having a third person onboard is such a treat and it's so easy to get everyone's attention—I just yell their first name and boom, everyone's listening! We talk Allan's ear off, covering more words in a single day than the entire seven days of the previous passage when it was just the two of us.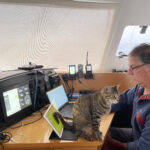 Extra crew also means a more civilized night watch schedule—Allan's shift is 7-11pm, Allen until 3am, and I carry through until 7am the next morning. By 3am on the first night I'm anxious to get started, but at 7am my eyes are heavy and I'm glad to pass the baton. The wind mostly disappears and squalls start popping up—most of them benign until the evening shift when Allan sees the wind jump from almost nothing to 24k with heavy rain. We make many sail changes (a regular event on this passage), starting the day with the gennaker, then just the main, no sails, then main and jib, then a reef in the main as squalls increase.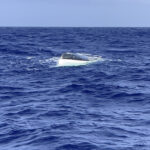 There's little traffic out in this big ocean—a couple of cargo ships 20-30 miles away and a few sailboats that left the same day as us but no visible signs of them. We spy a large buoy floating by just after dinner and days later we would barely miss a 40-foot overturned fishing boat, reminding us that maybe the ocean isn't that big after all, or maybe there's just a lot of junk out here. At the very least, it makes us wonder how many objects pass by at night that we don't see.
By the end of Day 3 we've traveled 400 miles, keeping a close eye on Alex and planning to stay well east of its track and south of it after it turns to cross the Atlantic. Once it passes, we'll turn north for the Azores—until then, we're on a course for Africa:) We enjoy ginger beer mocktails and a yummy dinner of lasagne with fresh sourdough bread. Dinner is the only meal we share together and I enjoy the normalcy of sitting down for a meal and having conversation, even though it's usually a dissection of weather. The meal is speedy, as though we've gotten in our requisite words and are now eager to get another night of watches under our belts. While the weather analysis continues at the helm, I settle into my bedtime routine, beginning with dinner cleanup, then a hot shower, and finally slipping under the covers by 7pm. The sun is still high, but the routine fools my body and eventually I find sleep, hoping to be rested before the 3am alarm rings.
We're making good time averaging over 8k but it's a rough ride. By daybreak on Day 4, the ocean just looks angry with lots of long white caps and a mass of confused waves traveling in different directions. I return to bed after my shift and wonder if anyone will miss me if I stay here for the remainder of the passage. Alex has now organized into near hurricane strength headed for Bermuda and the southern edge of its wind field will sweep by us during the next 24 hours.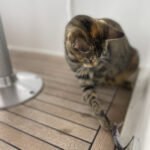 We reduce the mainsail with a third reef and prepare for high winds and large waves. In anticipation of rougher seas, we run the water maker to fill the fresh water tank and enjoy the luxury of clean towels and pillow cases with a load of laundry. So far, we've used only eight of our 144 gallons of fuel, always in conservation mode since we expect to be a motorboat at the end of the trip.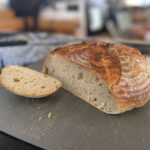 As predicted, swell and 25-28k of wind collide from different directions at the end of the day, creating a lumpy sea state of pyramid-shaped waves that Gémeaux either crashes into or careens around. A number of waves wash over the decks leaving flying fish behind, whose scent would entertain Zemi for days later. My strategy of creating a sourdough bread addiction for the crew is successful—we must turn downwind for smoother conditions…to run the generator…to run the oven…to bake the loaf:) I enjoy a brief respite from rough seas and the guys enjoy fresh-baked bread.
Midday on Day 7 someone hails us on the VHF. After a week of radio silence, we're paralyzed into idiocy and just stare at each other. A second call brings us back to our senses and we learn that a 50-foot French monohull has suffered a failure in their rudder system and is in desperate need of a bolt. Yep, out in the middle of the Atlantic Ocean, a boat just happens to sail within reach of another boat to see if a bolt might be procured. And yep, a 3" bolt is essential. While we did not have said bolt in our inventory, we did connect the French sailors with another nearby sailboat—see, the ocean just isn't that big! By evening, the two boats intersected courses, tossed a dry bag attached to a buoy overboard, and successfully transferred a bolt across the ocean. Top that Amazon.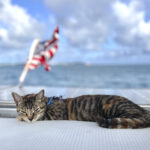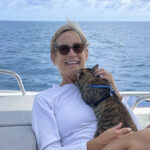 By now, you're probably wondering how Zemi's doing. Passages are hard on the cat—she loves to roam outside, climb into the sail bag, or lie on top of the solar panels, but a single rogue wave would send her overboard. So, unless conditions are flat calm, Zemi is an indoor cat. We keep her entertained and exercised with a laser pointer and together, she and I secretly wait for a day of no wind. We get our wish on Day 8 when the winds calm, the waves settle, and I fully expected a parting of the seas to complete the miracle. While some of the crew bemoan the light sailing conditions, I celebrate simple pleasures like getting through an entire chapter of a book.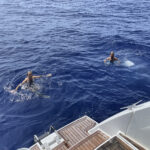 And then on Day 9, in the middle of the Atlantic Ocean in 5000 feet of the most exquisite sapphire blue water, we swim. Moments earlier, we had noticed a vibration in the port engine so the captain jumped in the water to have a look. Would you believe hundreds of miles from any land that a plastic bag found its way onto our prop? Grrr…we pry off the bag, grumble about the amount of evil plastic in our oceans, and then dive in. And what do you see in the sea you might ask? I quietly slip beneath the surface to avoid waking the sea monster that is lying in wait for me. Beams of light penetrate the rich blue canvas and disappear into oblivion. And there is absolutely nothing else…that I can see:) But a memo must have gone out to nearby marine life because just as we get underway again, a pod of dolphins breaks from their feeding frenzy to play around the boat. Still wet from our swim, some of the crew is very tempted to plunge back in, but the captain shoots us one of those glances, reminding us that sailing is our objective. [vimeo_embed url="https://vimeo.com/730629081″ autoplay="true" autopause="false" loop="true" controls="false" byline="false" portrait="false" title="false" dnt="true" playsinline="true" url="https://vimeo.com/730629081″ /]
Day 10 is a study in contrast. With Alex now far from our path, we motor all night in a very light wind and at dawn the water is like glass. The water is littered with Portuguese Man-o-Wars, millions of these jellyfish floating by like a regatta of miniature purple toy sail boats.
We enjoy the calm sea state and play several rounds of Mexican Train dominoes. By afternoon, the wind freshens (captain's term—I prefer shrieks), the sea state is lumpy, and the ride once again uncomfortable. You know seas are rough when the captain offers to turn downwind so I can take a shower without falling over. It could be worse—we hear from a nearby sailboat that all their instruments died. With 500 miles to go, they now must hand steer without any electronic charts for the rest of the journey. Argh.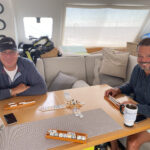 We've now traveled more than 1000 miles east and passed at least one time zone from Bermuda, prompting a lively discussion about adjusting time on Gémeaux. Two of the three crew are campaigning against any change. Admittedly, it does start getting light within an hour of my 3am watch (yay!), but I'm finally conditioned to waking in the middle of the night and I don't want to upset that routine. In fairness to the captain, who is advocating for change, his night watch includes neither the sunrise nor the sunset. The Nays win, the current Gémeaux time zone is upheld, and the crew generously allows the captain all the daytime watch he wants so he can experience daylight during a shift:)
So, what makes Day 12 the perfect day? "Flying the gennaker in flat seas with sustained speeds over 9k," says the captain. "Watching the full moon rise," says Allan. I can match both of those—in fact, I can do better! About 200 yards from Gémeaux, we all gasp and then cheer as the largest whale we've ever seen skims along the surface of the water and then flashes us the underside of its huge, solid white fluke before diving out of sight. Without any marine guides onboard, we declare it a Blue Whale, which matches reports from other boats. Sorry–we were too mesmerized to get a photo. To complete the perfect day, we hoist the spinnaker and set the next waypoint for LAND!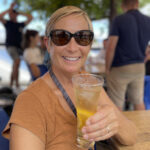 Day 13 makes an impressive bid for perfection as we complete 2067 miles rounding the dramatic cliffs of Faial, dropping anchor in Horta, and finally adjusting our clocks to Greenwich Mean Time. Stay tuned for one more passage of 1000 miles to complete our trans-Atlantic crossing. For now, we're going to cram our feet into shoes and find one of those Azorean gin do mars. Oh…and let the cat out:)
JUST THE FACTS
Max Boat Speed: 12.2k (average 6.5k)
Max Wind Speed: 35k
Days Under Sail: 13 (sailed some every day AND on a starboard tack until the final 30 miles)
Hours Motored: 36 (for about 150 miles)
Longest Stretch No Motoring: 8 days
Generator Hours: 25
Fresh Water Consumption: 200 gallons (5 per person per day, which included a hot shower every night!)
Fish Caught: 1 (not deemed suitable for our consumption so returned to the sea)
Bread Loaves Made: 5
Near Misses of Floating Objects: 8 (mostly buoys but one upside down boat!)
Books Read: Gentleman in Moscow, African Swindle, Taipei, Inferno, 3 Alister MacLaine books, The Quiet Americans, Chris Parker's Weather Books
Favorite Part of the Day: Coming onto shift to the smell of fresh coffee (Allan) and making the coffee that signals the end of my shift (Shiera)
Passage Highlights: Dolphin farewell from Bermuda, whale sighting, swimming in the middle of the Atlantic, day 12 moonrise