It's 400 miles from Grenada to Bonaire, or about three days and three nights of nonstop sailing—a passage. I have a love/hate relationship with passages.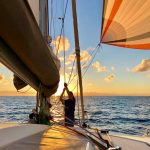 I love being far far away from civilization, surrounded by a blank canvas of sea that clears my mind and rekindles my soul. Occasionally, a school of playful dolphins perform a private show in our boat wake or we hook a beautiful yellow mahi mahi for dinner.  Deep black night skies display constellations I've never managed to make out. And then, magically and ever so quietly, the eastern sky awakens, painting the tips of clouds in a kaleidoscope of purple and orange. The sunrise marks the beginning of another day at sea.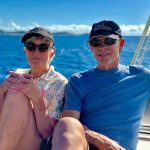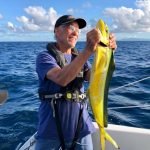 Passages require night shifts—someone constantly at the helm so we can sail continuously. This is the hate part of the relationship for me. For this passage, we decide to do couple shifts. Allen and I take the first shift beginning at 8pm while David and Barbara, our good friends onboard for this journey, catch two hours of shuteye. Surprisingly, already at 10pm I can hardly keep my eyes open and I welcome our first shift change. I fall into bed, put in my earplugs, and immediately begin dreaming. Allen sleeps like a cat—one eye closed and the other fixed on any unusual shift in wind or sails. The alarm sounds at 2am—we brush our teeth, put on life jackets, and grab a cup of hot tea pretending it's the start of just another ordinary day. A short hushed conversation relates any unusual activity as David and Barbara stumble into their next phase of slumber and we take over at the helm.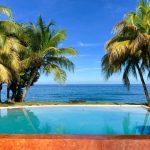 Reflection comes easily in this near state of subconsciousness and my mind wanders back to just one week ago when we arrived in Grenada after a long red-eye flight. Notice a pattern between sleeplessness and sailing? Returning to Grenada after a busy summer of visiting doctors, catching up with friends, moving kids to college, moving me out of my rental home, and many summer adventures, was a welcome sight. That was until I realized instead of going straight to the lovely La Luna resort to settle in, we would go directly to Gémeaux at the dusty Clarke's Court boatyard to begin the arduous task of unpacking, repacking, cleaning, and prepping the boat for her splash back into the water.
Of course, we were excited to see her. Right away we noticed her beautiful new black bottom paint job and sparkly gold propellers. We were grateful she had escaped all the planet's hurricanes while she was out of the water, supported by heavy rebar braces on the hard. But that's kind of where shiny new stopped. W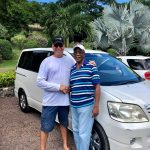 e also noticed a dinghy yellow film of dirt plastered the once white trampoline and window coverings. Inside, pillows, linens, even upholstery had a tinge of yellow dust.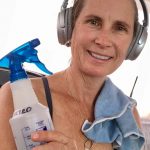 We took out the vinegar and began the long process of wiping down everything again and sending everything that had been laundered in June back to the laundry. For four days, we cleaned and scrubbed and completed repairs. We recharged fire extinguishers, filled propane, oiled and lubed, replaced a toilet…and on and on goes the list. For two nights, we treated ourselves to a respite of La Luna. When the sun fell below the horizon, Donald,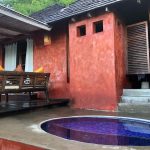 cab driver extraordinaire, fetched our tired stinky bodies from the boatyard and deposited us at our favorite seaside resort for cool showers, yummy food, and a dreamy bed.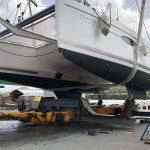 Days later, Gémeaux was deemed fit for the sea. A skillful crew attached large straps on Gémeaux's belly, hoisted her off the rebar braces, drove her a few hundred yards through the dockyard, and gently splashed her back into the water. We were nearly ready to sail again. We motored a few miles to Port Louis Marina with lovely air-conditioned restrooms and neighbors like Venus aka Steve Jobs' yacht:) We spent another several days putting up sails and t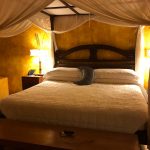 icking off more items on the never-ending repair list.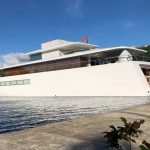 It wasn't all work and no play in Grenada. While the boys were busily and happily conquering all remaining repairs, Barbara and I absconded with the dinghy to explore the island's capital of St Georges. Old forts, museums, open markets, and all the urban civilization in between. Barbara shares my curiosity about our planet and a passion for adventure. What a treat to wander tirelessly and engage with the people we met along the way. On this day following Grenada's Thanksgiving on October 25th, which celebrates the 1983 U.S. invasion of the island, we sat with two local ladies as they shared how to prepare their national dish Oil Down—a combination of breadfruit, coconut milk, and turmeric.
My mind snaps back to the present as Allen points out bright lights on the southern horizon and speculates that they are large nighttime Venezuela fishing operations. We have carefully charted a course to stay 100 miles from this less-than-friendly country but still I can't help wonder what we would do if those bright lights turned out to be a modern version of the Black Pearl and Jack Sparrow approached us. Soon the dawn of a new day and the prospect of sleep rids all pirates from my imagination.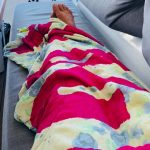 The thing about night watches, I've decided, is that I'm in a constant state of slumber. During the days that follow night shifts, I nap constantly trying to replenish my sleep reserves. But I never quite get to the point of replenishment. Every time I sit down, my body slides slowly into a supine position and before I know it, I'm asleep again. When I'm awake, my brain is foggy and I stumble around in a zombie state. This is fitting. Today is Halloween. Costume not necessary. I'm the walking dead. Trick or treat.
P.S. And yes, we miss Dot:(
Enjoyed this post?
Sign up at the bottom of this page
to receive email notifications of future posts!