Eight months ago I sat amidst charts and maps learning how to spell Huaritcheru. I noticed that the Colombian islands of San Andrés and Providencia are actually closer to Nicaragua than to Colombia. That Colombia is a country and Columbia is a city in the U.S. I still had little experience sailing and zero experience with the geography of the Western Caribbean.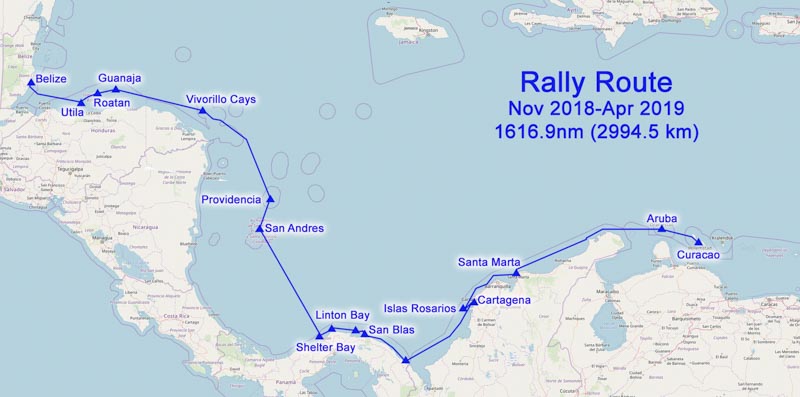 I didn't know that the Panama Canal was 50 miles long with a lake in the middle and I certainly didn't know where the heck the San Blas Islands were. I'd never seen an octopus, a green flash, or a Guna Indian. By April 2019, all that had changed and it's just now, in the familiar comforts of the United States, that my mind has settled and the experience has finally sunk in. When at last I don't need to interpret the language or wonder how to buy groceries. When there are no more opportunities to snorkel, dive, hike, noodle, host dinner, be hosted, drink, and be toasted with 40 other boats always eager to fill a social void like a dorm of college students. It's over. It was exhausting. And it was an experience of a lifetime.
"You've created an entire civilization down here," Cara observed when she and Nick visited us in Santa Marta, Colombia to get a glimpse of our lives on the Suzie Too Western Caribbean Rally.
True—we had book club, yoga, Spanish lessons, haircuts onboard, and dinner with friends practically every night. We also gave back to our community–we had trash pick-up days and donated to a local children's charity. Different from life on land, we were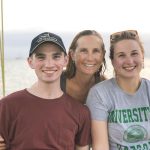 still learning the names of our new friends and we gathered on sailboats instead of in cul-de-sacs. These new friends welcomed my kids to our little civilization like a bunch of doting grandparents. In turn, my kids got a true sense of rally life and blue water sailing (complete with Scopolamine patches). Before long, Nick was helping Allen dock rally boats at the marina and Cara took on the role of chief Spanish interpreter. In Cartagena, we explored the Old City fully adorned in Christmas decorations and twinkling lights strung from archways that created tunnels of festive color.
Later, after spending Christmas in California, Allen and I would return to Cartagena to celebrate New Year's Eve. We joined millions of people that night all clad in traditional white, with pop-up dinners and dancing in every street and alleyway. And just like that, January 1, 2019 arrived and we sailed to our next destination—the San Blas Islands off the coast of Panama. The contrast couldn't be more different.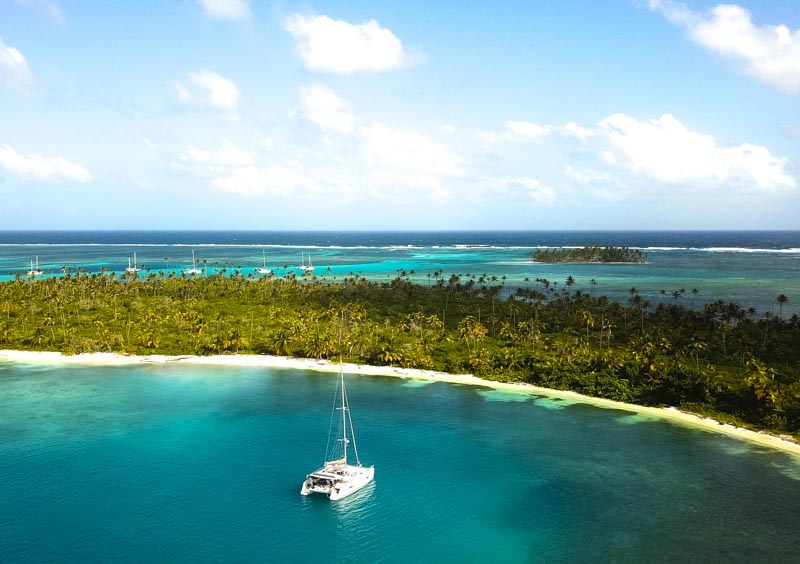 Most of the San Blas archipelago of nearly 400 islands is uninhabited and all could be uninhabited by the end of this century if the sea level continues to rise. Islands are named in the local Guna language and most end in dup like Uargandup and Narasgandup. You can walk the perimeter of almost every island, weaving through palm trees on white sand beaches and sea stars in the aquamarine water. The indigenous Guna Indians are fierce protectors of their Guna Yala country—diving is prohibited to preserve the coral reefs and travel to the islands is highly restricted.
It's illegal to take coconuts from the island, even if they're on the ground. Most Gunas are fisherman and many today sell their beautifully crafted molas, clothing that originated from the women's tradition of painting their bodies with geometric designs. Some residents speak Spanish; few speak English. There are no cars, supermarkets, newspapers or Internet. And sadly, there is no way to combat trash, specifically plastic, which is a growing problem from the influence of Western civilization and the ocean's current from urban areas that reach as far as Africa.
The San Blas is the perfect destination to explore by boat so we spent more than three weeks sailing from island to island. We rarely went ashore; instead, we played constantly in the water. Snorkeling was exquisite as we added turtles, spotted eagle rays and nurse sharks to our growing list of favorites.
As provisions dwindled, potluck dinners became more creative. Potatoes went in everything (except salad!) and I learned that cream cheese can be served with almost any canned food to be called an appetizer. Guna Indians would paddle by in their wooden ulas to sell a couple of lobster crawling in the bow of their canoes. Occasionally, we were lucky enough to buy produce from a Guna who paddled all the way to mainland Panama,
procured items from local markets, and turned his canoe into a floating vegetable stand. One particularly industrious Guna with a particularly large canoe (and motor) appeared in our anchorage late during our stay when fresh stores were completely gone. Rally boats lined up in dinghies, anxiously waiting their turn to buy pineapple, papayas, carrots and anything green. Slightly wilted lettuce never looked so good.
The social calendar remained active in the San Blas. Allen's brother and family successfully navigated the travel restrictions to join us for a week of snorkeling, great dinners, and lots of laughs over our new favorite game, Codenames.
In between company and rally events, the Captain and I would sneak off to an unnamed island, drop anchor, circumnavigate the perimeter with a mask and snorkel, enjoy the q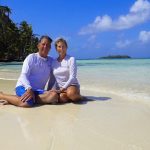 uiet of a few nesting hawks, and declare the island Gémeaux-dup. Sitting in our anchorage today outside Newport, Rhode Island, watching cars traverse the bay bridge, airplanes traveling overhead, and boats tacking every direction, I can hardly believe that a place like the San Blas exists on the planet. I do hope in my lifetime that we find solutions to climate change and the plastic trash that are devastating these treasured lands.
In February, we returned to civilization with a bang. Enormous westbound freighters with containers stacked 20 stories high waited in queue at the entry of the Panama Canal as their eastbound counterparts exited in between them. Our marina was just outside the canal giving us front row seats for this dramatic maritime commerce.
While we stayed on the east side, we bid farewell to several Rally boats that transited the Canal for their western voyage to Asia. It was an amazing education to see the preparations for their passage and to actually watch several vessels go through the locks of the canal. It's hard to believe this engineering feat that so significantly impacts our modern world began construction in the 1800s. 
As if the Panama Canal wasn't enough to captivate us, Shelter Bay marina's backyard was a magnificent nature preserve. At sunrise and sunset, great roars from nearby howler monkeys would echo through the trees like a haunted house.
Capuchin monkeys and dozens of bird species made curious bird watchers out of all of us. Even a sloth posed perfectly for my camera. Our stay in Panama ended with a weekend to explore Panama City, where we savored electric flowers in our gin and tonics, delighted in the bulk food selection at a Costco-like store, and languished in hot showers at the Hard Rock Hotel. And still the rally wasn't over.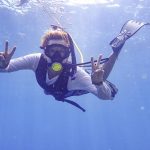 After watching so many rally members tout their scuba experiences in this diving mecca, I decided it was time to refresh my certification. The Colombian islands of San Andrés and Providencia were the perfect places to do that. I had the good company of others in the rally at the same experience level and together we rediscovered the skills and witnessed some amazing creatures like reef sharks. Ask me 20 years ago if I thought I'd ever swim with a shark! 
San Andrés is renown for its duty free shopping. Residents from mainland Colombia swarm the little island and leave with overstuffed shopping bags. The ladies of the rally took a break one day from working on boat engines to participate in the folly.
While I couldn't justify buying high heels for life on a boat, I did thoroughly enjoy lunch and sangria at a restaurant where you tossed your shoes aside to rest your tired feet in the sand. Later in the week, we dragged the boys out of the engine compartments to rent mopeds and golf cart mules—this was not a difficult sell. Relishing the chance to drive something other than a boat, the captains loved every minute of navigating through bustling streets to circumnavigate the islands. I'm still astonished that people find sailing dangerous 
In fact, the next leg of our journey would prove to be dangerous…or at least we prepared for danger. Pirates. We hear they're out there and we do our best to avoid them. When we sailed from Grenada to Bonaire, we took a route that purposely kept us 100 miles from the Venezuela shore. In Colombia, our Rally leaders collaborated to have the local navy in or near our anchorage at all times. Eager to encourage more boating tourism, the governments of these countries want to avoid crime and incidents as much as we do. Three days later, our flotilla of four ar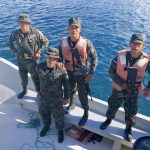 rived safely in the Honduran Bay Island of Guanaja. The dinghy dock where we landed to clear Customs and Immigration actually proved more dangerous than our journey—boat boys fighting over their claim as guides landed one of them in the drink and the other barely missing a blow to the skull with a metal pipe. Not being the target of the dispute, we found the scene completely entertaining. Nonetheless, we were anxious to leave the crowded town center built on this tiny reef where 10,000 residents live shoulder to shoulder—no wonder tempers flare.
By afternoon, we were sitting under  palapas built in the water, sipping piña coladas and eating French fries and fresh ceviché—paradise after two nights at sea and a long 24 hours to clear into the country. Largely undiscovered by tourism, Guanaja boasts lush mountainous pine forests and world-class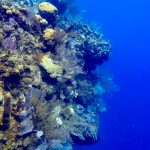 diving as it is situated on the Mesoamerican barrier reef system, the second largest reef in the world after the Australian Great Barrier Reef. While our itinerary allowed only a few days to explore, Guanaja holds fond memories; quietly snorkeling on my own, I saw my first octopus.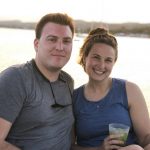 32 miles away still on the barrier reef system is the larger, more popular and more populated island of Roatán. Ten years earlier, I visited this island with Cara, where friends hosted us in their beachfront cottage and we became certified PADI divers. As luck would have it, our friends were on the island again AND Cara was coming to visit! We transformed Gémeaux into a day charter as we returned the earlier hospitality and made sailors out of our friends and their families. Cara and Matt snorkeled each day off the back of the boat, watched dolphins play off the bow, and joined us in discovering the Roatán Brewery—local craft beer and corn hole just like home. Their 5-day visit ended too soon and it was time to send the children home—a teary farewell as the water taxi fetched them directly from Gémeaux to take them to the airport.
We washed the sheets, restocked the fridge, and prepared for the next company. After a long day of weather delays, Gary and Courtney finally arrived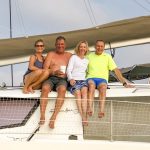 looking like pack mules bearing U.S. foods we missed and boat parts for the entire rally. We introduced our land friends to our cruising friends and celebrated our good fortune to have all of them in our lives with a lovely dinner ashore at the 5-star Ibigari. Always a treat to have Courtney onboard, we gave her run of the galley and she gave us delicious meals. She showed me how to make sauces and I showed her how to spot eels and sharks off the reef. We talked and talked, drank champagne on the bow of the boat, and talked some more. Ah, girlfriend time.
Gary and Courtney joined us on an overnight passage as we followed the Mesoamerican barrier reef system west about 100 miles and entered the country of Belize—our final destination in the rally. Boring as it seems:), we never tired of exploring new islands and sharing our excitement each time we discovered a new fish or unusual coral. When it came time for Gary and Courtney to leave, we started planning for their next trip to Gémeaux—the only way we could bear to let them go.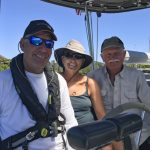 Once again, we washed the sheets, restocked the fridge from a veggie vendor on the street, and prepared for another round—just a short but always enjoyable visit from Jim and Jane.  When at last we settled into the Placencia Marina to celebrate the end of our 6-month rally, less than half of our original 40 boats remained. So many had transited the Panama Canal, left early to pursue their next journey, or were still getting their fill of fabulous diving in Roatán. Already the mood had changed without the full group and we felt the void these new, but deep friendships left. On the other hand, a smaller group in a marina environment allowed us easy access to one another. Just like neighbors in a cul-de-sac, we'd hear the rap rap rap on the hull like the doorbell at the front door. We'd find someone standing on the dock to borrow a part and they'd end up staying an hour, weighing in on the latest mechanical issue or weather forecast. We'd become deeply entrenched in our civilization and were acutely aware that in a few days our cul-de-sac would stand empty again.
It's difficult to express how life-long friendships can form in such a short time but it's inherent in the cruising community. We come from different careers, lifestyles, and countries. We share not only a love for sailing, but for adventure and for a simpler life. We accept the risks and dangers in exchange for the thrill of exploring. We pause to watch the sunrise and sunset and know that the sea is not just blue but a hundred variations. We face uncertainty, illness, loneliness, and sometimes death, realizing that it could easily have been one of us. The Suzie Too Western Caribbean Rally brought us experiences of a lifetime and left us with lifetime friends. Sitting alone in Belize's famed Blue Hole, we reflected on the irony of the hole in our hearts that the rally left. Fair winds and following seas until we meet again.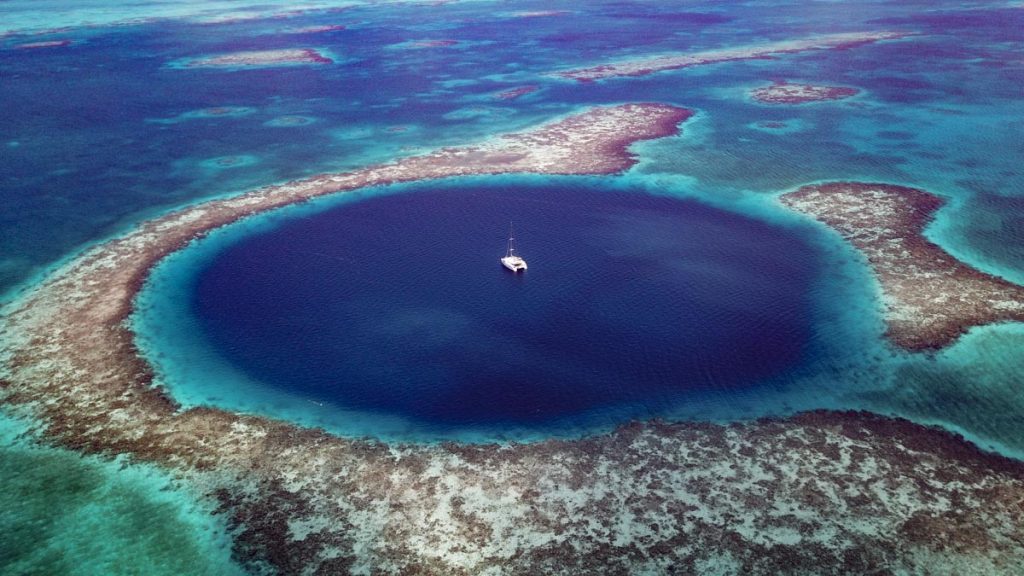 Click here for our photobook about the Suzie Too Rally.
Enjoyed this post?
Sign up at the bottom of this page
to receive email notifications of future posts!