When my good friend, Courtney Corda, and I couldn't find a date to celebrate her birthday in CA, naturally we decided she and her husband, Gary, should celebrate the big event on Gémeaux in the Caribbean! And naturally, since Courtney is an accomplished French speaker, we invited a young French couple we met in St. Martin, Yann and Elodie, to complete our sixsome.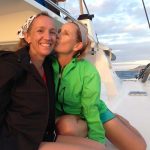 What fun it was to provision together at the local Carrefour grocery store in St. Martin and hand over the galley responsibilities to Chef Courtney. And, she was happy to create her own birthday meal–a gourmet meal of steak and lamb in a red wine mushroom sauce. The best part of the meal was listening to how Courtney flitted around the marina meeting various boat crews and borrowing ingredients to fulfill the menu. A dip off the back of the boat in the beautiful bay of St. Martin's Grand Cas completed the perfect day for Courtney.
And that was just the beginning…We collected Yann and Elodie by dinghy in pouring rain the following day and got underway to the neighboring island of St. Bart's. Weather improved as we approached the little bay of Anse de Colombier. It ended up being a great day for paddle boarding and snorkeling where lion fish and and even an octopus topped the critter list. A typical Caribbean finale with champagne cocktails on the sundeck and another birthday dinner with candles!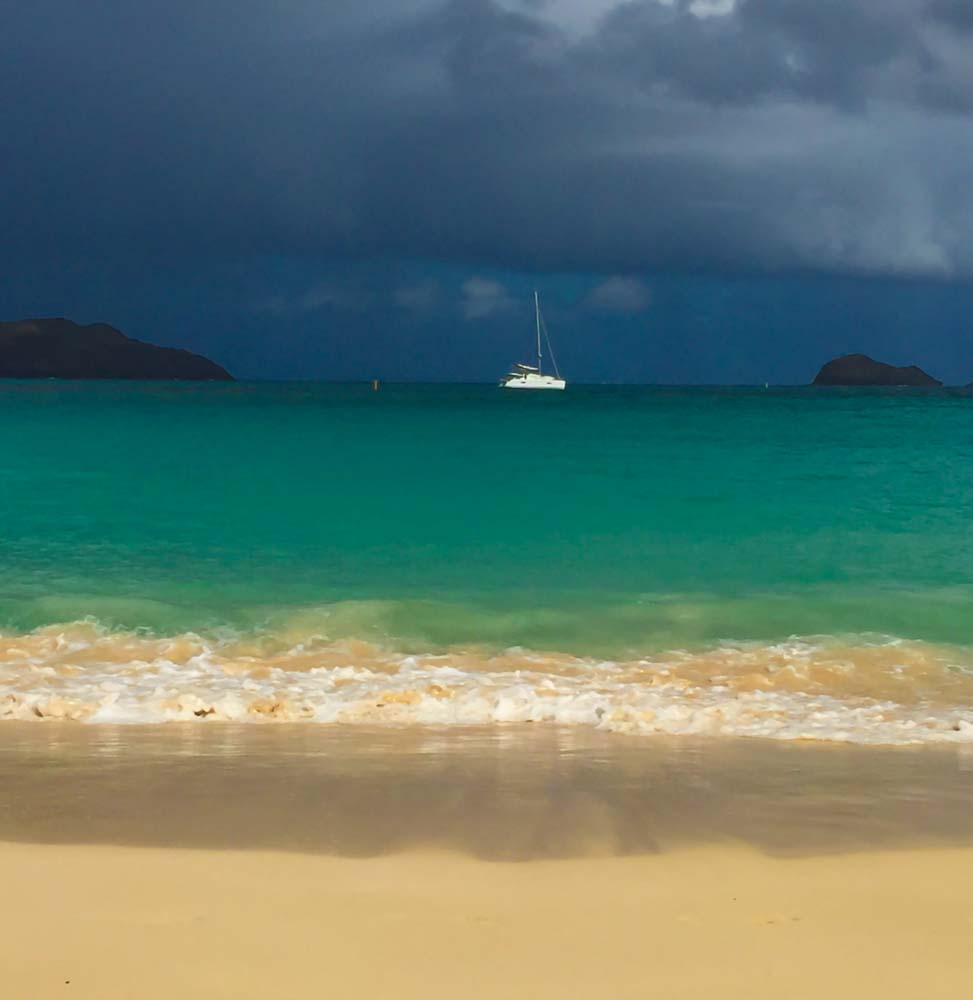 The following day, Allen anchored Gémeaux off St. Jean and sent all the land cruisers off in the dinghy where we explored St. Barts. Sadly, the "Rock Star" villa at the Hotel Eden Rock was booked so we had to spend our $30,000 elsewhere. We returned to our humble dwelling and set off to Saba, an island between St. Martin and St. Barts that doesn't get near the attention of its two larger neighbors but has fast become one of our favorites.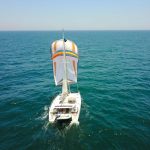 In keeping with our objective of trying out all the new equipment on Gémeaux, we set our beautiful orange spinnaker. While normally we don't have enough wind, today we had too much so we deemed the brief spinnaker sail a successful test, stowed the sail, and motored the rest of the way into Saba.
While small in size, this volcanic island presents a formidable peak in the center with steep sides plunging down to a very inhospitable rocky shoreline. Vegetation is so thick on the island that you have to strain to pick out the occasional building or sign of civilization. There are no marinas or ports and deep 60-feet water surrounds the island making anchorages impossible.
Fortunately, we were able to pick up one of the six moorings offshore on the west side of the island in Ladder Bay. We grabbed our snorkeling gear and climbed into the dinghy for a bumpy ride closer to the rock outcroppings dotting the coastline. Allen, Jim, and I recalled great snorkeling here on our last visit and Saba didn't disappoint for our friends. We added 4 sea turtles, 2 lion fish, and numerous other colorful fish to our critter list.
We traded in the snorkeling gear for hiking shoes after breakfast the next day and decided to brave another dinghy ride to check out civilization on Saba. The trail up to town is known to locals as The Ladder—800 stone steps leading up to an old Customs House perched precariously on the edge of a cliff overlooking the bay. With still just a learner's permit for operating the dinghy, I very unsuccessfully landed our crew on shore. Recall inhospitable and rocky? Add 5-foot waves and a 100-lb outboard to raise at exactly the right moment before the next wave comes crashing down and you get one angry captain and six very wet hikers. No permanent damage to vessel or humans so we drained our shoes, found our smiles, and set off on the 20-minute climb.
A few parrots and a mama goat and her baby served as our welcoming committee. After reaching the one and only main road, we headed up and down to the The Bottom where Sunday services were in full swing in two separate churches—one congregation mostly African-Sabas wearing colorful native dresses and headscarves, and the other a mixed group of well-dressed locals attending the island's predominant Catholic church. The shops and businesses were closed for the Sabbath, but we enjoyed our walk around the little village and its famous medical school where 2500 students make up the majority of the island's population. A tidy, remote place, you couldn't look in any direction more than a few feet without spotting a garbage can!
After a much-improved and coordinated dinghy return, we boarded Gémeaux and headed back to St. Martin. Sunny, windy weather made for perfect sailing and the six-foot waves made some exciting bumps. As we arrived in St. Martin, rain showers over Simpson Bay created some of the most perfect rainbows with multiple pots of gold on either side. A spectacular sunset just before arriving in Grand Cas where we drank Veuve Cliquot and ate chips and guacamole to complete a perfect vacation.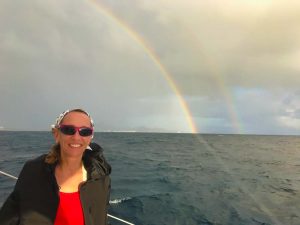 Enjoyed this post?
Sign up to receive email notifications of future posts!