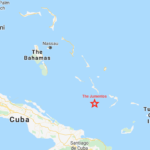 We could have turned right with everyone else but the other direction just 60 miles from Cuba was described as wild and rugged beauty. No fuel, no hotels, no groceries, and only a handful of residents. There was little protection in shifting weather and the main gateway was a very shallow sandbar impassable by many boats. Perfect—we turned left.
The Jumentos Cays is a 100-mile chain of small undeveloped islands in The Bahamas south of the more popular Great Exuma Island. Salt ponds placed these islands on a map in the 19th century when the population boomed to nearly 500 residents on the southernmost Ragged Island. Since the decline of the salt industry in the 1930s, the census has dropped to around 70 people today. These remote Backwaters of The Bahamas are often forgotten and made only a brief media appearance when Hurricane Irma ravaged the island in 2017.
We began our journey at the southern tip of this crescent-shaped archipelago and immediately faced incoming weather. Southside Bay provided protection from strong north winds, while entertaining us with a couple of nesting osprey. Just above low-lying scrappy brush, we could make out a small plane that an enterprising restauranteur had once placed atop his establishment to increase seating and I guess offer a unique dining experience. Today, the entire island sat in stillness below a huge gray cloud that stretched across the horizon. The stormy weather drove our quiet mood as we sipped hot tea on what felt like the edge of the earth.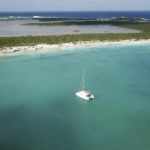 Three other boats in the bay was…a little crowded for us so when the winds subsided, we motored around the corner to our own private Coco Bay where a sandy ocean bottom brightened the water color and white limestone formed the perfect perimeter. I swam the 100 yards to shore for some snorkeling and discovered that while the water was that beautiful Caribbean blue, winds had stirred up the bottom masking visibility. My heart raced and I was out of breath—just from that unrelenting fear of not being able to see the bottom. I kept reminding myself—it's only 10 feet of water…there's nothing there but sand!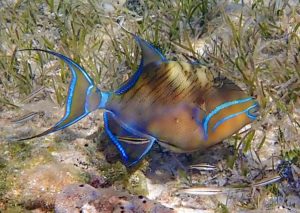 As underwater rocks came into view, my breath quieted and I relaxed into my pretend I'm a floating log so the fish aren't afraid snorkeling mode. I stumbled upon a reef alive with healthy coral and came face-to-face with a gorgeous Queen Triggerfish. It was the first time getting a clear view of this creature's perfectly-detailed rainbow design, including two blue stripes across its face and around its mouth as if its playful creator hadn't quite mastered makeup application. I returned to the boat with a much calmer stroke, got into a hot shower, and then dressed in fleece, jeans, and SOCKS. Are we really in The Bahamas? Allen grilled Cornish game hens (such a treat) and we streamed the Super Bowl game—so surreal sitting on Gémeaux all by ourselves in the middle of nowhere watching the most famous football game filled with millions of viewers, crazy ads, and oh so many luxuries. One ad or maybe the cost of one ticket would change the state of this island. The dose of civilization made me grouchy. And the 49ers lost.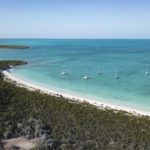 Trying to embrace civilization, we made our next stop at Hog Cay—a popular anchorage for the few other cruisers we would meet in this hinterland. A palapa stood on the beach, constructed from palm trees and decorated with colorful floats and buoys. Wooden beams inside were autographed with boat names and the years the boat had visited. A few of the regular cruisers had already made their debut this year, having inscribed 2020 to a string of at least 10 years that followed their boat name.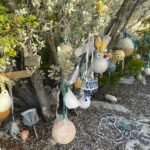 Our guidebook said the palapa was the daily meeting place for a 4pm happy hour. Sure enough, at 3:55 dinghys sprang to life, beers popped open and laughter rang from the palapa. We worked up some social courage and headed to shore, equipped with a can of nuts we hoped would buy our way into the club. "Y'all didn't read the rules," proclaimed a bearded man with a thick southern drawl. "You're not supposed to bring food to the sundowners." And with that, we introduced ourselves and watched an entire can of cashews disappear in 15 minutes.

Quite content with our club of t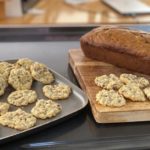 wo, we left the anchorage the following day to resume our quest for wild, rugged…and deserted. We settled into a routine of traveling only a few miles each day, discovering one secluded anchorage after another. The pace was perfect as the environment really settled into our bones. We slept late and spent our days snorkeling, reading, and writing. I even baked! Occasionally, we went ashore to walk the beach where sand fell from our feet like flour, or we scrambled through thick shrubs to the other side for that really rugged, windward view of crashing waves.
Once we had sundowners on the beach. There was no cell service or any sign of civilization. Just the two of us and a few hermit crabs who crawled around our feet as we sat looking at our boat and watching the sun set.

By this time I was in a full wetsuit so I could spend long visits with my undersea friends. I was so disenchanted to learn that fellow cruisers regularly hunt conch, lobster, and even the gorgeous Queen Triggerfish. I understood conceptually that it allowed them to spend months in an area without grocery services, but my heart always ached when I heard the stories.
I rejoiced when I found live conch and mature Triggerfish and Angelfish and hoped they continued to thrive in these bays that shall remain unnamed to protect the innocent. Sharks became increasingly more common in my snorkeling arena. While I knew in my head that I was not their target food group, their 8-foot size gave me pause. Suddenly, I wasn't the biggest creature out here. I found myself frequently looking over my shoulder as I snorkeled, certain that I was being followed. Surprisingly in these healthy reefs, we still found trash. Small in-tact plastic bags littered the bottom of the sea. We collected as many as we could carry and later learned that the bags were emergency water sachets—a low-cost way to deliver fresh water to disaster victims but ultimately landing in the sea. There must be a better way.
Stories of a man who survived Hurricane Irma by tying himself naked to a tree drew us to Buena Vista Cay. Edward Lockhart lived here alone and off the grid for most of his life. He left only recently when poor health forced him to relocate to Nassau.
We wandered his former homestead where animal pens, a rusty drill press, and a water cistern gave us a glimpse into how one very resourceful man could survive for decades on a remote island. Rumor has it that chickens, goats, and even peacocks still run free on the island.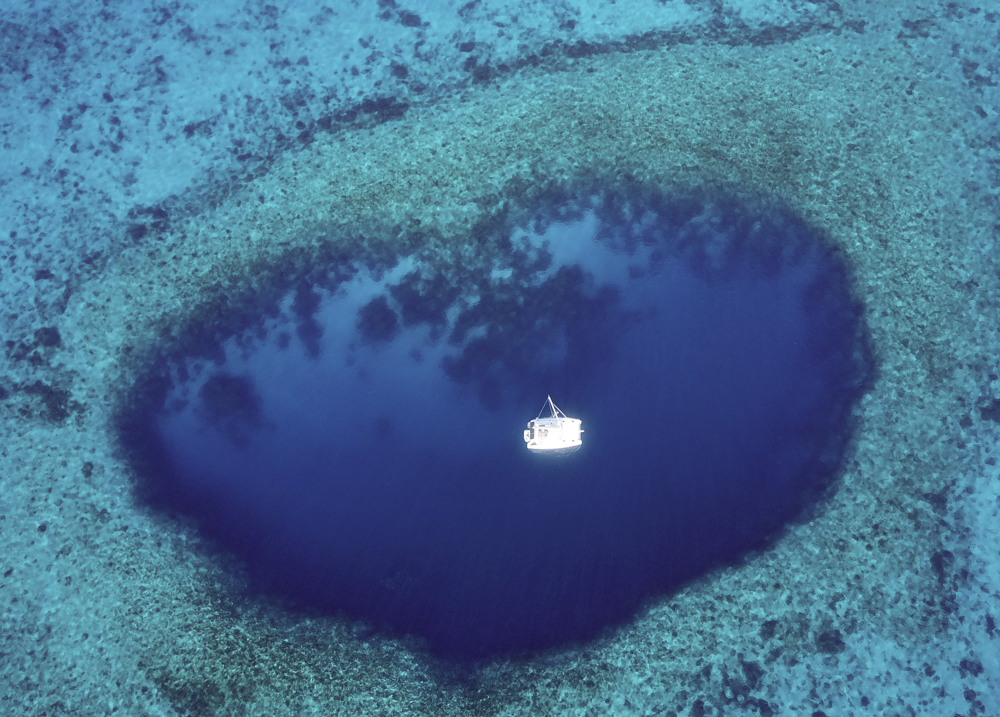 One morning, as I had my head stuck in my writing, Allen slowed the engine down. Normally that means we're coming into anchor, but I knew we were far from shore and we had a long day of sailing as we neared the end of our Jumentos journey. "Here's the next attraction on our scenic tour," the Captain announced with a grin, and I ran to the bow of the boat just as any curious tourist would do. I watched coral heads in 20 feet of clear emerald-green water pass below us and then just like that, the water changed abruptly to a deep blue oblivion. There we were—once again, in the middle of a Blue Hole. This unnamed heart-shaped Hole was reportedly 155 feet deep with a tunnel that ran miles to the deep ocean. See Stuck in a Hole for a close-up on Blue Holes.
We could have stayed in the Jumentos forever but it might have required that we start murdering our underwater friends. I felt a pang of sadness as we pulled out of the lovely, quiet Flamingo Bay and headed back to civilization. The water was so clear we could spot not just fish, but the type of fish swimming alongside—Triggerfish, a Nurse Shark, and many many sea stars. Mask and snorkel not required.

About a mile from the famous Hog Cut, the gateway out of this paradise, we cautiously crept forward and watched our depth gauge drop to 3.5 feet—the same as our draft. It was like driving down the freeway with the gas gauge flashing, wondering if Empty really means empty or could there be just a few fumes left. Would we hit the bottom? Or, was there a little wiggle room in our depth gauge or actual draft? We anchored Gémeaux to make a dinghy recce and confirm the depth through the cut. I jumped in (no diving allowed) and stood in the water at the back of the boat. With the palm of my hand on the sand underwater, my elbow just reached the bottom of the keel. Yikes!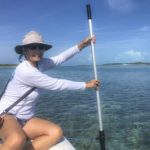 We motored around the cut in the dinghy sticking an oar into the sand like a yardstick—we measured a low point of 3 feet. Hmmm, that's pretty shallow, but the tide was coming in and the Captain decided it was safe to give it a go.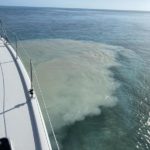 We bumped our way through, getting one hull momentarily stuck, and making a lot of ocean lattes by stirring up the sand on the bottom. But, we made it through to the other side. We resumed our northbound journey—now on the road more traveled. Messages pinged as cell service brought us back in touch with family and friends. By evening, we dropped the anchor in a beautiful bay with a white sand beach…and 150 other boats.
Wild and rugged now just memories.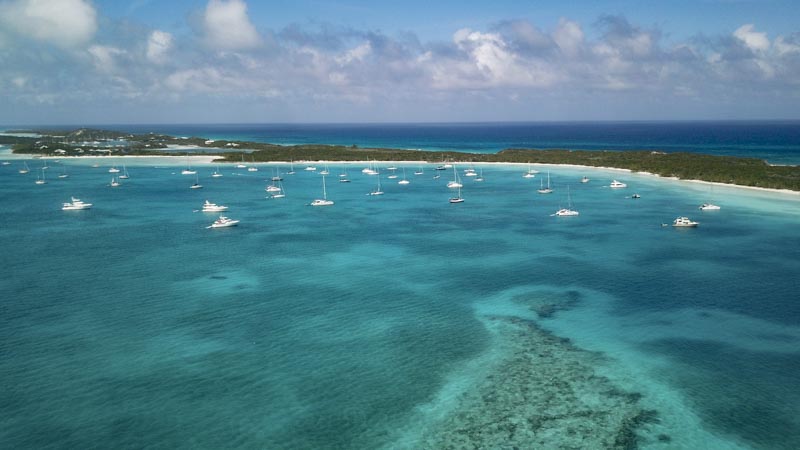 Enjoyed this post?
Sign up at the bottom of this page
to receive email notifications of future posts!