Every parent wants to know how their children are doing. So, before we set off to some remote international destination, I thought a quick visit on the Chesapeake Bay would give my parents a sneak peak. My parents both enjoy boating and the water. In fact, in my dad's final job with the National Park Service, they owned a 28-foot diesel jet Almar boat—perfect for seeing the sites of Alaska's Glacier Bay National Park. However, like my daughter, my parents would say, "We love sailing! The only thing we don't like about sailing is the sailing!" Translation: please make the journey as smooth as possible. Our goal: short and easy day sails with lots of anchor time to bird watch and play cards.
Some background on my parents—after growing up in southern California, they spent 35+ years in the National Park Service, raising three daughters in some amazing places like Yellowstone (my birthplace), Yosemite, and Grand Canyon. For the children of Park Service employees, it was like being a military brat—moving every four years to another park when my dad got a promotion. We were park service brats and taught to value conservation and preservation and to know how to tranquilize a bear. Making new friends and being outdoors were a way of life. Is it any wonder why I love to wander?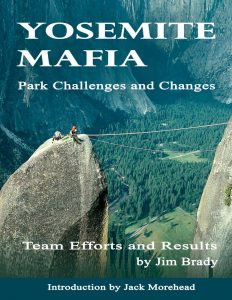 My parents retired to Durango, Colorado in 1998, the perfect place to continue their outdoor hobbies and the perfect vacation destination for kids and grandkids to visit. In 2013, their lives were flipped upside down when my 74-year old dad flipped upside down on an ATV while hunting. My mom moved to Denver and spent the next six months at Craig Hospital while my dad rehabilitated from a traumatic brain injury. They eventually returned to Durango to learn a new normal way of life. Hunting, skiing, and mountain biking were replaced by a more sedentary lifestyle and a full-time author was born. You can learn more about my dad's book and some great park service stories at yosemitemafia.com.
So, fast forward to taking my parents sailing. Our initial concern was just getting my parents physically onto the boat. We were side-tied to the dock in Hampton, Virginia and it required great strength and agility to navigate the four-foot step up to the deck without plummeting into the drink. Fortunately, we spied a large platform for boarding super yachts and hoisted up luggage and bodies without incident. We were off to a good start! Touted as an easy sail with permission to bring his girlfriend, we were able to convince my son, Nick, to come along as well. Nick's goal: Watch the entire Netflix series of Breaking Bad. Nevertheless, precious family was aboard and off we went to explore the western side of the Chesapeake.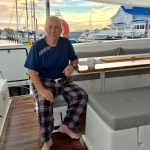 Having successfully boarded my parents, our next mission was to keep them onboard. Once an accomplished rock climber and athlete, my dad now struggles to walk a straight line on solid ground. Add in a little ocean wake and my dad's insatiable urge to relieve himself outdoors and we knew it was just a matter of time before we would need to activate the man overboard. We had two strict rules—absolutely no peeing from the back of the boat and no swimming at anchor without supervision. Within 24 hours I spied my father breaking rule number one and I was so flabbergasted at the complete disregard for our rules that I just about cast him overboard myself. He giggled like a kid caught stealing from the cookie jar, as he so often does with his new frontal lobe, and promised to follow all rules from this point forward.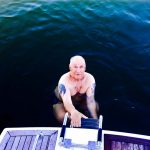 On day two, my dad announced he wanted to go for a swim. On the one hand, I wanted to encourage any semblance of bathing since showering was no longer a priority for my father. On the other hand, he hadn't swum since his injury and I was worried he would simply sink to the bottom. I enlisted 6'4" Allen to stand close by in case we needed to do a retrieval. Then, I watched my dad gingerly, but eagerly step down the swim ladder. Without any magic words to announce he was ready to take the plunge, my dad released himself from the ladder and disappeared into oblivion. Immediately I wondered if we should have waited for a Caribbean visit where clear turquoise water would have allowed us to easily spot sinking bodies. I held my breath, certain my dad would never reappear. In seconds, however, his little head surfaced with a big toothy grin confirming that not even a traumatic brain injury could reduce this man's ability to float.
What about my mother you might ask? My mom is happiest sitting in the sun watching the world go by. As we, er Allen kept my father entertained at the helm, my mom thoroughly enjoyed her respite on the sofa we now call Mom's Bench. She no longer had to answer What's the name of the bay we're in? Or, How many more hours until we arrive? Instead, my mom sat quietly with her binoculars and dutifully carried out the role of official bird spotter.
By official, I mean there is no other like my mother who can spot wildlife. Growing up, I can remember driving through various national parks and my mom would announce there was a grizzly bear. "Where?!" we would all perk up, eyes eagerly scanning the roadside. If we squinted hard enough, we could just make out a minuscule brown spot on the horizon. Sure enough, when we pulled over for a better look through binoculars, there he was—not just a bear, but indeed a grizzly showing off his impressive hump. So when my mother announces two bald eagles feeding their young in a nest or a female osprey snatching an Atlantic menhaden in its talons, we all come running to bear witness.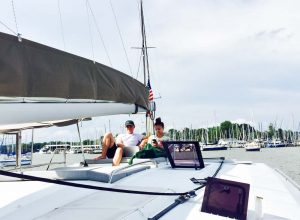 Over the next four days, we motor sailed about 25 miles each day, finding calm anchorages with plenty of birds to keep us entertained. Nick and his girlfriend would break from Breaking Bad to join us for cards at night, our favorite time when everyone gathered around the cockpit table outside to show off their card-playing skills. We discovered some great places to anchor like Fishing Bay, Solomon's Island, and Hartge, as well as some not-so-great places like Reedville. It seemed such a quaint and quiet little harbor with nary another cruising vessel in sight. Note to self: the lack of others often is a red flag. As the sun set and the wind shifted, an overwhelming stench of fish filled the air. At first light the next morning, we were awakened by a steady stream of planes taking off just overhead, followed next by two giant fishing boats leaving the harbor. Turns out that Reedville is home to Virginia's largest fishery, Omega Protein—a 24-hour operation where first, small prop planes spot large schools of Atlantic menhaden, then trawlers motor out to net them, and finally the little fish are processed into omega-3 farm feed and fish oil capsules our doctors tell us we all should be taking. What?! The Atlantic menhaden is what the osprey eat! Once Google confirmed the little menhaden are overfished and impacting the Chesapeake's marine ecosystem, this animal-loving group vowed never to purchase fish oil capsules. I'm sure Omega Protein will be receiving a letter from my mother.
Certainly a favorite stop was Solomon's Island, Maryland (not to be confused with the Solomon Islands in the South Pacific).
Once docked, Nick and his girlfriend wasted no time returning to land and exploring the gems of urban America—ice-cream, souvenirs, and a chance to escape the parents and grandparents. My parents enjoyed the marina swimming pool and Allen and I enjoyed margaritas! We discovered the Calvert Marine Museum, which beautifully exhibits local history and the various fish of the Chesapeake Bay. The best exhibit, however, was the Drum Point Lighthouse, only one of three remaining screw pile, cottage-type light houses serving the Bay. A definite stop for anyone visiting the area.
Alas, our journey came to an end as we docked at our final destination at Port Annapolis Marina. Nick's comments in our sailing log confirmed our priorities over the next few weeks would be boat maintenance and upgrades to the heads… "This sailing trip allowed Alex and I to enjoy Breaking Bad alongside amazing views and terrible smelling bathrooms."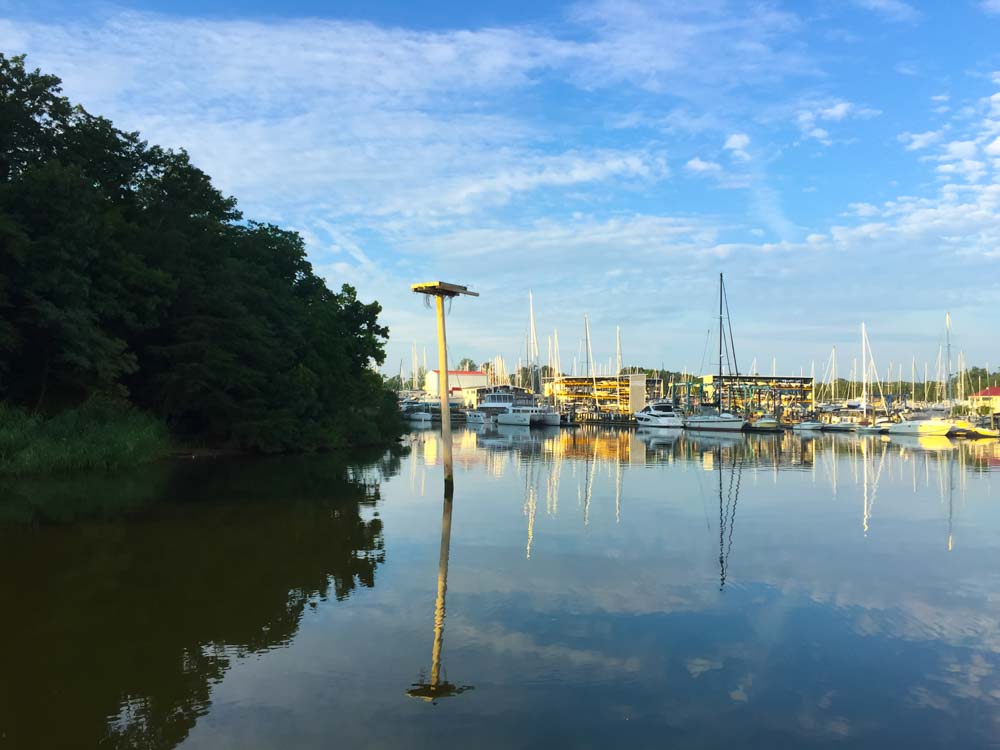 Enjoyed this post?
Sign up to receive email notifications of future posts!