Who We Are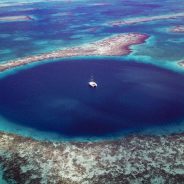 Eight months ago I sat amidst charts and maps learning how to spell Huaritcheru. I still had little experience sailing and zero experience with the geography of the Western Caribbean. I'd never seen an octopus, a green flash, or a Guna Indian.
read more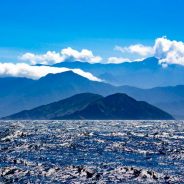 The first thing I noticed about Colombia were the mountains–peaks reaching straight up from the ocean into and beyond the clouds. As we enter Colombian waters, Pico Cristóbal Colón gives us a glimpse of its 18,000-foot summit. How I've missed the mountains.
read more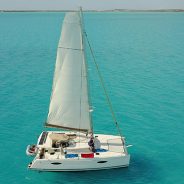 One complaint we have with the Helia is the mainsail. It has a square top (the trailing edge of the sail doesn't meet the top of the mast) and it has a large "roach". The roach of a sail is the amount of the sail which extends aft of a line drawn from the top of the mast to end of the boom. The combination of the square top and the roach provide extra sail area for the same mast height but complicates the hoisting of the sail. The main sail is connected to mast with cars which have plastic ball bearings which allow the cars to slide...
read more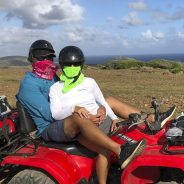 "OH SHIT!" Allen exclaimed just as I was just starting to doze off beside him at the helm. I immediately snapped up and dittoed "OH SHIT!" The entire spinnaker sail had disconnected from the top of the mast and was rapidly settling into the sea.
read more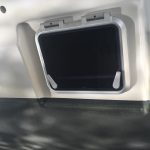 A catamaran unlike a monohull has the possibility of overturning and not coming back rightside up. A monohull can turn over too, but it will always right itself as long as the keel is still attached. A catamaran has two stable positions, right side up and upside down. Because it is possible for the boat to turn in the inverted position with people inside the hull, European boat manufacturers have required the inclusion of escape hatches which can be used to exit an upside down boat. To insure the hatch is as high above the water as possible...
read more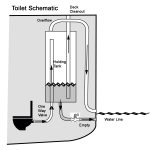 After Shiera allowed me to have a corner for my own posts, I struggled with what to write about first. Lately I've been working with our marine waste disposal system, so perhaps that is a good place to start. Running a boat is like running your own city, there is power generation, water systems and waste systems. For the waste treatment side of the city, on Gemeaux we have three separate toilet systems which for various reasons are all a little different, however the basics are the same. There is a toilet which uses either fresh water or salt...
read more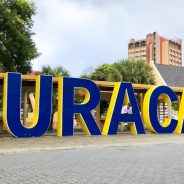 We dress in our formal Gémeaux white shirts since nobody onboard has the requisite roman numerals in their name to don a blue blazer. Locals and visitors sip coffee at the waterfront cafés as the Queen Emma floating pontoon bridge opens and our parade of boats enters in formation.
read more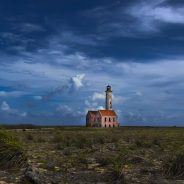 Always anxious to explore a remote corner of our natural world before entering civilization, our first stop from Bonaire to Curaçao is Klein Curaçao—a tiny, flat desert island with a white sand beach, five huts, and a lighthouse.
read more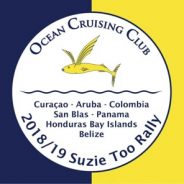 5:45am presents a beautiful orange daybreak in Curaçao. It is our last. Excitement builds. There is no quiet cup of tea and lazy scan of digital news. Today we are energizer bunnies flush with adrenaline—clean, stow, return rental car, laundry, repair… Today is the day we have been waiting for. November 21, 2018—the official start of our rally.
read more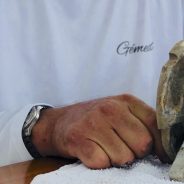 Shiera has been doing a great job on documenting our adventures, but I thought I could add some interest by documenting what we are learning about Gemeaux. While I have owned all number of boats in the last 50 years, beach catamarans, ski boats, houseboats, river running rafts,  this boat has lots of new things to learn and challenges to solve. Perhaps things that I have learned could help others, perhaps others could help me learn more as well! In the last two years I have tackled steering/autopilot issues, toilet issues, air conditioning,...
read more